Are you currently undertaking a renovation project? Have you been working on renovating your roof? Renovating or building a home, barn, shed, or garage is not easy, and when you spend time, money and effort on something, it is often rewarding to share your project with others.
We recently reached out to our customers to see if they had any before and after images of their roofing renovations, they would be happy to share. The transformation a new roof can bring is fantastic, not just to the overall appearance of a building, but in helping to keep the building watertight and protected against the elements, debris and vermin.
Thank you to all who took the time to send images in. We love seeing how you have used our roofing products and we are fascinated by how inventive and unique some of your projects are.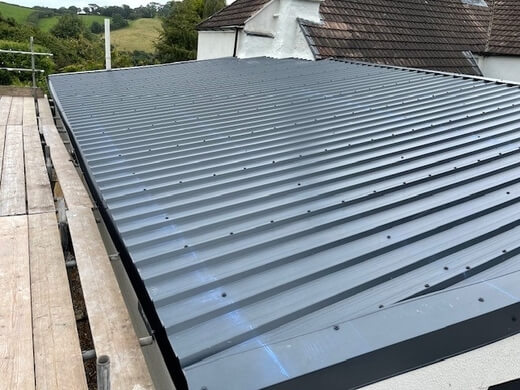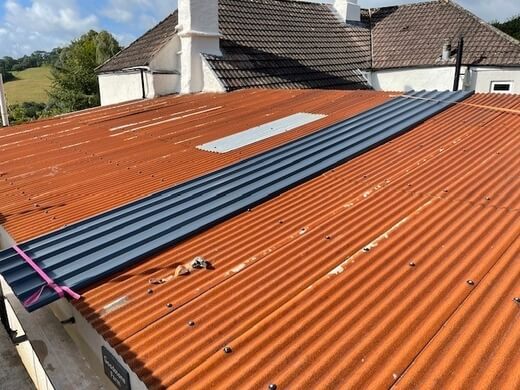 The above lean-to roof had rusted, started peeling, and was generally not looking great on this customer's property. A roof is often the first thing people will notice on a building, and an old, rusting, corroding roof is not ideal.
This customer transformed the look of their building by replacing the old, worn-out corrugated roofing sheets with our high-quality 32/1000 Anthracite Box Profile Roofing Sheets.
32/1000 Roofing Sheets are a fantastic replacement for this build; the attractive Anthracite Roofing Sheets give this project a toned-down sleek, modern look. 32/1000 Box Profile Roofing Sheets have wide valleys and 32mm high Profiles providing a modern twist on traditional Corrugated and tin roofing.
Cladco Box Profile Roofing Sheets must be installed on a roof with a minimum gradient of four degrees. The slope of the roof and the sheet's valleys help with water runoff, preventing water pooling on your roof and causing further problems.
Cladco Box Profile Roofing Sheets are available in a range of colours and coatings. See our range for yourself by ordering Sample Swatches here.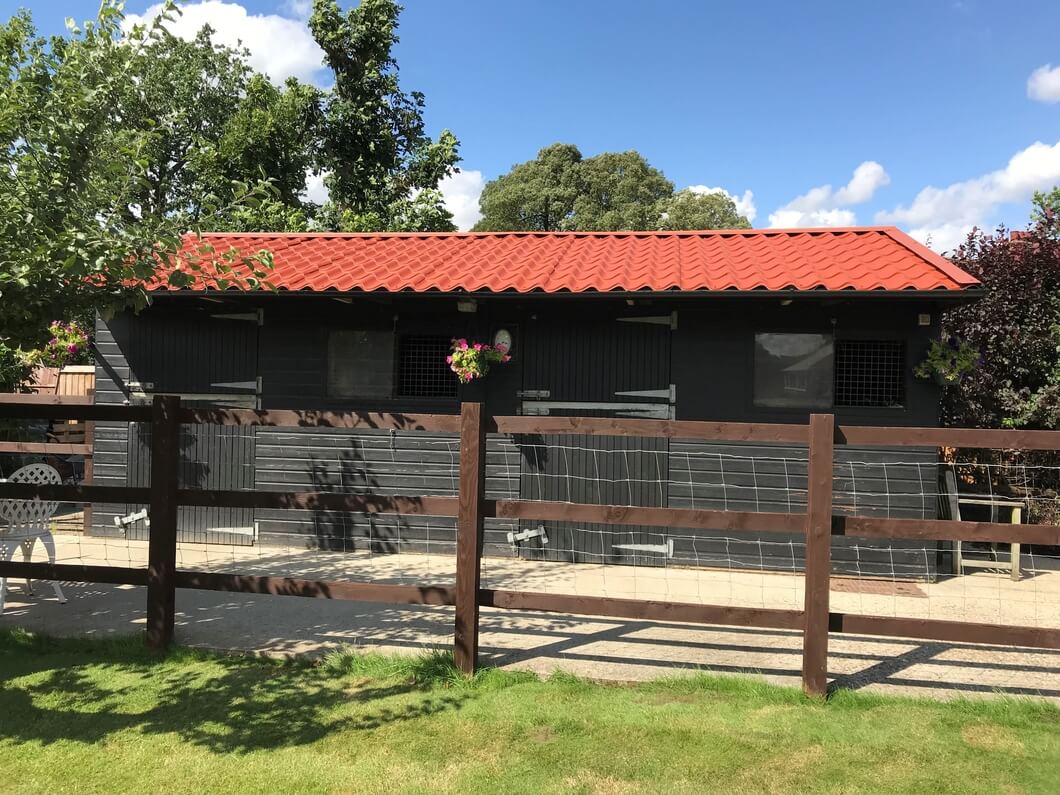 Sometimes, the desired look for a roof is a more traditional pan tile look, usually favoured in rural or traditional areas. Cladco Tileform Roofing Sheets are the ideal Sheeting option for this, giving the conventional pan tile effect without the need to purchase, fit and maintain individual tiles.
Tileform Roofing Sheets in Copper Brown have been used for roofing this stable. The Copper Brown Roofing Sheets give the appearance of pan tiles while not demanding as much time and attention. The Copper Brown of the roof contrasts brilliantly with the dark finishes of the stable, creating a classic and timeless look.
Cladco Tileform Roofing Sheets are available in three colours: Copper Brown, Graphite Grey, and Black. They are manufactured to length in a Prelaq Mica Coating for a scratch, rust and corrosion resistant Sheet.
Find out more about our Tileform Roofing Sheets here.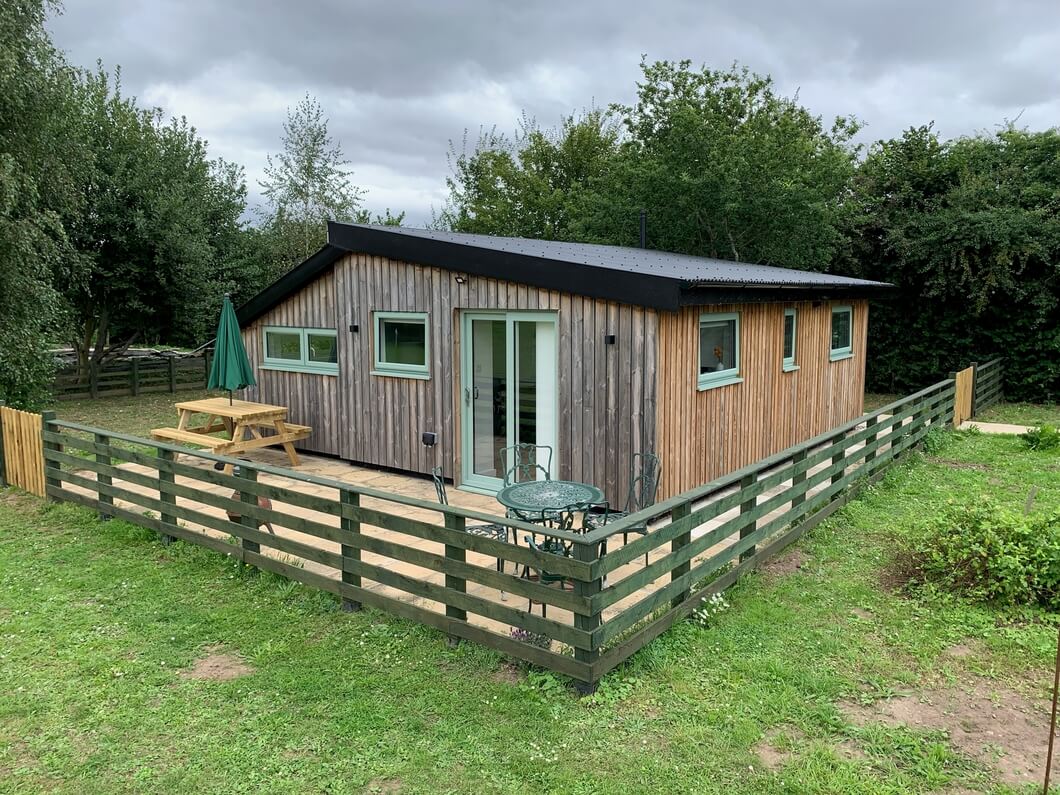 This holiday lodge features Cladco Corrugated Roofing Sheets in Black. The dark colour of the Steel contrasts the lighter timber and green details in this holiday lodge, which pays homage to a traditionally styled log cabin.
The rugged welcoming appearance of the rich tones of the wood, combined with the rustic yet modern steel Sheeting, helps this holiday lodge blend into its natural surroundings.
Adding a high-quality, low-maintenance Roofing Sheet to any style building should drastically improve the appearance of the building. Cladco Corrugated Roofing Sheets are lightweight and easy to install Roofing Sheets. This project has also added matching Flashings on the roof's edge, creating a seamless design while protecting the building from debris, vermin and the elements.
Find out more about our range of Cladco Corrugated Roofing Sheets here.

Here are just a few more of some of the fantastic projects sent to us recently.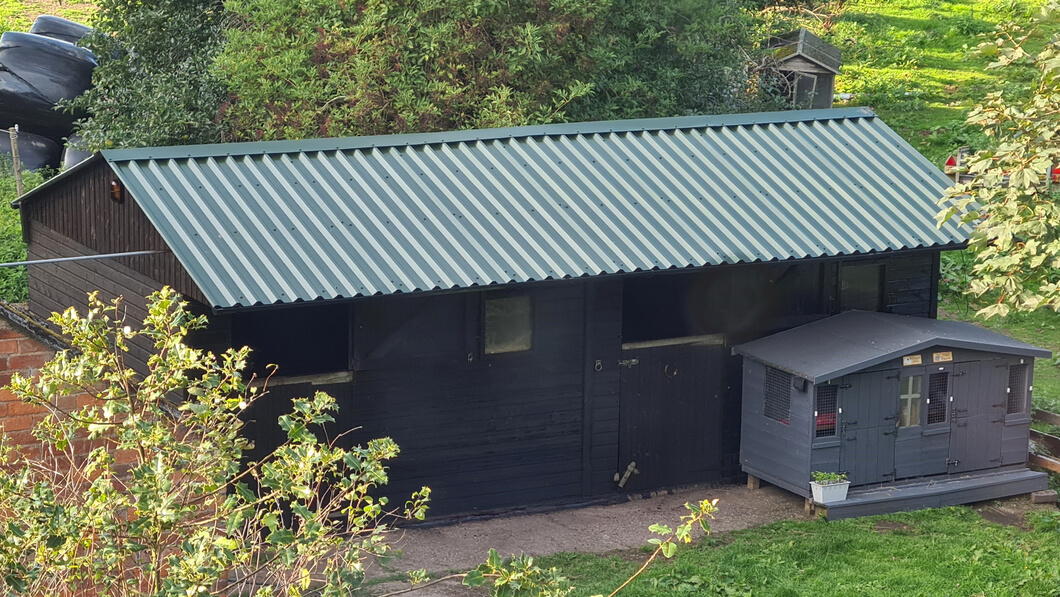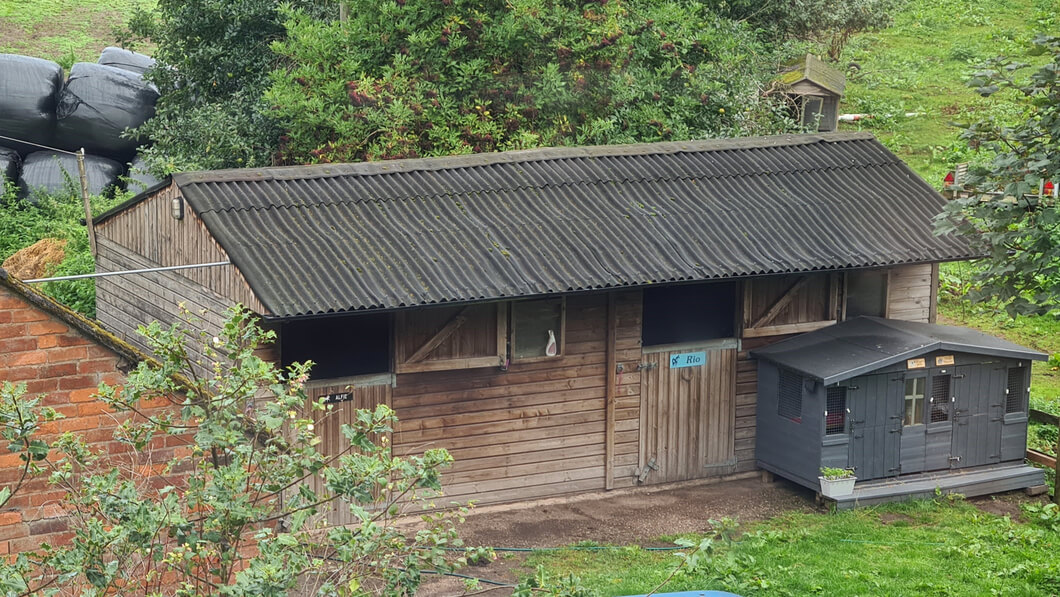 This renovation project has used Cladco 34/1000 Box Profile in Juniper Green, transforming an aged stable block into a watertight and attractive home for the horses. Previously the stables had old Onduline Panels, which had begun to sag and split; replacing these with brand new Galvanised Steel Roofing Sheets has given this stable the facelift it deserved.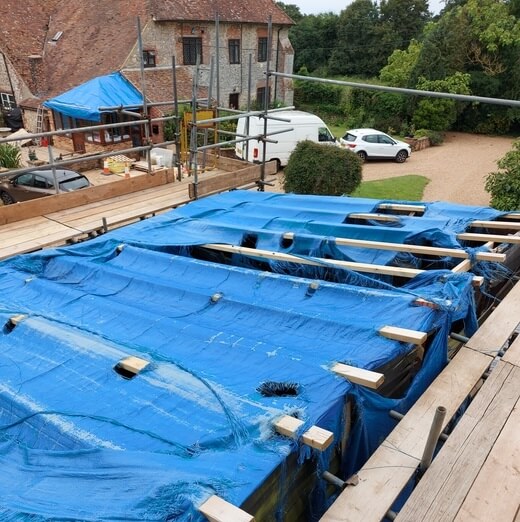 When a tree hit this barn, it was a race to ensure the barn was watertight and protected from the elements. Cladco Corrugated Galvanised Roofing Sheets were installed with Cladco GRP Roof Lights, allowing natural light to penetrate the barn's interior.
Cladco Roof Lights are manufactured from a heavy-duty, translucent 1.5mm thick GRP, with up to 80% daylight transmission rate.
Cladco Roof Lights are available in Box and Corrugated Profiles and are available in various lengths. Find out more about Roof Lights here.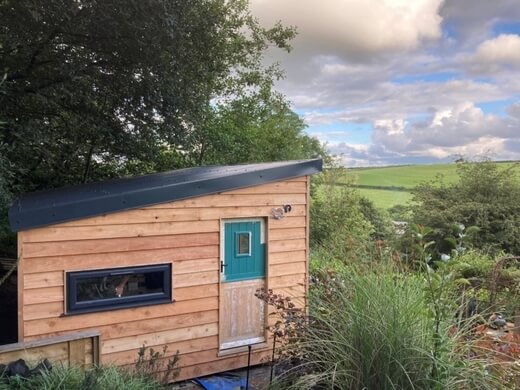 This garden shed has been roofed in Cladco Corrugated Roofing Sheets in Slate Blue with matching Flashings, to protect the building from the elements.
Cladco Corrugated Roofing Sheets not only protect the building, but the Steel Sheeting perfectly contrasts the timber walls and complements the windows and door.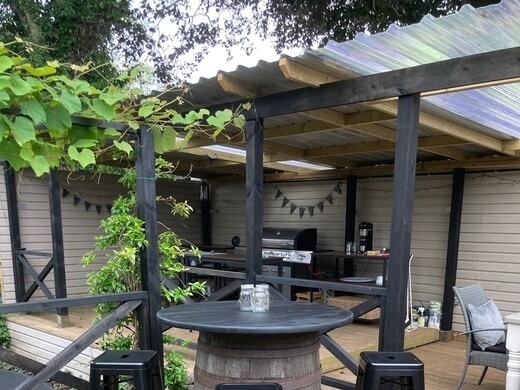 This outdoor kitchen has been given protection with Cladco 32/1000 Box Profile Roofing Sheets and 32/1000 Box Profile Roof Lights. This allows the BBQ area and some outdoor seating to be covered from the sun, rain and debris, whilst still having the outdoor kitchen and seating feel.
All Cladco Roofing Sheets are manufactured on-site to bespoke Profiles, lengths, colours and coatings, and delivered within two weeks of ordering.

Find out more about our range of Roofing Sheets here, or by contacting a member of our friendly sales team today on 01837 659901.
If you would like your roofing project featured, email us your images to [email protected] or use the hashtag #MyRoofingReno on our Instagram and Facebook pages, and inspire others with your renovation projects.