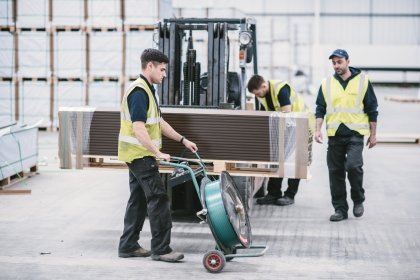 Protective Equipment to ensure Roof Safety
Working with steel sheeting can be dangerous and has a multitude of potential hazards. Anyone working with steel sheeting should exercise caution and ensure they wear safety protective clothing to include specialised protection gloves, steel toe caps, hard hats, and additional safety clothing and equipment.
Lifting sheets should always be done by at least two persons who are physically capable and have taken appropriate measures to analyze potential risk. Taking the sheets off of the delivery vehicle should be done by at least 2 capable persons and inappropriate weather conditions.

Steel sheeting weights are given at the time of order and are available on the website. Additional care and attention should be made in exposed areas or areas subject to windy conditions.
Steel sheeting has sharp corners and edges so its imperative to wear protective gloves appropriate for handling sharp steel sheeting. Gripped rubber palms can be helpful for gripping the sheets.
Law requirements in the UK require self-employed contractors and employers to assess formally any risks associated with any job and before starting any work, it is imperative to organise and plan any work to enable it to be carried out in a safe appropriate manner. We advise visiting the HSE website for further information on working at heights and legislative applicable requirements - www.hse.gov.uk

Please note this is not a set guide for ensuring safety during your roofing project. This is a simple set of tips and Cladco accepts no responsibility or liability for any injury, loss, or damage caused whilst using this basic guide. Health and Safety protocols must be adhered to at all times when installing Cladco products, we advise carrying out a risk assessment prior to installing any products.