Which is the Right Type of Sheet?
Cladco Roofing Sheets are manufactured and supplied in four different profiles which include Box Profile 32/1000, Box Profile 34/1000, Tileform and Corrugated. Cladco Roofing Sheets are available in 0.5mm and 0.7mm thickness for use as Roof Sheets or Side Cladding. Depending on your project, the type of building and appearance, we can cut the sheeting to the exact length you require, with any necessary fixtures, including Roof Lights, Flashings and Fillers.
PITCH OF ROOF
Roof pitch refers to the steepness of a roof, calculated as the angle from the horizontal plain. A minimum pitch of four degrees indicates the roof sheet is lying almost flat.
ROOF SHEETS
Sheet thickness is measured in millimetres and determines load- bearing capability. Sheets used for roofing applications need to be thicker than wall cladding sheets, and are advised to use 0.7mm thickness.
SIDE CLADDING
Roof Sheets can also be used as side cladding when selected in 0.5mm or 0.7mm thickness. Side Cladding does not take load bearing weight so the thickness of sheet can be less than Roof Sheets.
DRIPSTOP
DripStop is a felt membrane that prevents condensation from dripping on the reverse side of a sheet. DripStop works most effectively where the roof pitch is 10 degrees or more. For applications using Dripstop the building must have sufficient ventilation to allow the Dripstop coating to fully dry out. This will allow the material to work to its potential.
LENGTH AND WIDTH
The maximum length of a sheet is determined by which thickness and profile you choose. Sheet width comes as a standard measurement, This includes the overlap required on installation. The standard sheet width is 990mm for Corrugated Sheeting and 1m for all other profiles.
AVAILABLE ROOFING SHEET PROFILES
32/1000
Box Profile
34/1000
Box Profile
13/3
Corrugated
41/1000
Tile Form
Available Thickness
0.5mm or 0.7mm
0.5mm or 0.7mm
0.5mm or 0.7mm
0.6mm
Minimum Pitch
4 degrees
4 degrees
10 degrees
12 degrees
Available Finish
Polyester Paint, PVC
Plastisol, Galvanised
Polyester Paint, PVC
Plastisol, Galvanised
Polyester Paint, PVC
Plastisol, Galvanised
Prelaq Mica
Standard Width
(when lapped)
1000mm
1000mm
990mm
1000mm
Minimum Length
500mm
500mm
500mm
500mm
Maximum Length
7m or 9m
7m or 9m
5m or 7m
6m
Weight
From 4.9kg/m2
From 4.9kg/m2
From 4.9kg/m2
6.6kg/m2
Application
Wall or Roof
Wall or Roof
Wall or Roof
Roof
Price (inc VAT)
From £11.40/m
From £11.40/m
From £11.40/m
From £17.94/m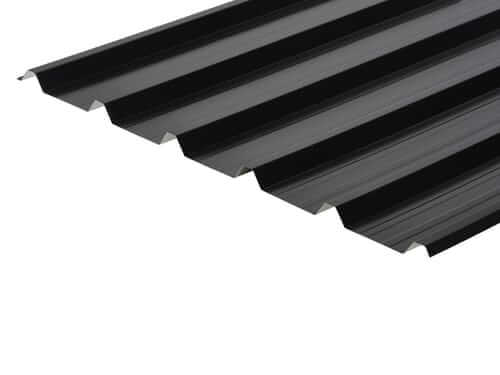 32/1000
Box Profile Sheeting
The 32/1000 Box Profile, single skin sheeting has a robust strength thanks to its size. Each of the six profiles has a pitch of 200mm across the entire sheet, with a 32mm height. Many understandably prefer the appearance of this sheet because it's lower in height and has fewer profiles, so it's not quite so obtrusive, but this depends entirely on your project.
The 1240mm coated steel strip gives a width coverage of one-metre when lapped. Construction can be safely undertaken in roof applications down to a four-degree pitch. To fix in place, this sheet requires standard self- drilling fasteners through the lower end of the profile and can be used as a single skin, over existing roof cladding or even as part of a built-up insulation system. Available in either 0.5mm or 0.7mm thicknesses, Box Profile sheeting of this type works great as either cladding on the outside of a building or as roofing. As with other profiles, 32/1000 Box Profile is manufactured with a Polyester Paint, PVC Plastisol, or plain Galvanised coating to suit your budget or design.
34/1000
Box Profile Sheeting
Each Box Profile 34/1000 Roof Sheet will provide you with one-metre width coverage when lapped and can be made up to nine metres in length. If you require longer sheets please contact us for further information. Box Profile Sheeting is available in three finishes, Polyester Paint, PVC Plastisol and Galvanised, and comes in either 0.5mm or 0.7mm thicknesses to suit your project. The thinner sheet option is designed for exterior wall cladding, whereas the thicker sheets are recommended for roofing.
34mm deep sections of profile with seven ribs make up this 34/1000 Profile sheeting. It is fixed through the lower part of the profile to the purling using self- drilling TEK screws. Box Profile sheets are well-suited for domestic, commercial or agricultural purposes and are manufactured using Galvanised steel for corrosion-resistant properties.
13/3
Corrugated Sheeting
Corrugated Roofing Sheets are the traditional, authentic profile type and can be cut to maximum lengths of six metres. Cladco 13/3 Corrugated Roof Sheets give a 990mm width coverage when installed by a minimum of one corrugation overlap. Up to 11 colours are available when choosing Corrugated Roofing Sheets, with either 0.5mm and 0.7mm sheet thicknesses available to suit your project. The lightweight properties of Corrugated roofing make this profile the popular choice for agricultural, commercial or domestic applications.
13/3 Corrugated sheeting requires purlin spaces closer together than the Box Profile 34/1000 for additional support. Due to the curved shape of these sheets, this profile is fixed to the purlin through the higher part using longer self-drilling TEK screws. Corrugated Roof Sheets can be used on roofs with a minimum pitch of ten-degrees.
41/1000
Tile Form
Cladco Tile Form sheeting is a great way of achieving a traditional pantile effect without the hard work of installing individual tiles. Cladco 41/1000 Tile Form gives one-metre coverage when lapped and can be made to lengths of up to six metres. A superior roofing material, Tile Form is designed to last and is easy to install due to its lightweight properties. Tile Form sheeting is available as 0.6mm thickness and is provided in Graphite Grey, Copper Brown & Black colours.
Drip-Stop
Anti-Condensation
Roofing Sheets
This product is a fantastic cost-effective condensation prevention method. Use this to stop steel roofs from dripping in cold, damp conditions without the added expense of insulated sheeting. The Drip-stop anti-condensation roofing sheets' finish is a polyester felt flock and can be attached to the reverse of both our 34/1000, 32/1000 profile and our 13/3 corrugated sheeting.