What type of AirBnBs are there?
With over 223,200 AirBnB* Listings in the UK since 2018, more and more people are transforming their houses, shepherds, huts and cabins into affordable, self-catering properties for people to holiday in. While traditional properties such as mansions, houses, cottages, bungalows, and flats do incredibly well on Air BnB, guests seeking AirBnB stays may want to experience staying in a completely different location from the standard four-walls of homes and hotels.
The most popular Airbnb in the world is a 100-sq-ft mushroom dome in California**, bringing home the idea that people want to be adventurous and try something new.
In 2021 the following style of outside-of-the-box quirky listings has been increasingly popular for people to book on AirBnBs such as yurts, cabins, treehouses, farms, boats, shepherds huts and more***.
How to build your own AirBnB using Cladco Products?
Have you ever thought about adding an AirBnB to your property? If you have, there are a few things Cladco can help you with.
Unlike the sunny beaches of Corfu, the Amalfi Coast and Spain, staycations in the UK cannot always guarantee hot and sunny weather. Staycations are more often than not going to have at least one rainy day per holiday.
This is why any AirBnB needs to have a leak-proof and high-quality roof. Cladco Roofing Sheets are manufactured to bespoke lengths, colours and coatings and can be installed on various buildings for protection and cover.
As well as a range of Roofing Sheets, we also offer Composite Decking and Wall Cladding, perfect for giving any AirBnB a durable, attractive and contemporary exterior, which does not have to be regularly maintained like traditional timber cladding or decking.
Staycation Inspiration (perfect for AirBnB)
We love seeing how our customers have used Cladco products, seeing a range of fantastic projects, including homes, garages and more.
One of our customers, @The_hut_life, has transformed this traditional shepherds hut into a unique AirBnB.
Retreat into this rustic, comfortable and picturesque hut, which has been clad in Cladco Composite Ivory Wall Cladding Boards for a contemporary and sophisticated appearance and does not require a high level of maintenance. Find out more about this fantastic shepherds hut here.
(Find out more about our range of Composite Wall Cladding here.)
Corrugated Roofing Sheets have been used on this fantastic staycation @barleystoredevon
This picturesque hut is located in the middle of a farm, surrounded by nature, and equipped with the basic necessities.
The timber-clad hut has used Cladco Corrugated Roofing Sheets in Black with matching Flashings to protect guests from the wind, rain, and debris.
Cladco Corrugated Roofing Sheets in Polyester Paint Coating have been given an attractive distressed look, allowing the Steel Sheeting to blend perfectly with the rural surroundings.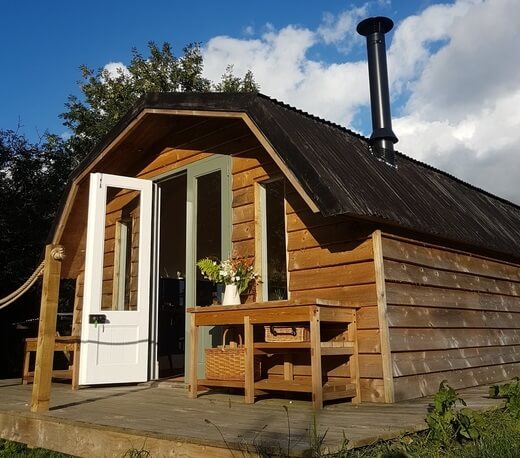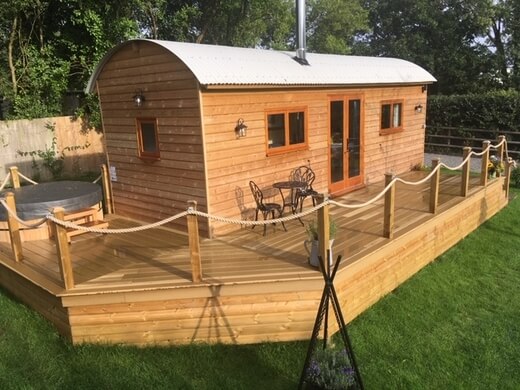 This fantastic timber shepherds hut on AirBnB has had Cladco Composite Teak Decking Boards, installed around it, creating an attractive, low-maintenance, and durable Deck for guests to enjoy.
This shepherds hut style AirBnB has been installed at the base of a customer's garden, giving guests privacy with easy access to amenities as well.
The below holiday lodge has used Cladco Corrugated Roofing Sheets in Black, matching Black Flashings to create an attractive and secure roof. Not only do the Cladco Corrugated Roof Sheets contrast perfectly with the timber-clad exterior of the lodge and create a log cabin aesthetic, they also help protect the inside of the building from the elements.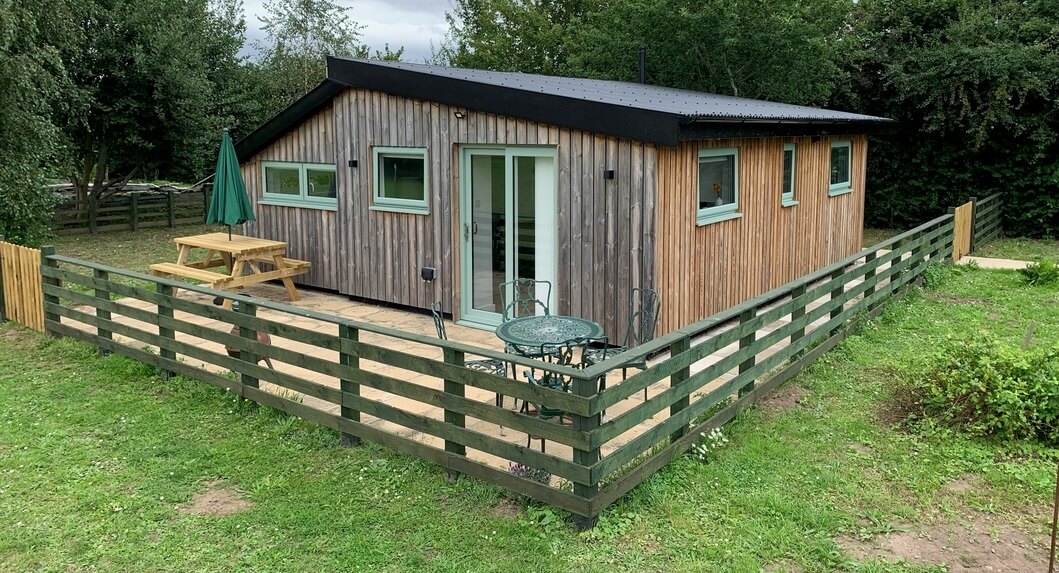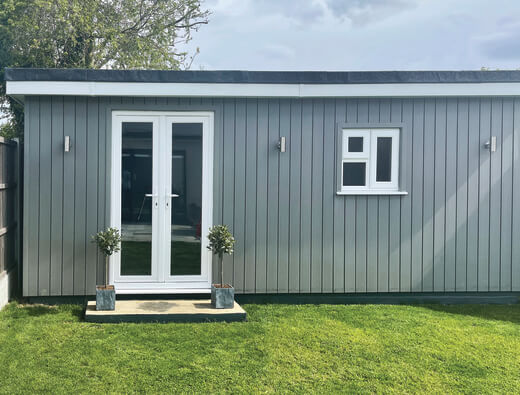 Creating an AirBnB doesn't have to be the traditional cottage, house, or flat. Tiny homes and cabins are some of the most popular location choices on offer on AirBnb.
So, why not transform an area of your garden?
We have a range of products available to help you create an attractive and low-maintenance cabin. This cabin has been vertically clad using Cladco Composite Stone Grey Wall Cladding Boards for a high-quality, contemporary exterior.
At Cladco, we know your lodges, AirBnBs, shepherds huts, and cabins are an important part of your business. We offer a range of products, including Roofing Sheets, Decking and Wall Cladding, to help create the perfect low-maintenance, durable and high-quality AirBnB for you.

Find out what product is the best match for you via our Roofing or Decking website or by calling a member of our friendly sales team on 01837 659901.