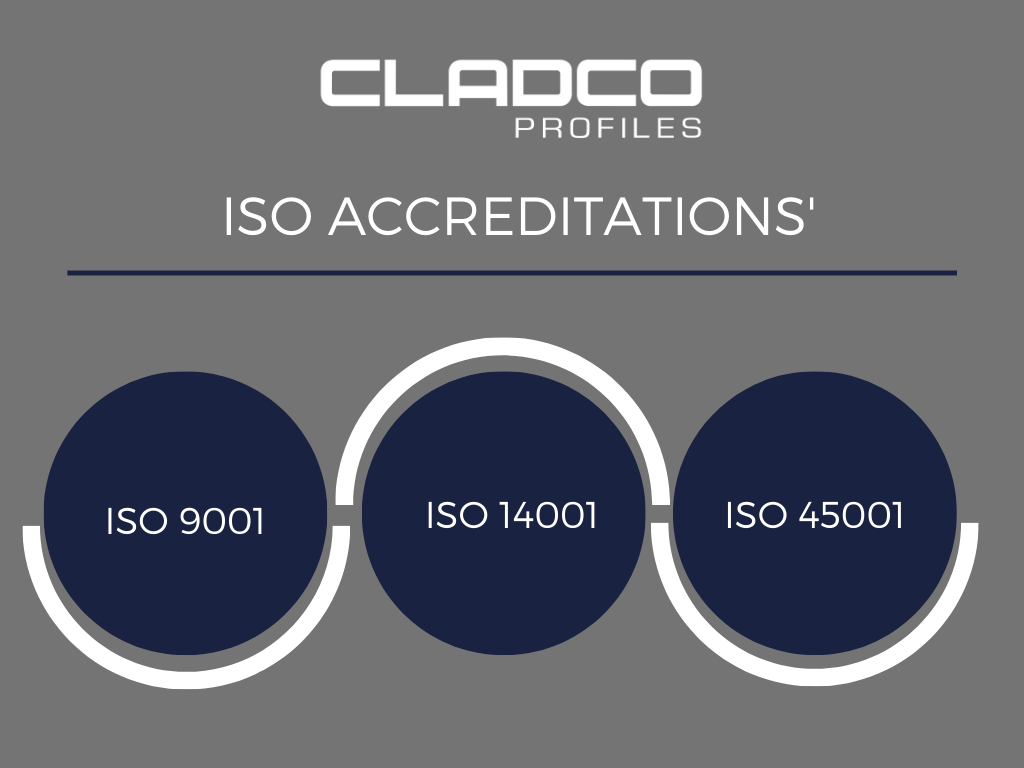 What is ISO?
ISO stands for the 'International Standard for Quality Management Systems' which is an accreditation company can be awarded if they follow a set of internationally agreed Management System Standards throughout their business. Having the accreditation shows to customers, suppliers and competitors that they are a well-run successful business.
There are many ISO Standards Companies, whom businesses can look to for accreditation. Three of the more popular ISO accreditations are ISO 9001 (Quality), ISO 14001 (Environmental), and ISO 45001 (Health& Safety). The ISO's are awarded by independent certification bodies, who carry out regular audits to ensure Companies are still maintaining their management systems in line with the ISO requirements. If the certificate holder is not meeting the set criteria the ISO accreditation can be withdrawn.
Here at Cladco Profiles, we are proud to have been awarded three accreditations by QMS International – ISO9001:2015, ISO 14001:2015 & ISO045001:2018.
How do you receive your ISO accreditations?
For a business to earn their accreditation they have to undergo multiple consultations and audits.
In April 2019 we underwent the first stage of ISO 9001 consultancy. This is where the auditors come and inspect the business & compare how the Management Systems & procedures meet the relevant ISO criteria. Once this has been checked, the consultants gave us a list of Policies & procedures that needed to be implemented/improved. Some of these things had to happen as soon as possible, such as maintenance schedules for machines & equipment. In other areas, we had up to 12 months to put them in place - a complaint procedure, record of suppliers and contracts to name a few.
After an agreed time, a second audit is arranged (in our case this was 4 weeks). This is where if your business had any urgent issues to change, they will be checked if you've met these you will receive your ISO 9001 certification. We, Cladco Profiles, received our initial ISO 9001 certificate in April 2019
12 months later, the Business undergoes an external audit where all the business management systems will be checked again against the required standards criteria. If everything is in the order the business will be authorized to keep the accreditation until the next audit which could be up to three years away. We successfully passed this audit in July 2020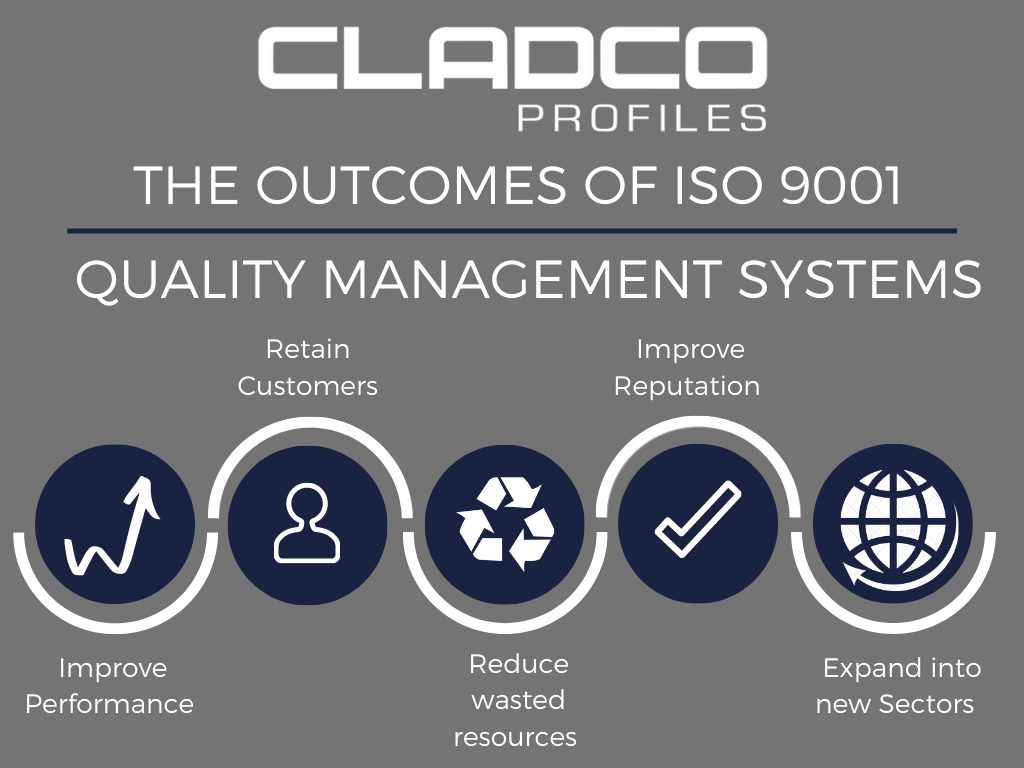 What is ISO 9001
ISO 9001 is one of the most commonly used management tools in the world and covers everything from customer feedback to design & development, helping businesses make sure they are producing the right service to meet the needs of the customer while having a framework in place that benefits employees, stakeholders, and customers.
The key points which make up the ISO 9001 are known as the seven stages of management, these have been deemed critical by the regulator bodies, to have in place in your business.

Customer Focus – businesses should always be working hard to understand and meet the customers requirements, with the aim to always exceed customer expectations.

Leadership – So all employees have a strong purpose and work objectives, coming from a leadership team with a strong direction for the business. Allowing all employees to work together to achieve these aims.

Engagement of people – for a business to reach its full potential all employees must be able to work well together. Leaders within the business should be able to motivate and encourage employees to work well with one another and want to succeed within the business.

Process Approach- Ensuring all staff are working with the same processes and resources to achieve the desired effect. Having a process reduces the number of mistakes and miscommunication happening, benefitting both customers and employees

Improvement – Evolving and improving processes throughout the organisation to continuingly advance and better the company.
Evidence-based Decision Making – When updating and implementing changes throughout the organisation, making sure that these changes are based on accurate evidence and data.

Relationship Management – Making sure that contractors, suppliers and the organization are part of a mutually beneficial agreement, a nurtured relationship with your suppliers/contractors/ third party suppliers will create harmony when working together.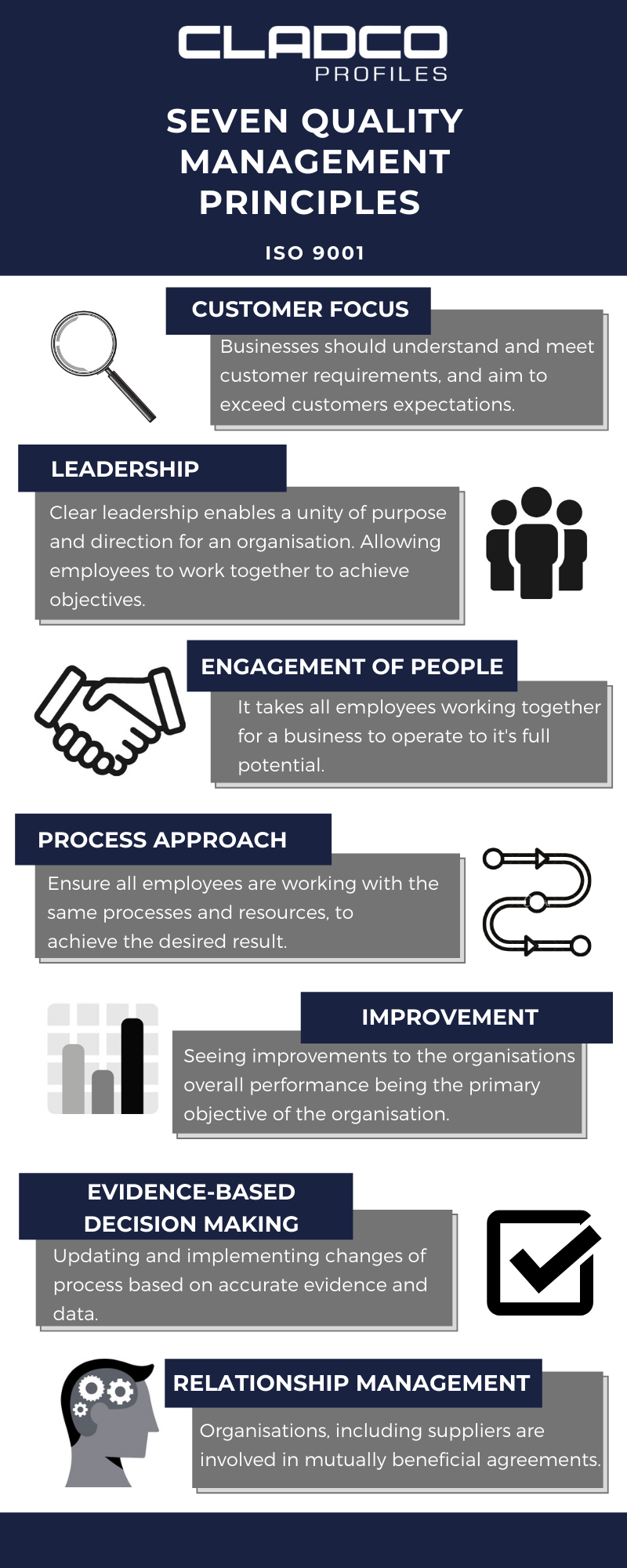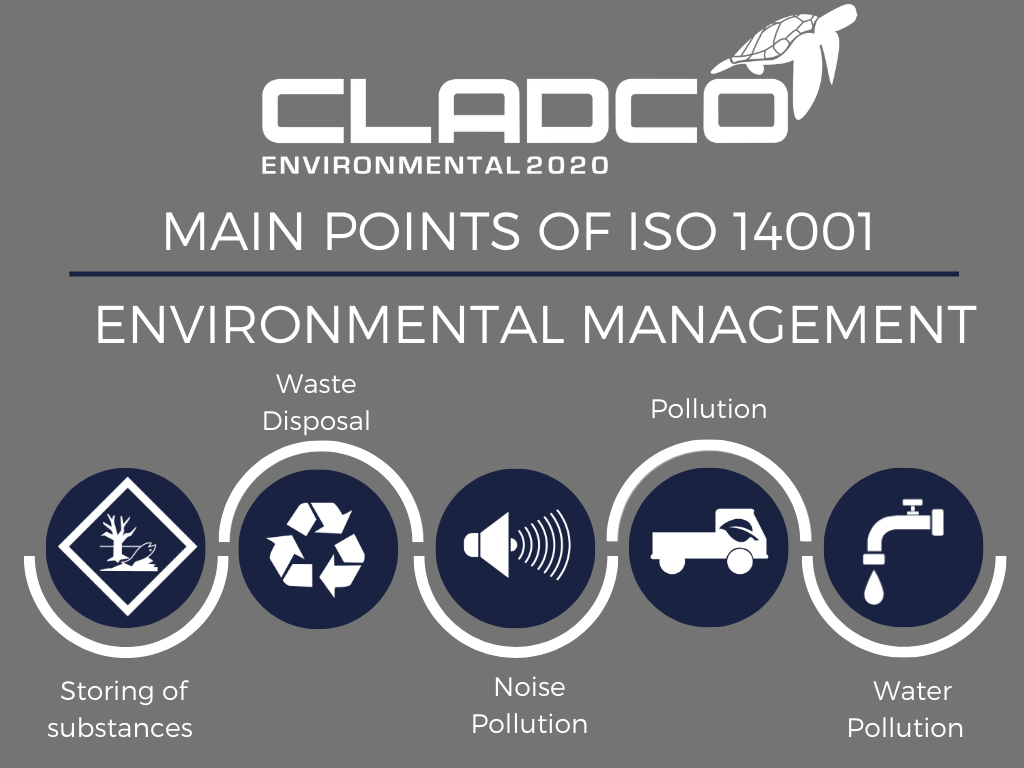 We commenced the journey towards acquiring ISO 14001:2015 in August 2019 and acquired certification in November 2019. This is a bolt-on accreditation to the aforementioned ISO 9001. ISO 14001 sets the standard for environmental management, we are now an environmentally friendly company, following the standards by the ISO and verified by QMS International.
Following the same process as above, to gain the accreditation we had to make sure certain processes were both environmentally friendly and sound as well as safe and legal. Issues such as:
Storage and disposing of all substances, petrol, lighter fluid, varnishes, diesel, battery fluids to fairy liquid, soap, tea, coffee and cooling fluids
Waste disposal – Waste disposal for us was a huge undertaking making sure that anything coming onto the site is packaged and disposed of in an environmentally friendly way.
Noise pollution, rolling, cutting, loading and unloading sheets can be disruptive, making sure we keep noise to a minimum & within legal limits is a criterion of ISO 14001.
Anything in our yard could cause air pollution and managing what does. Ensuring more of our vehicles are Euro 6 Compliant.
Water pollution, on one of our sites we have an underwater drain, built beneath the ground designed to filter all water before it drains into the ground.
ISO 45001
ISO 45001 covers Health & Safety Management systems. Between 2018 and 2019 147 workers were killed at work, and 0.6 million employees suffered from work-related injuries. ISO 45001 is the Standard for Occupational Health and Safety, designed to prevent these devastating accidents from happening.
Many of the procedures we already had in place & were covered by the ISO 9001 criteria so were in motion already e.g machine maintenance and service schedule for all Cladco machines, from forklifts to profiling machines,  making sure that all machines were handled by authorized personnel only and that they understand & follow the correct procedure.
We started our ISO45001:2018 journey in March 2020 and received Certification on 17th April 2020. We will be receiving an external audit in April 2021
Cladco Profiles are proud to be one of a relatively small percentage UK businesses to have these three ISO accreditations as recognition of our continuing commitment to our customer service, our duty of care towards for the & Safety standards.