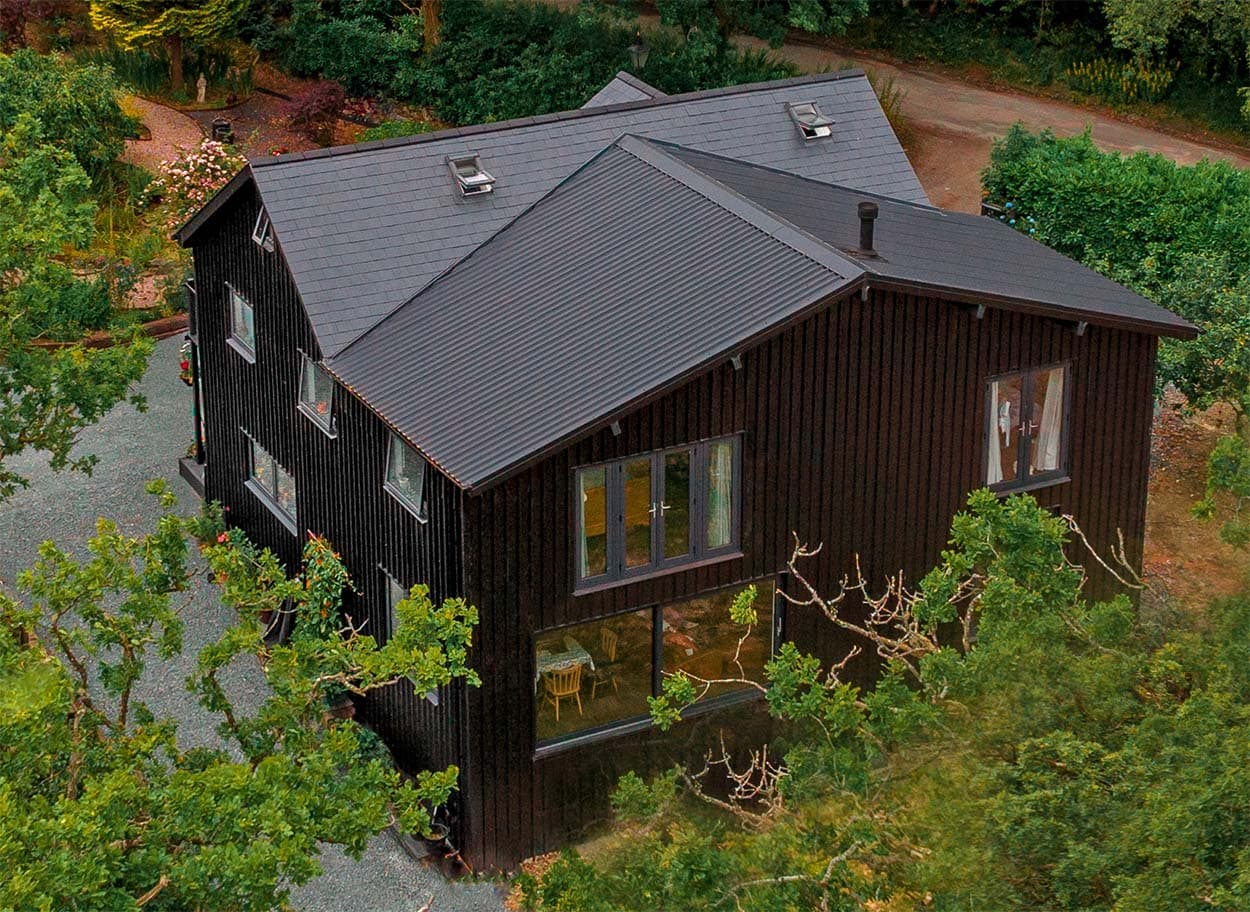 Renovations by @jamiewarebuilding began in May 2021, when he and the team skilfully transformed this property from a small, three-bed bungalow to what it is today – a vast two-storey dwelling featuring six bedrooms with four ensuite bathrooms, two reception rooms, a large open plan kitchen/diner with a built-in wine cellar and a sizeable balcony overlooking the remote area known as "The Spinney".
The Box Profile sheets used to clad and roof one-half of The Spinney's exterior have been manufactured using galvanised steel and pre-coated in Black PVC Plastisol. PVC Plastisol has a 200-micron-thick coating that adds a high-quality, scratch-resistant finish to the Steel Sheets, whilst the embossed leather grain finish the PVC coating provides adds a traditional texture to an otherwise contemporary project.
When installed as wall cladding, Cladco sheets bring a modern aesthetic to The Spinney - complementing the industrial feel of the project where mesh balcony balustrades have also been installed. Cladco steel sheets have low-maintenance and high-strength benefits, protecting any building from harsh weather conditions and side winds, whilst still being lightweight and easy to cut, install and handle. We recommend that when installed as cladding, our 0.5mm sheet thickness is used.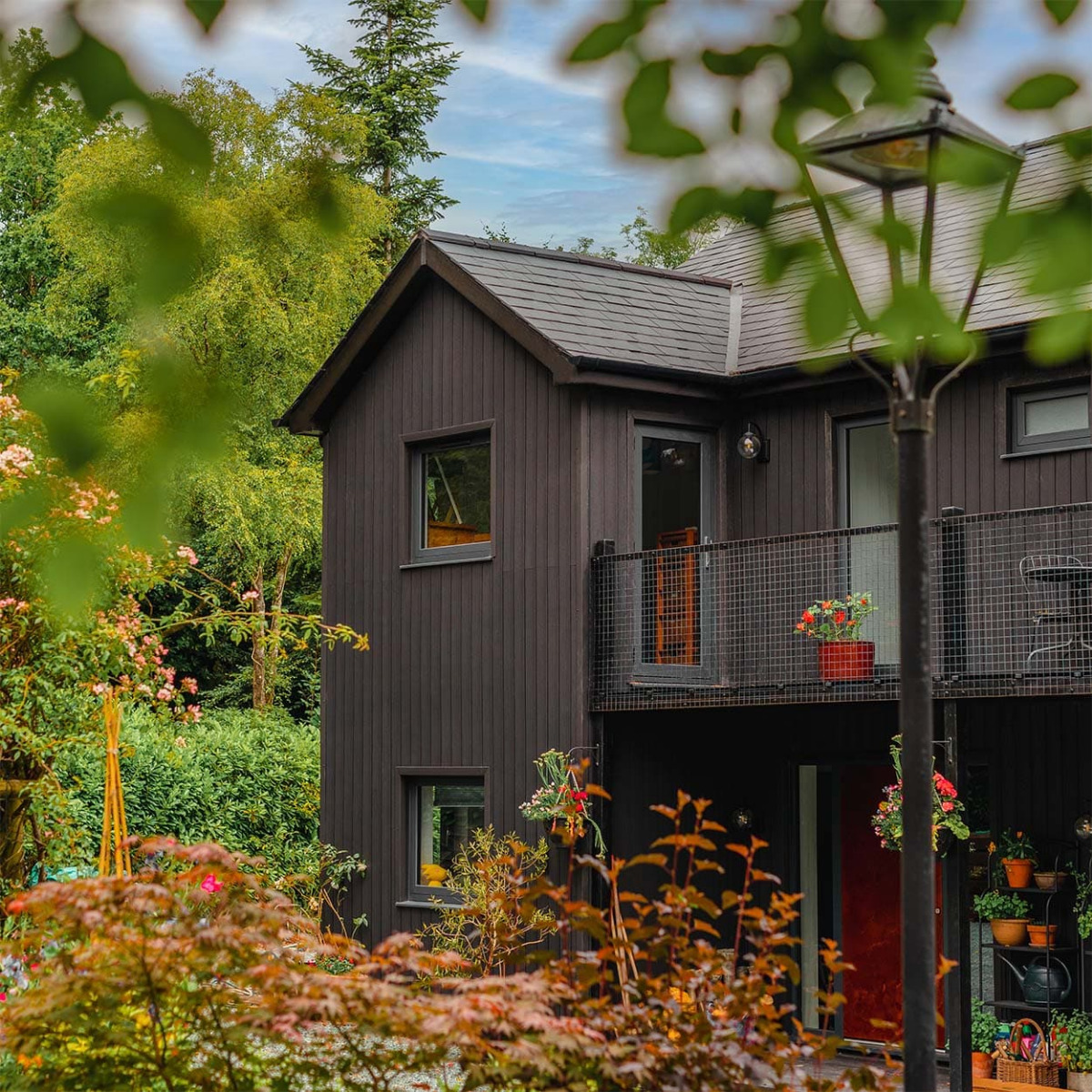 Each 32/1000 steel sheet features six ridge profiles across its length. On the roof where our 34/1000 sheets have been installed alongside them, there is excellent rainwater run-off and any build-up of natural debris such as leaves and moss is prevented.
A selection of Custom Made Cladco Flashings has been used to suit the unique shape and angles of The Spinney, creating a bespoke finish with seamless edging and an all-over weather-tight end product. The Spinney truly is the perfect example of how versatile Steel Sheeting can be.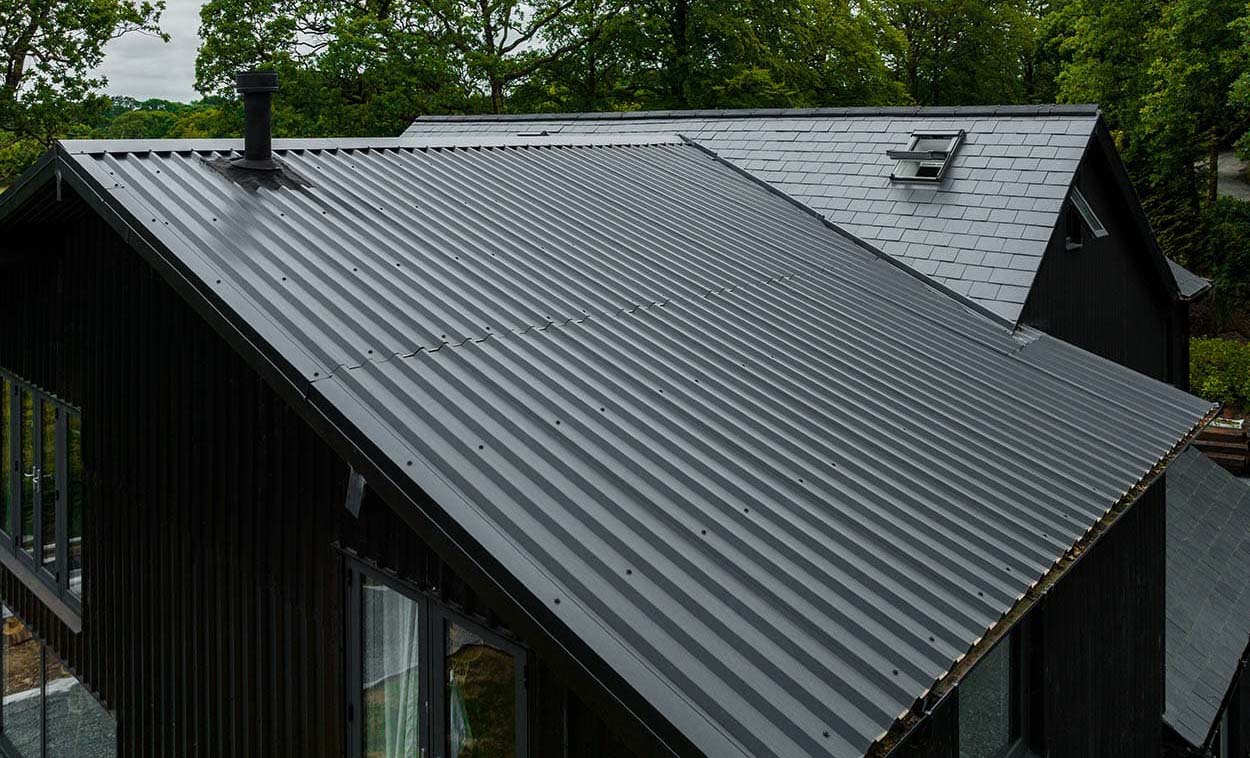 The other half of The Spinney's exterior has been beautifully finished using Cladco Woodgrain Composite Wall Cladding Boards in charcoal. They have been installed vertically - elongating the building whilst stylishly coinciding with the metal wall cladding. Composite cladding boards are a low-maintenance and effortless way to get that real wood effect - and on The Spinney, the woodgrain texture on the boards blends seamlessly with the surrounding woodland area. There's no need to paint, stain, treat, or varnish. Simply install the product on any external wall and witness the transformation.  
Despite the modern and industrial-like feel to the project, with its inky hues and dark exterior, homely finishing touches have been added in the form of a welcoming porch boot room and small outside seating area. The entire project is surrounded by various floral hanging baskets, blossoming trees, and climbing plants - all of which bring pops of colour, character, and a lived-in ambience to The Spinney as a home.
Want to see more impressive projects where Cladco Box Profile Sheets have been used? Take a look at our Gallery or for the project in full, check out our Youtube Channel.