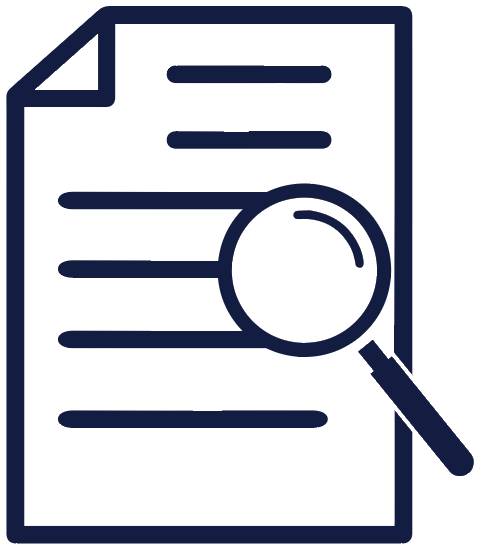 Garden rooms/offices/studios have seen a considerable increase in popularity over the past few years, and make a fantastic accompaniment to any outside space - with more people spending time working in a garden office, exercising in an external home gym and practising hobbies from the comfort of a small garden home from home than ever before.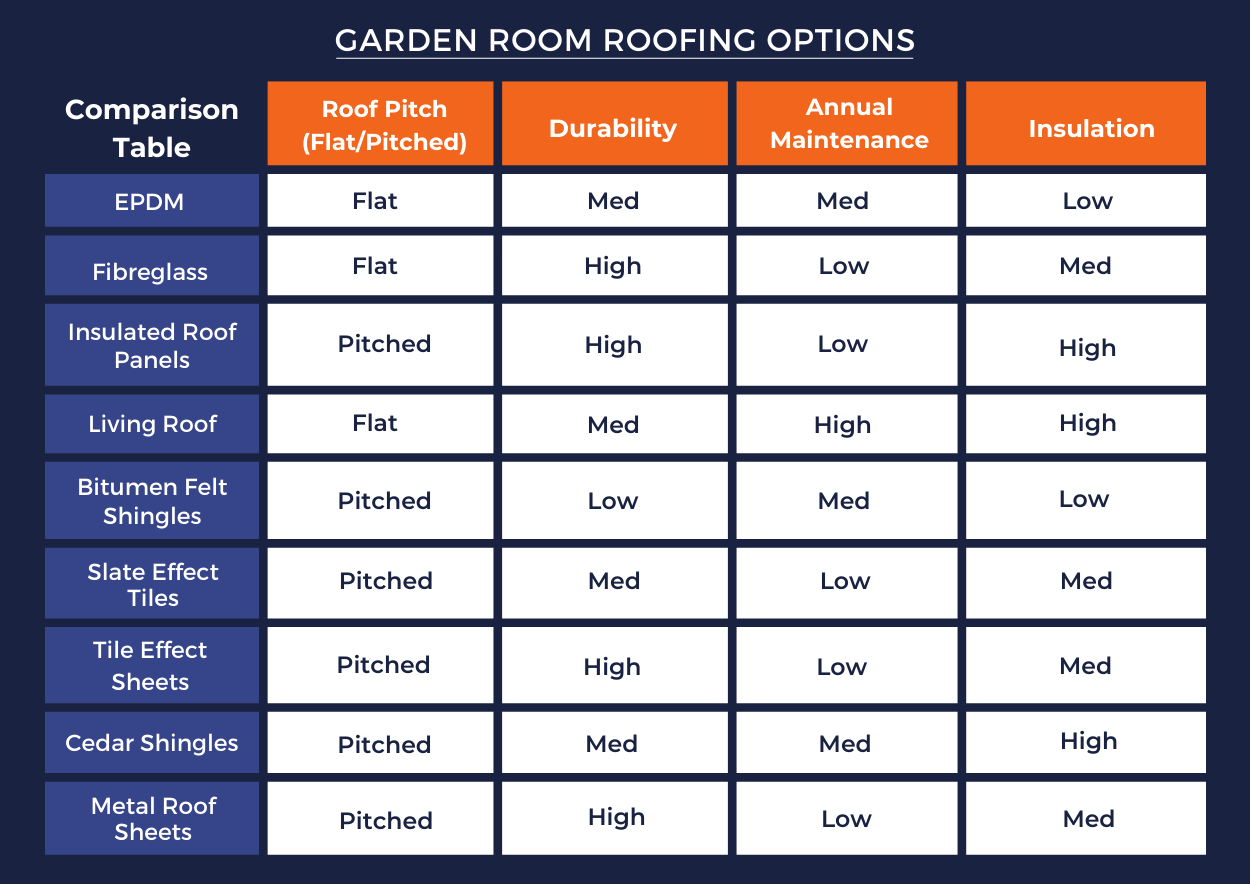 Garden build roofing options: Comparison table
When looking into roofing options, the above comparison table is a good reference. In summary:
If it is an aesthetic appeal that best reflects your home that's the main priority for you when selecting your new roofing material, then your best options would be tile form sheets or slate effect tiles.
If you are in need of a roof that requires minimum maintenance year after year, then fiberglass, metal roof sheets or tile form sheets are your best bet.
For a warm, well-insulated garden office roof, then insulated roof panels are a long-lasting, heatproof option, as well as living roofs and cedar shingles for a more natural option.
Suppose you're looking to install your new roof covering yourself whilst saving money on material and labour costs. In that case, you will find that bitumen tiles and EPDM rubber sheeting are the best alternatives for low-cost, easy fitting.
The main elements to think about when it comes to your garden room roof design and roof structure include pitch, aesthetics, durability, and maintenance.
Roof Pitch
A roof's pitch is essentially the inclined slope of a roof to the apex (the highest point of a roof), or a roof's "steepness", with any roof that has an incline of over 10° being considered a pitched roof.
Consequently, any roof that slopes at an angle of 10° or less is considered a flat roof - with both flat and pitched roofs requiring different materials for a successful installation.
Pitched roofs - pitched roof designs are best suited to materials such as metal sheeting, real slate tiles, slate effect tiles/sheets or shingles.
Flat roofs - flat roofing designs work best with materials like fibreglass roofing, EPDM (a thick rubber sheeting), bitumen felt - or if you're feeling green-fingered, a living roof.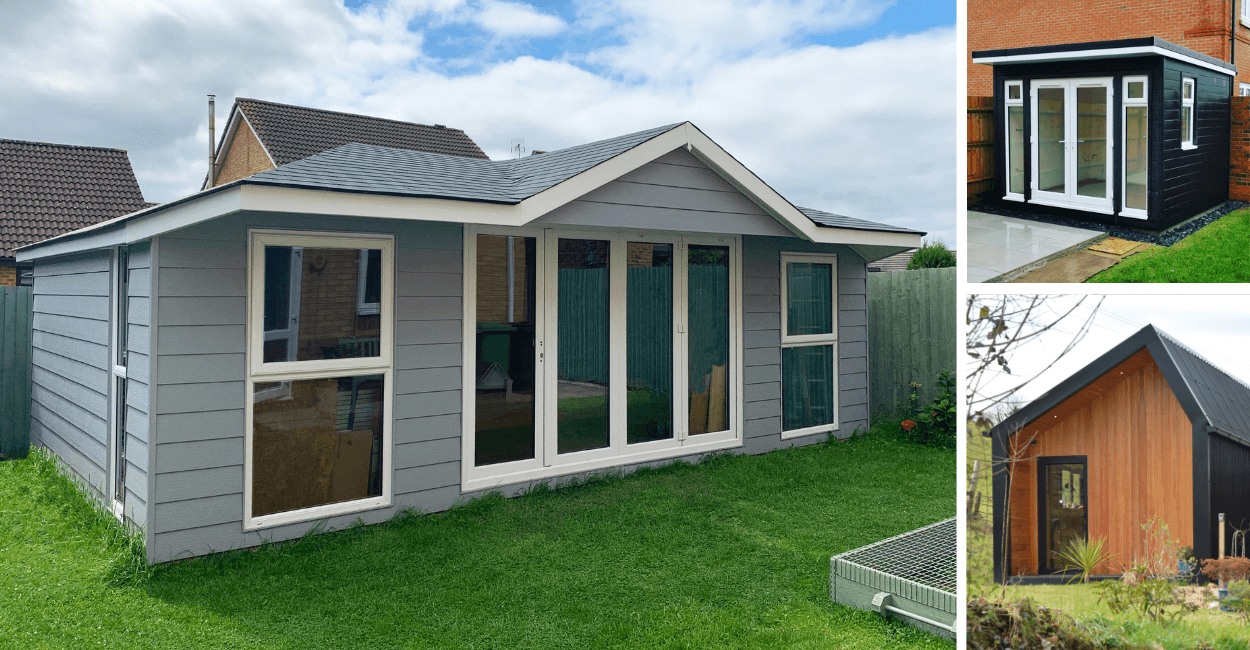 Garden offices/rooms can have pitched roofs, sloping roofs, or flat roofs. All have used Cladco Cladding or Roofing Sheets.
Aesthetic Appeal
Another important factor when considering options for your garden room roof is how your choice will look. Garden offices/rooms, unlike sheds or outbuildings, are an extension of your living space - and whether used as a garden office, gym, or a place to relax, you want the aesthetics of your project to reflect that of your home and garden.
If you're opting to achieve a home-from-home style, and want to keep the look of your garden studio as similar as possible to that of your house, then a pitched roof building with slate roof tiles or shingles is a good place to start.
If your garden room is going to be used as a gym or something less homely - or rather you aren't worried about the space matching your house - then flat, EPDM rubber roofs or fibreglass roofing is an option to consider.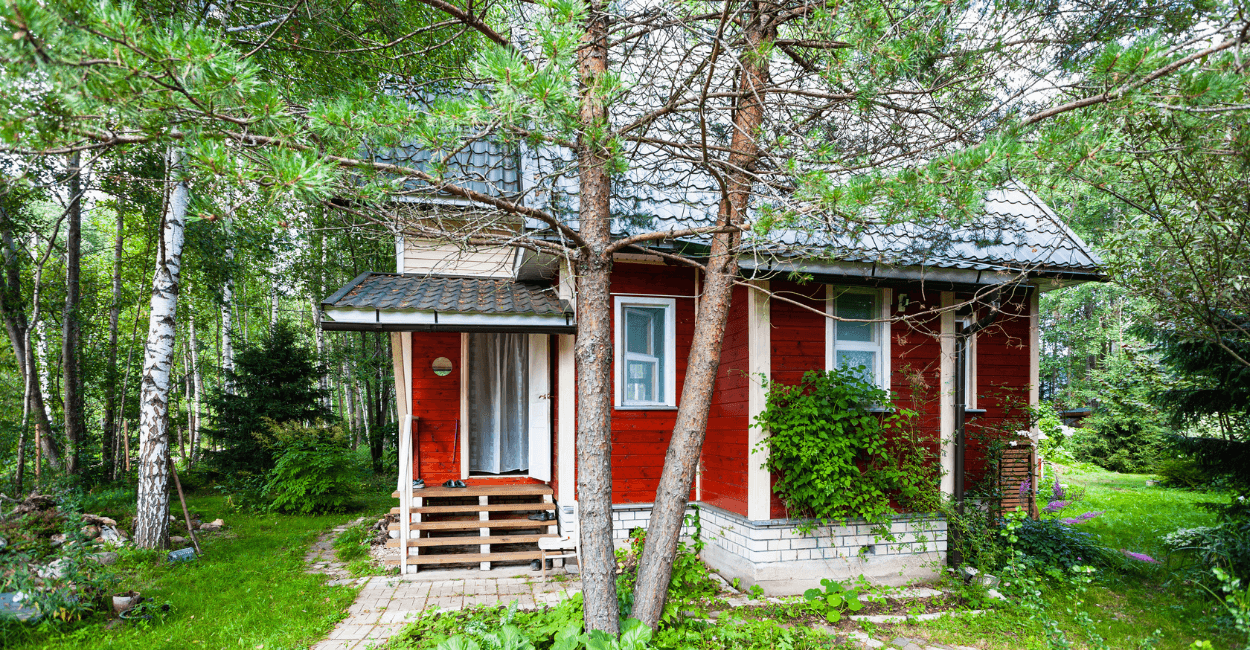 garden offices/rooms can be designed to mimic the exterior of your main house
Durability and Insulation
Suppose you are looking to spend long periods of time relaxing, working or enjoying pastimes in your future garden office or studio. In that case, you will want it to be well insulated keeping warm roofs warm in the winter and cold roofs cool in the summer, which can be achieved with the addition of insulation in between walls, insulated roof panels, or by adding insulation covers during temperature changes in the weather.
As well as more insulation, a roof covering with high durability is a must. If you live in a climate that experiences weather conditions such as heavy snowfall, then installing a roof with a pitch of more than 10 degrees will help to avoid a build-up of snow and reduce the downward force applied to both the roof and the building.
Maintenance
Maintaining your garden building's roof needn't be hard work and should only require the occasional visual check for any cracks, leaks, or weather damage.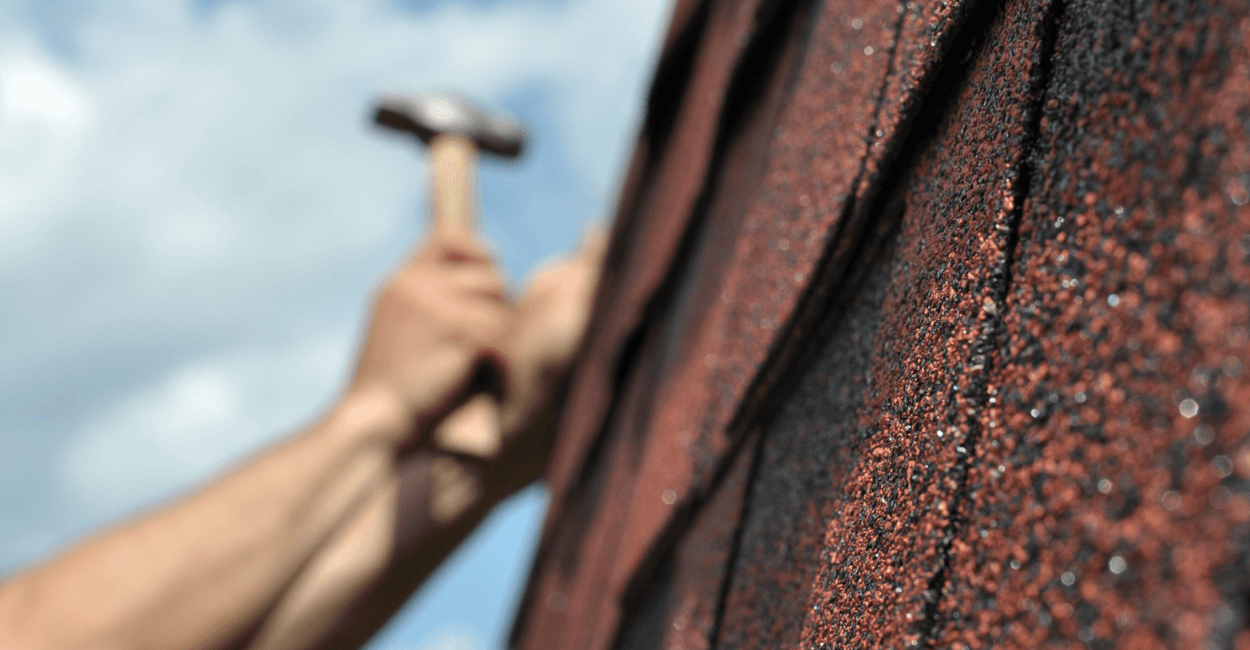 Metal roofing sheets are known to be low-maintenance and highly durable with many steel sheets lasting up to 50 years or more in normal environments.
Slate, or slate effect tiles can also provide minimal maintenance requirements, and so make for a great option for a pitched roof garden office. Tiles will need to be replaced individually if one comes dislodged or cracked for any reason, as opposed to needing to replace the whole roof if a fibreglass roofing material becomes damaged for example.
Garden Room Roofing Materials
EDPM
EPDM (ethylene propylene diene monomer) is a roofing membrane made from thick rubber sheeting that can be fitted on a range of different types of roofs, and is a fantastic choice of material used on garden buildings with low-sloping or flat roofs.
EPDM works well on a garden office design, as it is durable - outlasting more traditional garden roof materials like felt, is resistant to most weather conditions, and in many cases is fire retardant for peace of mind when storing and using electrical office equipment.
A disadvantage of EPDM is that it can be fragile compared to other options.
The nature of the rubber material can be delicate when nearing the end of its life and many consider the material to lack aesthetic appeal due to its industrial origin.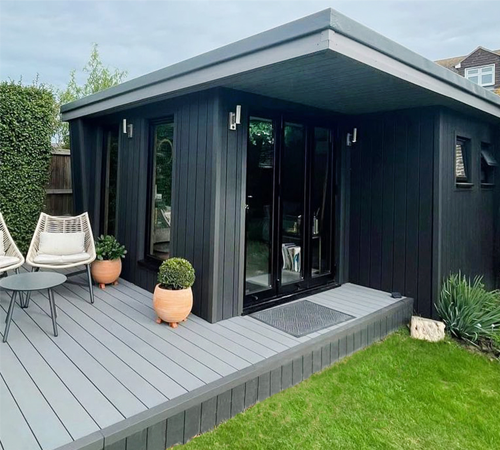 The edges of an EPDM roof is installed with special kerbs for a seamless border
Fibreglass
One of the most popular roof coverings for flat roofing, fibreglass is a great alternative to traditional felt roofs - lasting twice as long in normal environments (albeit a more expensive choice in comparison).
Fibreglass is a high-performing roofing structure that is perfect for garden buildings. It is long-lasting and unlikely to need regular repairs because its seamless design is prefabricated and can be pre-cut to size prior to installation.
A downside to fibreglass is that when compared with roof felt or bitumen tiles for example, it is more expensive initially to buy - however, the longer lifespan and durability outweigh this in the long run.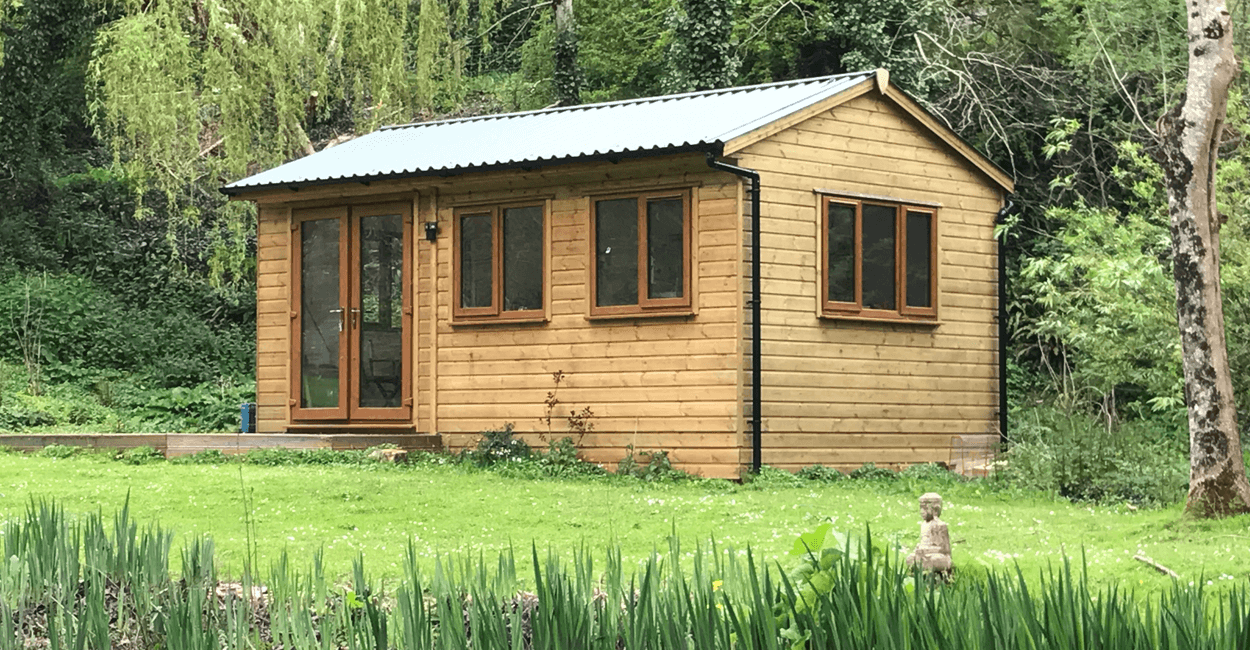 Cladco insulated roof panels installed on a timber garden building
Insulated panels are a quick and easy-to-install example of garden room roof coverings, providing instant insulation properties due to their insulated core that is sandwiched between two layers of steel skin sheeting.
Cladco Insulated Roof Panels are ideal for garden offices as they are a cost-effective, durable and energy-efficient option for those looking to reduce running and material costs, whilst also serving a dual use for cladding too.
A disadvantage of an insulated roof panel is that they are not available in such a range of colours as seamed metal roofing sheets are, with Cladco supplying the panels in Goosewing Grey (a silver grey colour) only. This can limit your design opportunities if aesthetic appeal and variety are a priority for your outdoor building.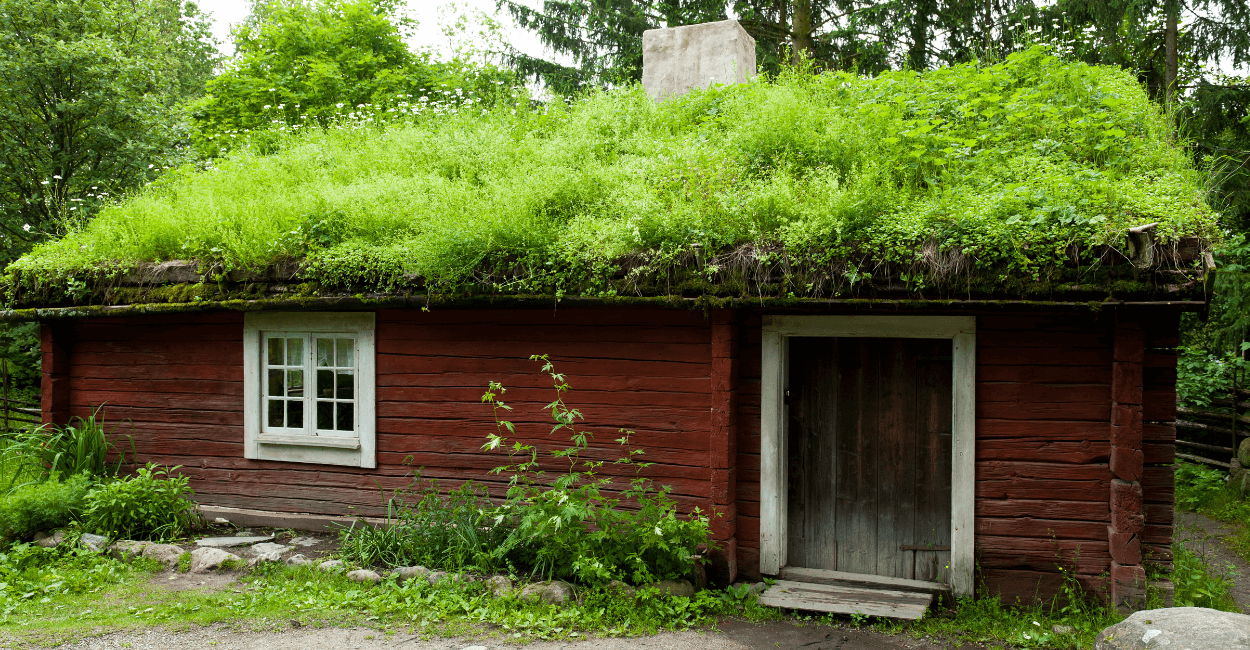 A living roof is becoming a popular choice among garden office designers due to their environmental benefit
A Living roof or green roof are roof coverings that are made up of living plants, foliage and moss. They are a creative, unique way to roof small garden buildings, allowing homeowners to get innovative with their gardening and space-making, or if installed on a flat roof, can double up as a roof deck for relaxing and sunbathing on.
A growing medium that provides all nutrients for plants and flowers will need to be laid on the roof before a selection of seeds are planted, ready to grow into a one-of-a-kind roof.
Living roofs offer brilliant natural insulation and are an environmental benefit to your property, reducing CO2 in the atmosphere - whilst providing a fantastic habitat for wildlife and natural pollinators. If maintained and cared for properly, a green roof covering can be a long-lasting addition to your garden office and reduces the need for unnecessary heating or cooling equipment inside.
If you're not green-fingered or lack the time to maintain living roofs in your garden, then the high-maintenance properties of this type of roof covering would be a disadvantage, and perhaps not the best choice if you're looking for a low-maintenance garden office roof.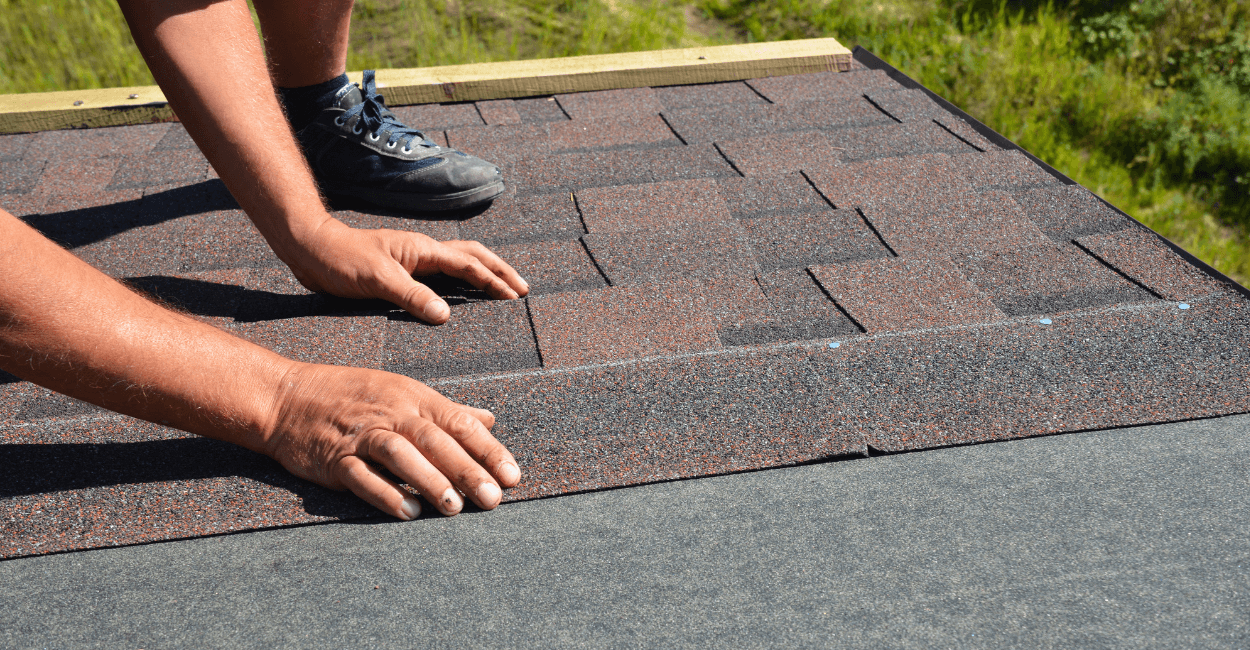 Bitumen felt shingles / asphalt shingles are cheap and easy to install
Best suited to low-sloped or flat garden office roofs, bitumen felt shingles/asphalt shingles are an affordable and easy-to-fit roofing option for the DIYer if you are planning on building your potential garden office yourself.
The material comes with a simple self-adhesive application and features anti-freeze properties making them suitable for cold weather climates.
If you are hoping your garden office roof will last longer than a few years, bitumen roofing has a less-than-average life expectancy in the grand scheme of roof coverings, lasting roughly 10 years. This is reflected in its cheaper price tag, starting at just £2 per square meter.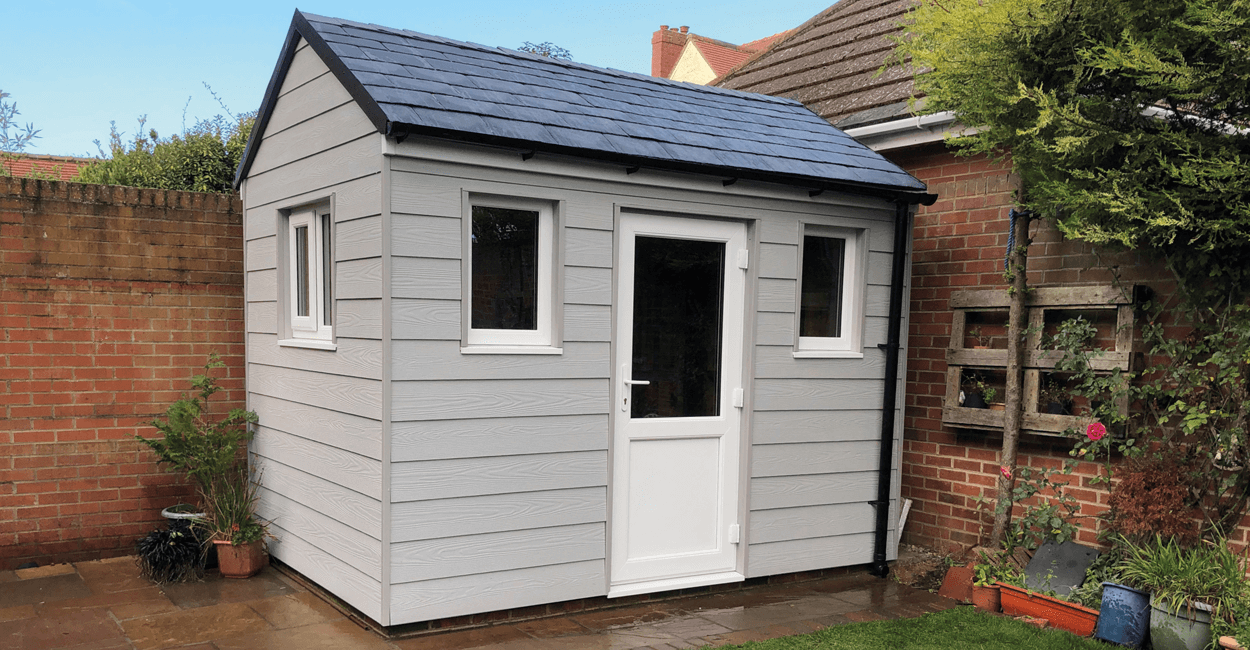 Slate effect roof tiles are a cheaper alternative with the same aesthetic value
If you hope to achieve the look of a small home for your garden office or studio, slate tiles are a premium and sometimes an unaffordable option. Slate effect tiles, however, are a more affordable choice to achieve this look - they are incredibly similar to authentic slate tiles and are manufactured from a hybrid of recycled plastic mixed with other materials.
They require less maintenance than real tiles, as they are naturally stronger and less fragile than slate, requiring less labour to install and so saving you money all around.
Cladco Tile Form Roof Sheets installed on a garden room roof. Colour coated steel in Graphite Grey.
Tile effect sheets are roof panels manufactured from metal sheeting that is designed to recreate the look of individual roof tiles, with all the benefits of being easier to fit thanks to being manufactured from large steel sheets.
Cladco Tile Form Roof Sheets provide your garden office/studio with a roof that will be long-lasting, highly durable and incredibly strong. These large sheets blend well among older, culturally sensitive areas and can also give a fresh look to new buildings - working well in gardens to complement the home.
Tile Form Metal Sheeting can be cut to custom sizes to suit your design and is manufactured with prelaq mica colour-coated steel which is available in three options - Graphite Grey, Black and Copper Brown (a reddish brown colour that mimics a conventional clay tile roof structure).
One of the downsides to tile effect roofing is that it is only suitable for use on pitched roofs with an angle of at least 12°, and so if your garden office design features a flat roof, this type of coverage will not be suitable to install.
If you want to install Cladco Tile Form Roof Sheets on your outdoor build, get a head start with planning using our helpful Roofing Calculator.
Timeless garden rooms: Cedar roofs are a tradtional material used as a roof covering
Cedar shingles are the most natural and environmentally friendly tile roofing option mentioned in this article. They are a lightweight tiling option and so do not bear too much weight on the structure of the garden roof - whilst providing a unique and aesthetically appealing finish.
Ideal for garden offices/rooms that are situated in colder climates prone to snow, cedar shingles have high insulation properties, keeping warm roofs warm and cold roofs cold in all weather conditions.
On the other hand however, although incredibly unique and lightweight, wood shingles are high maintenance, and much like their environmentally friendly eco-roof counterparts, require replacement tiles if one piece becomes dislodged or damaged, and need cleaning from natural debris build up such as moss and leaves throughout their lifespan.
Cladco 13/3 Corrugated Roof Sheets used on the roof and sides of this open-plan garden office. Photo: @huskliving
The majority of metal roof coverings are manufactured in sheet form, with the two most popular metals being zinc and galvanised steel. Cladco Roofing manufactures and supplies these sheets in a variety of profiles including 32/1000 and 34/1000 Box Profiles as well as 13/3 Corrugated - all of which can be installed as large sheets - making them especially beneficial for small garden buildings that may only require a small amount of coverage.
Cladco Roofing Sheets are available in a variety of Coatings and Colours to suit any design no matter how unique and can be installed on low-pitched roofs as well as more acute ones.
One of the disadvantages of steel roofing is that it can be a noisy material in the rain - which is something to take into consideration when making your choice if your outside building is to be used as a garden office where you may need to take work calls or concentrate quietly.
With many roof structure coverings available to suit your garden office needs, it is worth breaking down the four main elements to consider when making your decision.
Pitch, Insulation, Aesthetic Appeal and Maintenance.
If aesthetic appeal that best reflects your home is the main priority for you when selecting your new roof, then your best options would be Tile Form Sheets or Slate effect tiles.
If you are in need of a roof that requires minimum maintenance year after year, then Fiberglass or Tile Form Effect Sheets are your best bet.
For a warm, well-insulated garden office roof, then Insulated Roof Panels are a long-lasting, heatproof option, as well as Living Roofs and Cedar Wood Shingles.
If you're looking to install your new roof covering yourself, as opposed to hiring a professional, whilst saving money on material and labour costs, you will find that Bitumen Tiles and EPDM Rubber Sheeting are the best alternatives for easy fitting.