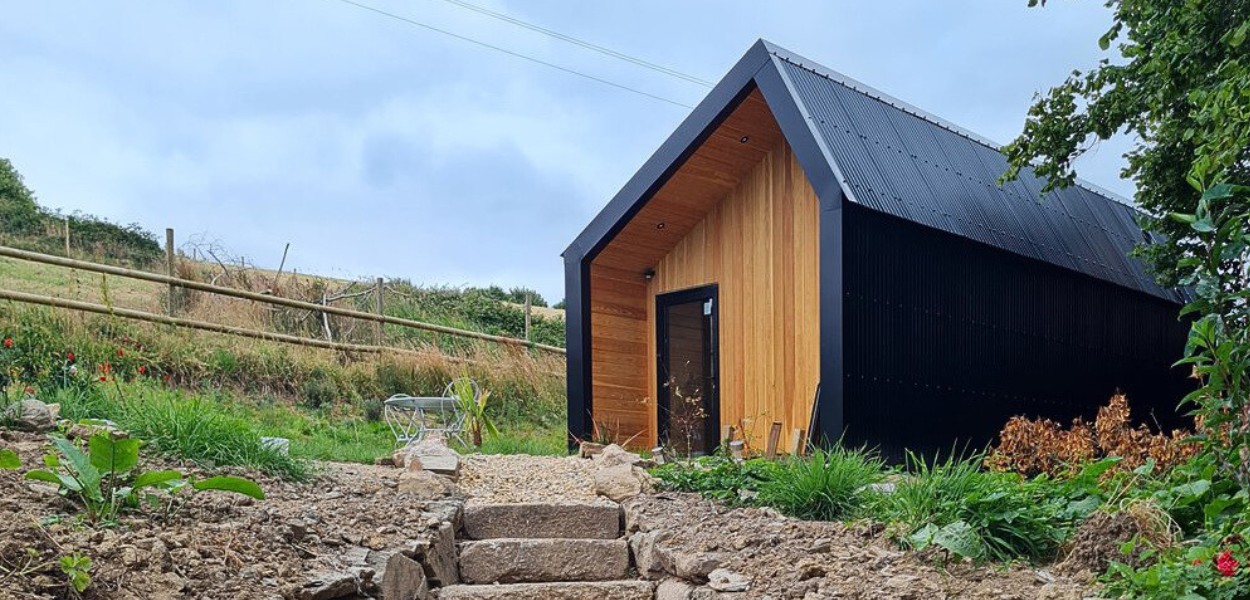 In this Roofing and Cladding showcase, we take a look at how @huskliving and sister company @woodworkscornwall achieve this contemporary modular garden room. @huskliving is a Cornwall-based garden room company that merges simple, striking design with expert craftsmanship to construct unique garden buildings with a difference.
This modular garden room is utilised as a vaulted open-plan office space. It comes complete with a kitchenette, an inset Siberian larch-clad porch and a unique offset-pitched roof.
The outer walls have been clad with Cladco Corrugated Steel Sheets in a Black PVC Plastisol coating to add a stripped-back, industrial aesthetic to its exterior style. This continues inside the building, with exposed timber beams and varnished OSB walls.
Cladco Corrugated Steel Sheets in the same Black PVC coating are also installed on the offset-pitched roof for a strong, weather-resistant finish with an authentic profile. Our Corrugated Roof Sheets give a 990mm width coverage when installed with a one corrugation overlap and are available in both 0.5mm and 0.7mm thicknesses.
If used for cladding, we recommend using the 0.5mm thickness, as this makes for a lighter profile that does not need to take any load-bearing weight. If used for roofing, we recommend using the 0.7mm thickness for added strength and durability.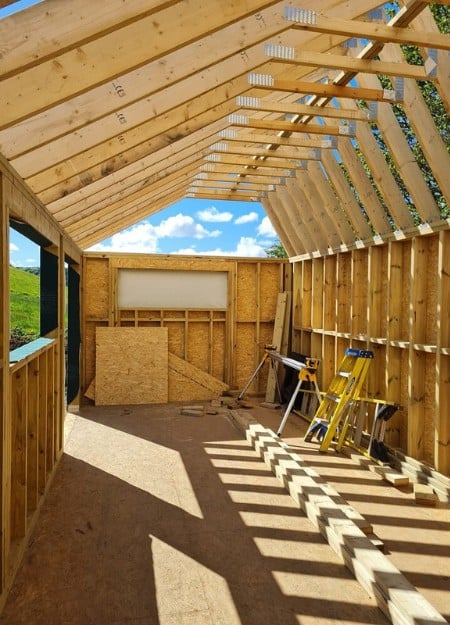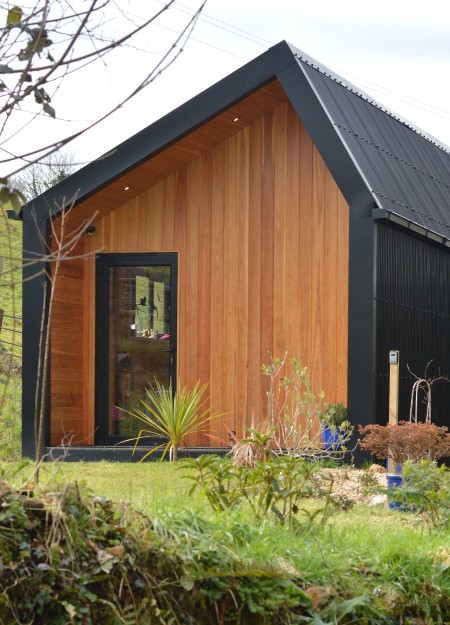 As well as Black, Cladco Corrugated Roof Sheets are available in a selection of up to 11 colours and 2 different coatings, PVC Plastisol and Polyester Paint (or leave as plain Galvanised) – so whatever the look you are wanting to achieve for your project, be it a garden room or a large-scale barn, there is a colour and finish to suit the design - and its surrounding environment.
Corrugated Sheets can be installed to a minimum pitch of 10 degrees, and we recommend Purlins are spaced approximately 1.2m apart. When installing Corrugated Sheets on a roof, you may wish to lay the Sheets in position before fixing them in place with BAZ Screws, to ensure the overlap is sufficient.
Cladco Colour Caps can also be used to cover any silver screw heads to match the colour of the Roof Sheet for a seamless finish.
For more information on fitting your Cladco Corrugated Roof Sheets, take a look at our Installation Guide.
We think this bespoke garden room's compact yet spacious design is the perfect space to enjoy your morning coffee or enjoy the sunshine.