The all-new showroom at Cladco Andover showcases our range of high-quality Decking, Cladding and Roofing products, allowing customers to get a headstart in designing their ideal outdoor project.
The newly fitted, innovative space displays Cladco products as they would be installed, allowing visitors to get a first-hand look and feel of our fantastic ranges. Here you can see our Decking, Cladding and Roofing products as well as Samples, Accessories and Trims. 
If you would like to visit, you can find us here, but before then - here's a preview of what the space has to offer...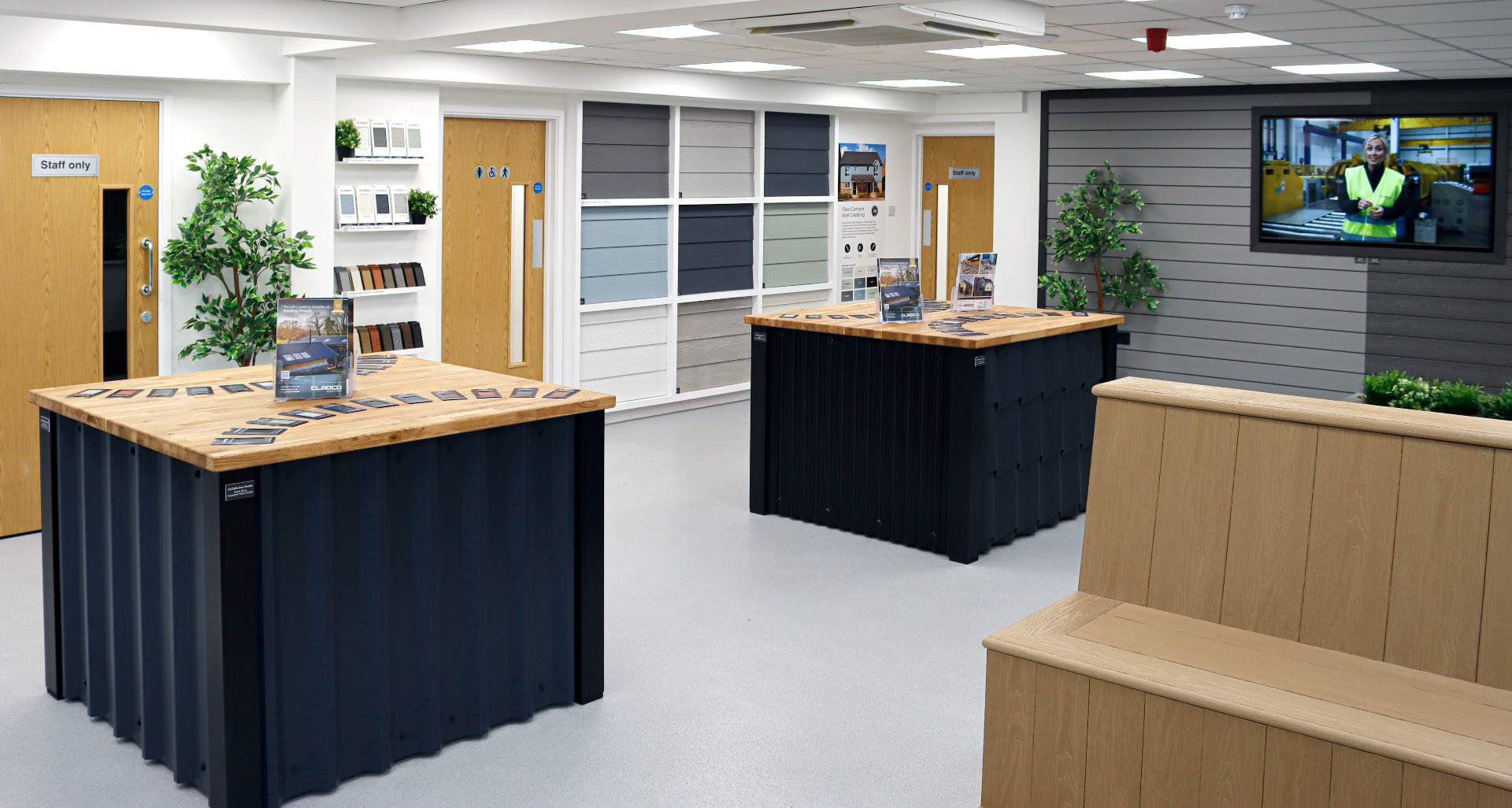 Explore our range of Composite Decking Boards in both Original and Woodgrain finishes. The Boards make for a high-quality and durable decking option - and are a low-maintenance alternative to traditional timber decking.
Customers can choose from eight colours across our range of Composite Decking Boards, and a selection of free Samples are available to take home alongside a complementary Decking Brochure and price list, to get a headstart with planning your new project.
As well as Composite, our Premium PVC Decking range is showcased throughout the display room as both Decking is installed on the floor, and used to create a solid, high-strength seating area. Our PVC Bullnose Boards have been installed on the edges of the seats for a rounded, smooth and comfortable finish.
Take a look at our range of Composite and Fibre Cement Wall Cladding Boards as well as our Slatted Wall Cladding Panels in person for additional in-store inspiration.
Boards can be installed either horizontally or vertically and our new showroom demonstrates just how fantastic our Composite Wall Cladding Boards in both Light Grey Original and Charcoal Woodgrain finishes look when installed below.
Our Composite Corner Trims conceal any edges around the display television seamlessly, just as they would when fitted on the external corners of your home or building.
Fibre Cement Wall Cladding is the ideal solution for modern and traditional home exteriors. We have various colour options on display at the Andover Showroom including Light Grey, White, Sage Green, Slate and more.
As well as colour options, the showroom exhibits the unique feather board effect way in which Fibre Cement Wall Cladding Boards are installed, creating a realistic timber-like result thanks so its textured woodgrain finish.
Slatted Wall Cladding Panels are designed to replicate the look and feel of individual wooden slats. They can be installed either horizontally or vertically and are suitable for cladding both domestic and commercial applications – or to create a statement wall in your outside living space.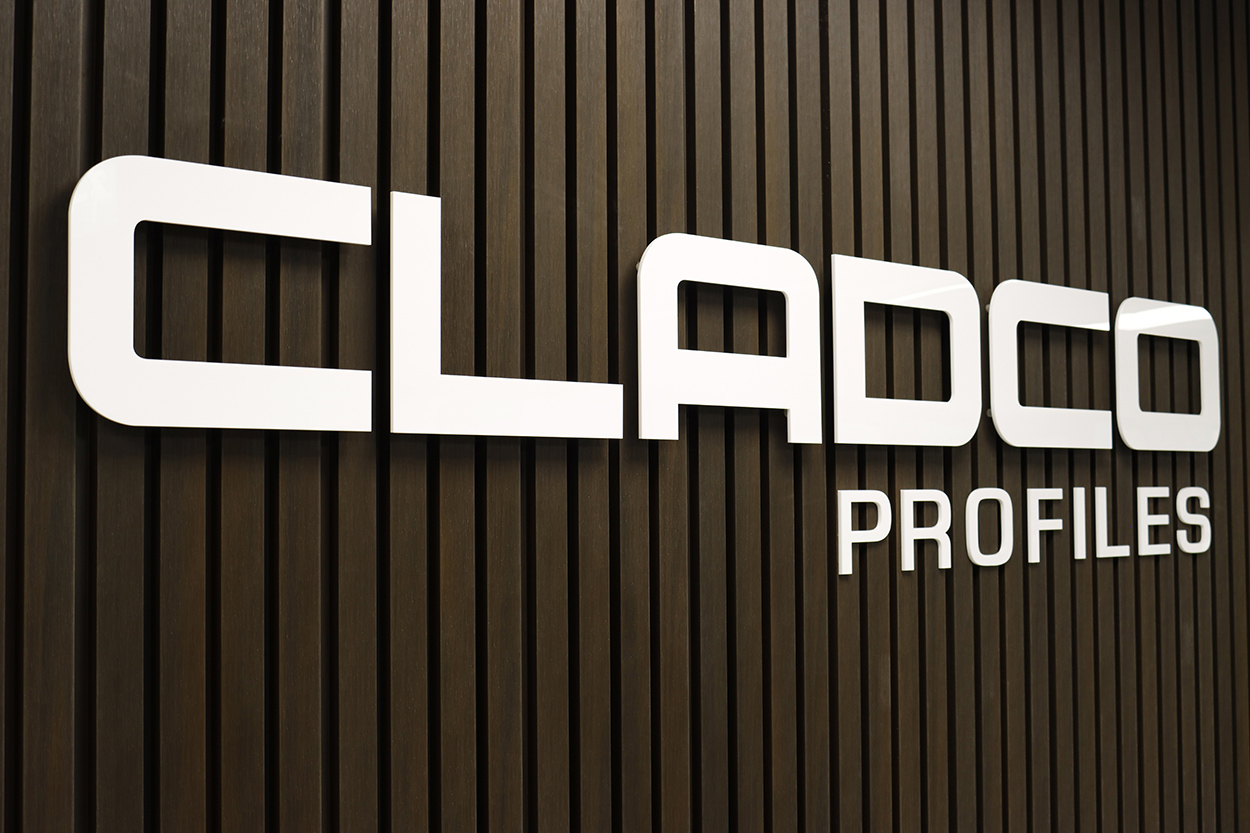 Available in five natural colours, see the Panels installed for yourself and grab a free Sample from our new showroom to take home and decide on a colour in person.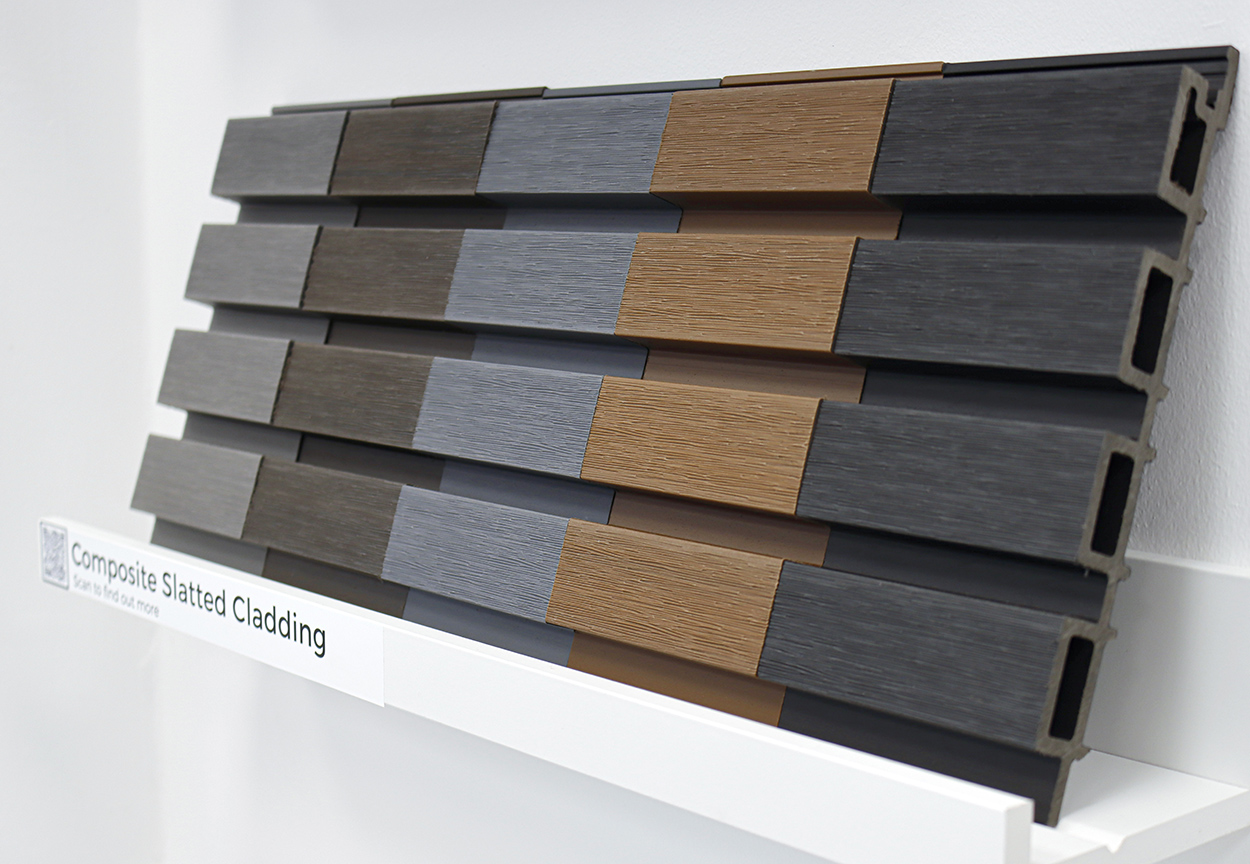 Cladco Steel Roofing Sheets have been installed on the sides of our display counters to demonstrate how versatile our Sheets are as both roofing and cladding products.
The below counter showcases our Tile Form Steel Roof Sheets in Copper Brown installed on its sides, whereby you can also see our other available Colours and Coatings from the selection of available tangible Samples it displays.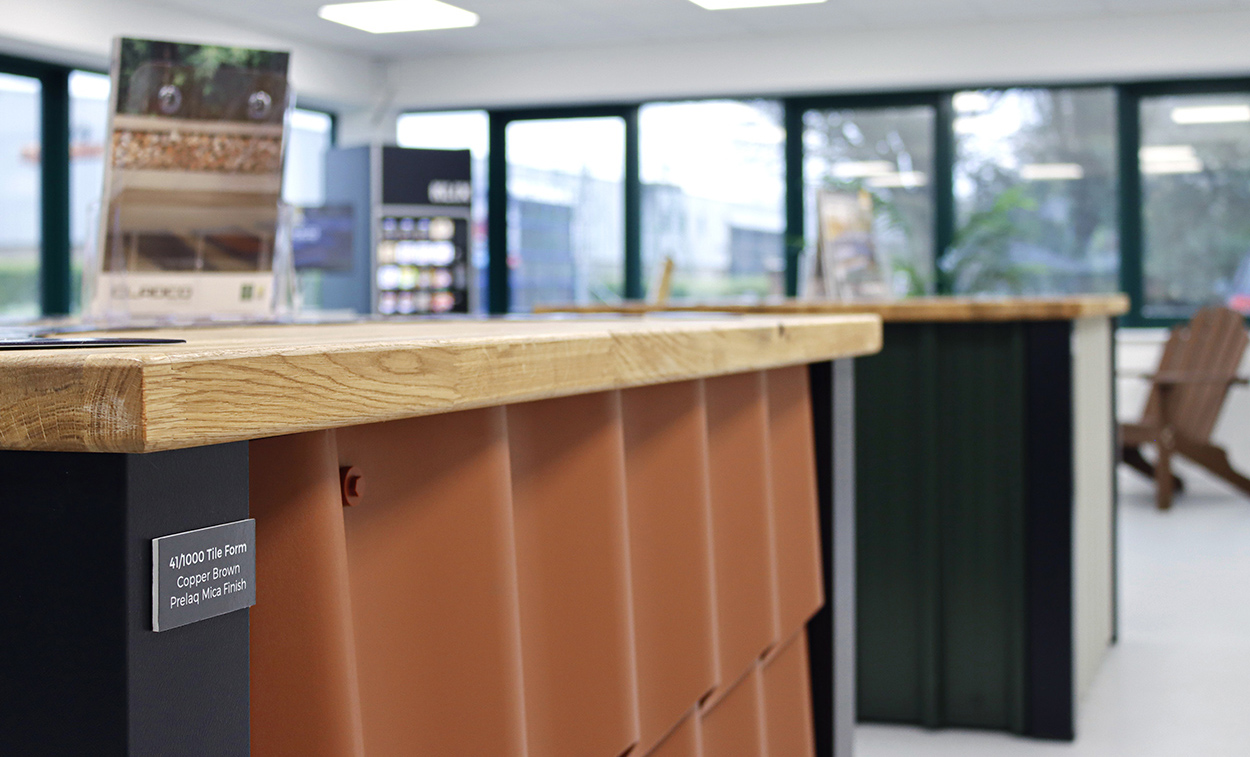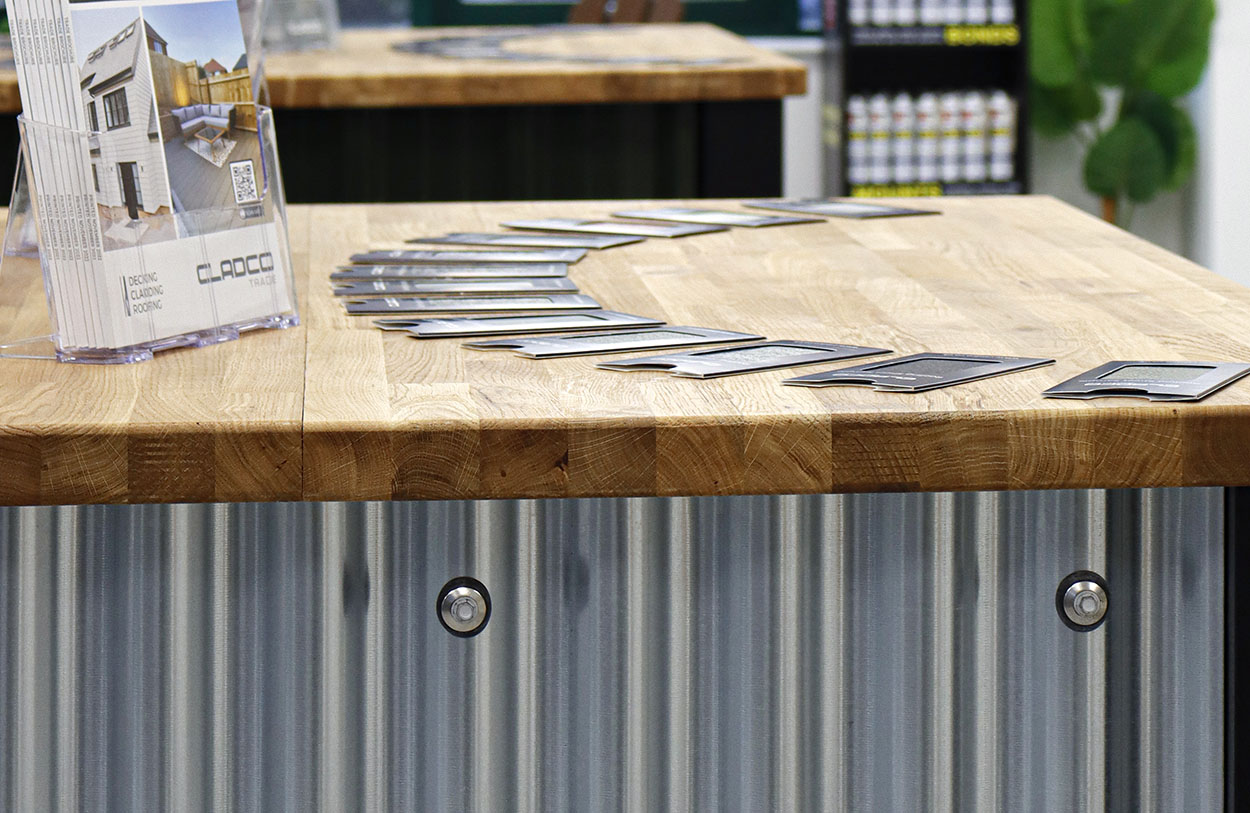 Can't see the Profile, Colour or Coating you're looking for fitted in our Showroom? Experience all the coatings and colours of our Roofing Sheets with our selection of complimentary Showroom Samples, available across our complete range for you to take home.
Select up to 3 colour swatches and you'll receive a small sample (approximately 130mm x 75mm) to demonstrate the colour and coating of the Sheet.
Your chosen Samples come with the latest Cladco brochure and up-to-date Price List.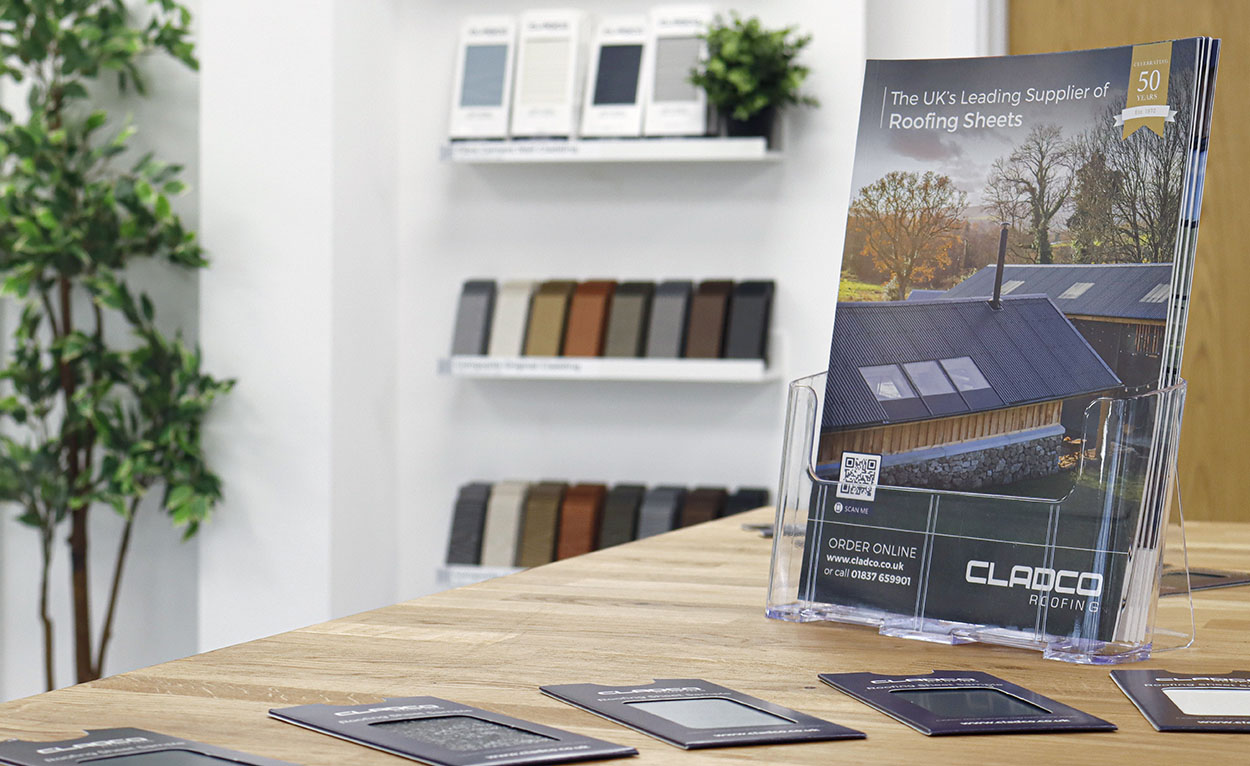 There is no appointment necessary, simply find us at West Portway Industrial Estate, 55 Reith Way, Andover, Hampshire, SP10 3TY. Visit here for more information

A member of our highly trained experts will be on hand to offer any assistance, answer any questions, and help in any way with your new outdoor project.
We are open 8am - 5pm Monday to Friday and 8am - 1pm on Saturdays.
Telephone: 01264 598231
Email: [email protected]