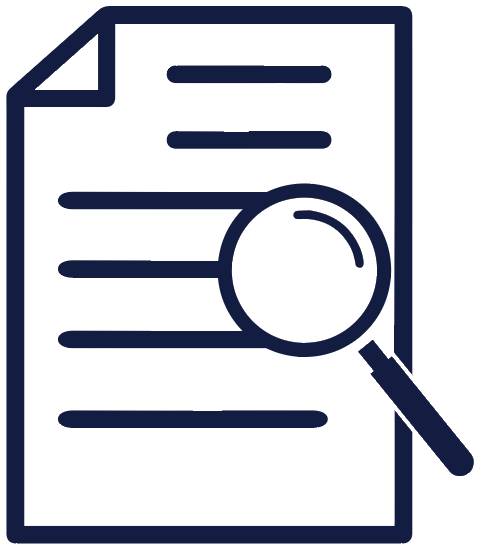 Replacing an old worn-out roof is a long-term investment for homeowners that can affect many aspects of your home, from increasing the resale value of your property to improving fire safety, adding noise protection and increasing resistance to different types of weather conditions.
If you're wondering about the cost of metal roofing in 2021, and how to choose metal materials, there are a number of variables involved in working this out. We look at how much you could end up paying for metal roofing per type, as well as any other costs and considerations involved during the installation process.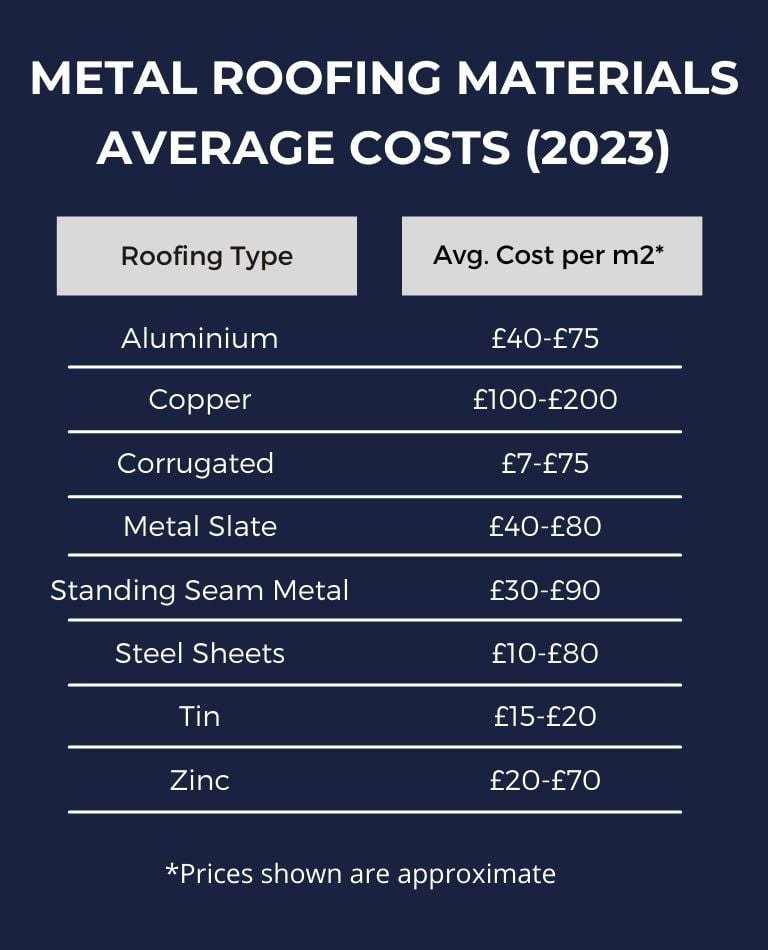 From aluminum to steel, copper or iron roofing panels, there are many types of metal roofing materials that can transform and even add value to your home. We take a look at the average cost of metal roofing materials and the different options, and how much you could expect to pay for the materials and other important things to think about, such as maintenance and contractors costs.
What is Metal Roofing & Where is it Used
Metal roofing materials are commonly seen on sheds, garages, agricultural buildings, commercial structures, large factories and homes throughout the country. The popularity of metal roofing options is mostly due to the low-maintenance, hard-wearing and long term benefits of metal panels.
Cladco metal roofing materials are manufactured from high-quality, galvanised steel that is formed into various Profiles, such as Corrugated, Box Profile and Tile Form. These are rolled from large coils and cut to lengths to suit the shape of the roof.
The panels are then overlapped, usually by one corrugation or profile, and secured to purlins or battens, with other insulating materials and underlayments to create a solid roof structure.
Homeowners who are looking to do a complete roof replacement or installation, either replacing old shingle roofing tiles or stainless steel roof panels that have corroded over time, will want to choose a metal that is best suited for your project and budget.
Popular Types of Metal Roofing
The popularity of roofing panels has changed over the centuries due to the manufacturing process and availability of the materials required for metal roofing. Steel roofing has become increasingly popular, as well as aluminium as an affordable metal roofing material.
Large commercial buildings will favour galvanised metal roofing due to the resistance properties and appearance. Copper and zinc metal roofing are commonly seen on old, historical buildings, however these are becoming rarer.
Standing seam metal roofing is a popular option in the USA roofing market, bringing down the cost of metal roofing installations.
Cladco Roofing Sheets are available in a variety of finishes, including PVC Plastisol, Polyester Paint and Prelaq Mica, which are manufactured from galvanised steel coils and formed into Corrugated, Box Profile or Tile Form Profiles.
Each coat has a different set of properties and levels of durability, from Polyester Paint offering the most affordable choice of coating, to the more durable Prelaq Mica coating which is available in Tile Form Profile for an authentic pantile effect.
Metal Roofing Prices by Type
ALUMINUM ROOF COSTS
Aluminum roofing is a lightweight and long-lasting roofing option and has many beneficial properties. These include corrosion resistance and protection from salty seawater air. The material also has a high strength-to-weight ratio making this ideal for industrial and commercial applications on large buildings.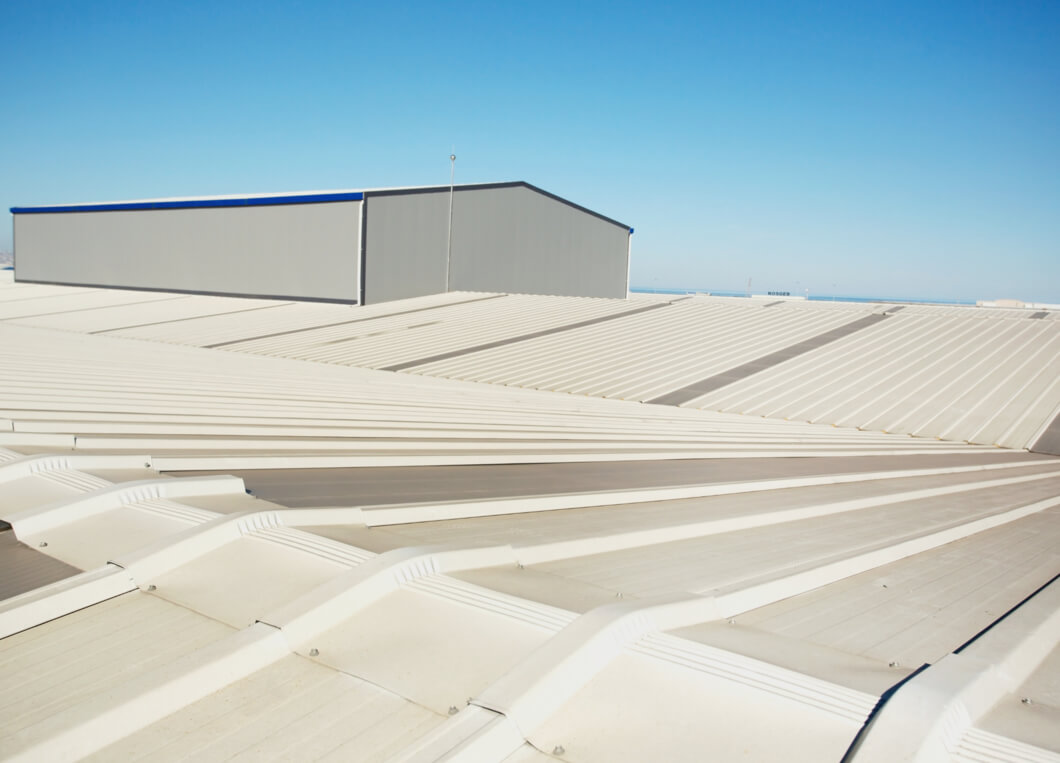 Aluminum is flexible and easy to work with, which makes this type of roofing material a cost-effective option for large applications.
Aluminum roofs cost between £40-£75 per square metre.
COPPER ROOFING COSTS
Copper roofing is a long-lasting roof material that has been used for centuries to protect buildings from all types of weather. With a life expectancy of well over 50 years, copper roofs are seen on old historical buildings.
Copper panels are more energy-efficient and eco-friendly compared to other roof panels, as well as promoting fire resistance.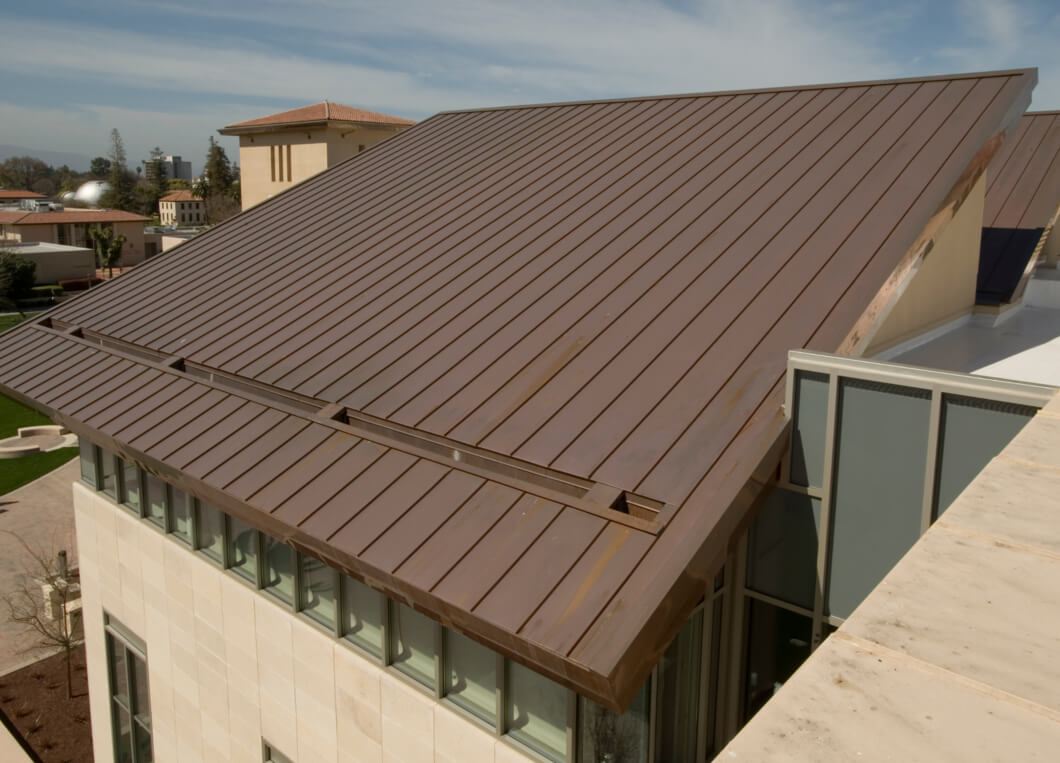 Compared to heavier types of roofing, such as lead, a copper roof is a lightweight and flexible metal roof which makes it easy to install over difficult roof designs.
Copper roofs can add lots of character and individuality to the building, but come at a steep price per square metre.
Copper roofing cost is between £100-£200 per square metre.
The total cost will be of course be dependent on any additional items required for the installation, such as purlins and insulation, and contractors are likely to charge more for working with this more expensive material.


CORRUGATED METAL ROOF COSTS
Corrugated metal roofs can be formed out of different metals, which will alter the costs per square metre. From aluminum, steel, to iron, new metal roofs formed into the corrugated profile are increasingly more popular with domestic home installations.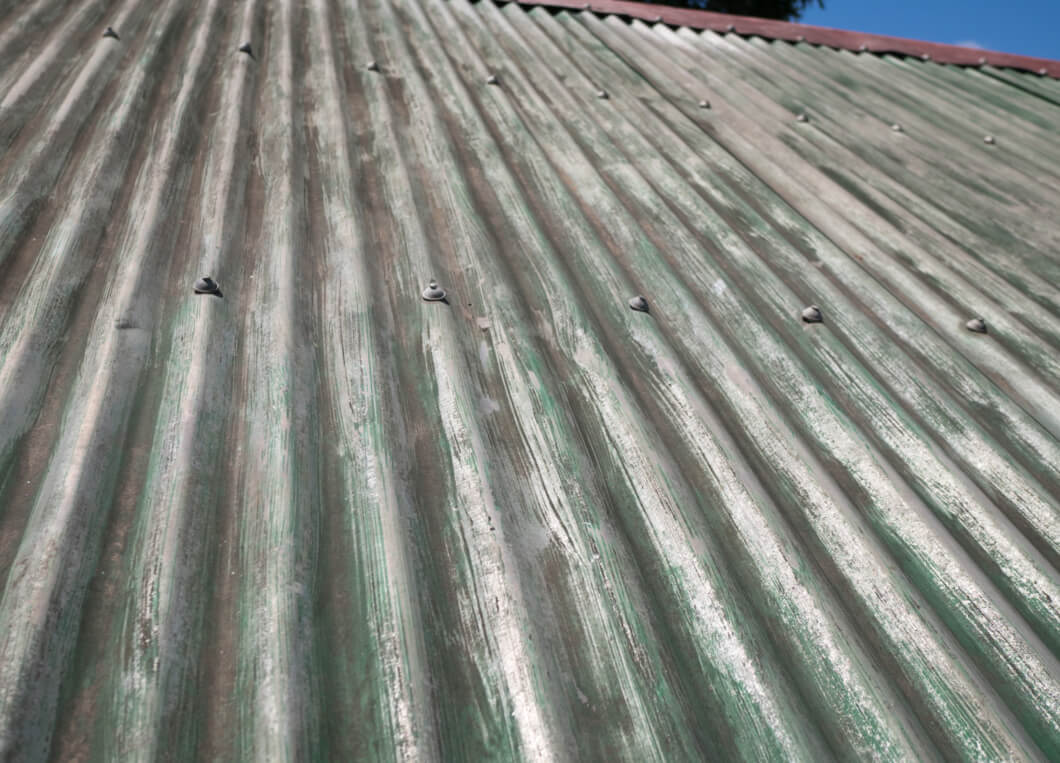 Corrugated metal roofing is designed in a 'wavey' profile that helps for improved water run-off and ease of installation, making this ideal for overlaying onto existing roofing instead of removing the roof completely.
Corrugated roofing cost is typically between £7-£75 per square metre.


METAL SLATE ROOFS
Metal slate roofs offer the look and feel of slate shingles, but with the strength and durability of metal tiles.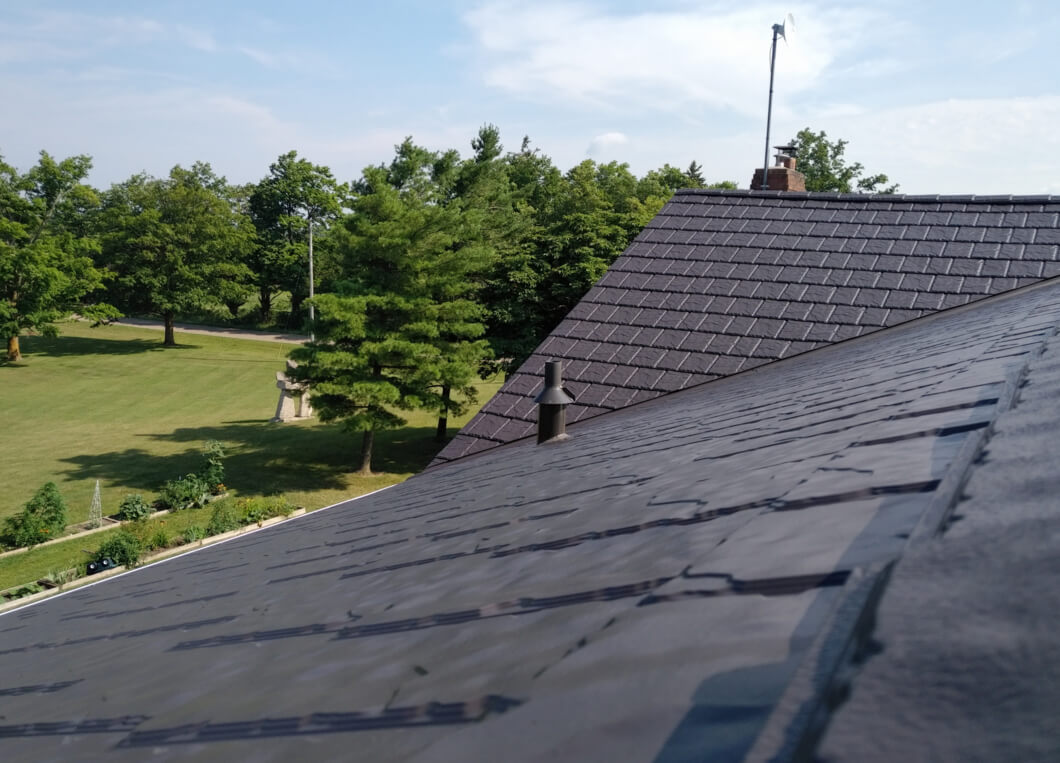 Advantages of slate shingles include being lightweight alternatives to natural slate or stone shingles. They are much more affordable than the stone equivalent, which makes these a popular choice for homeowners looking for a new look at a fraction of the price.
Slate roof shingles are easy to install and can be done quickly by professionals, saving on installation costs and time overall.
Metal slate roofs cost between £40-£80 per square metre.


STANDING SEAM METAL ROOF COSTS
Standing seam metal roofs are profiled metal roofs that feature a raised section that overlaps to provide a sealed joint, hiding any fixings for a water-tight seal.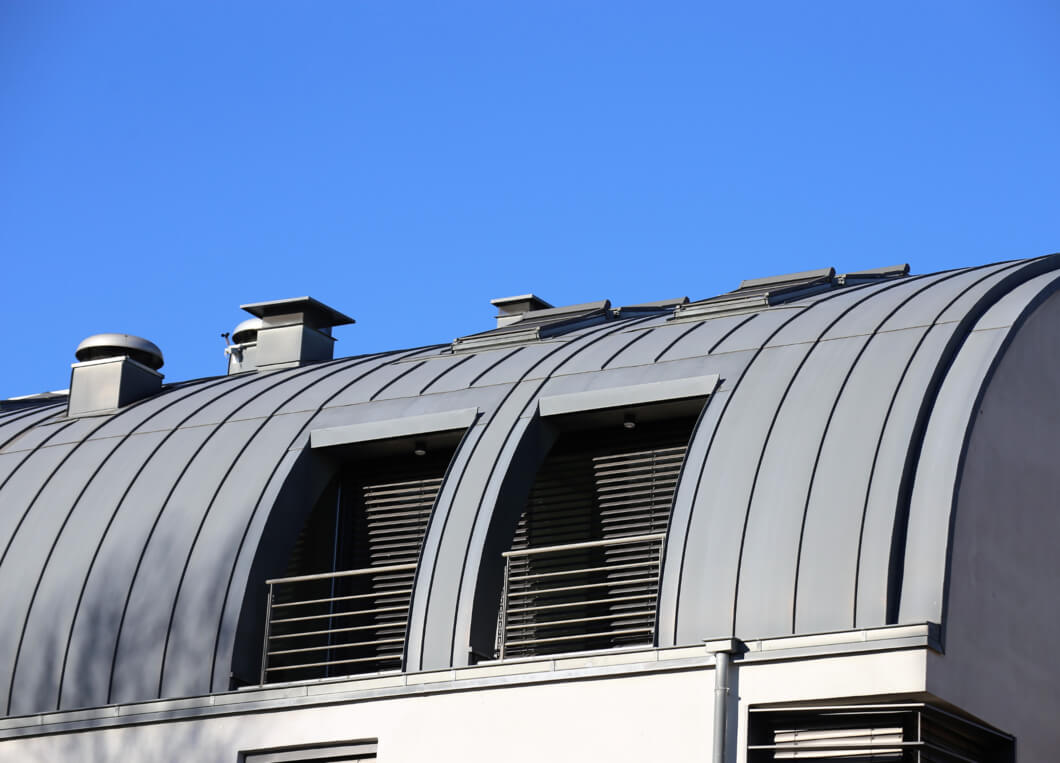 They are preferred in harsher weather conditions to withstand hailstones due to the thickness of the material, which is usually thicker than the average profiled metal panels. Standing seam metal roofs are priced higher than most other metal roofs due to this increased thickness and are available in galvalume, aluminum and galvanised steel finishes.
Standing seam metal roofs have a lifespan of up to 60 years and are promote low-running costs.
Standing Seam metal roofing cost per square metre is between £30-£90.


STEEL ROOFING COSTS
Steel roof panels are durable and will increase the lifespan of a roof by up to 25 years on average. Steel is heavier and although costs are higher than other metal roofing types per panel, is more efficient and cheaper in the long run.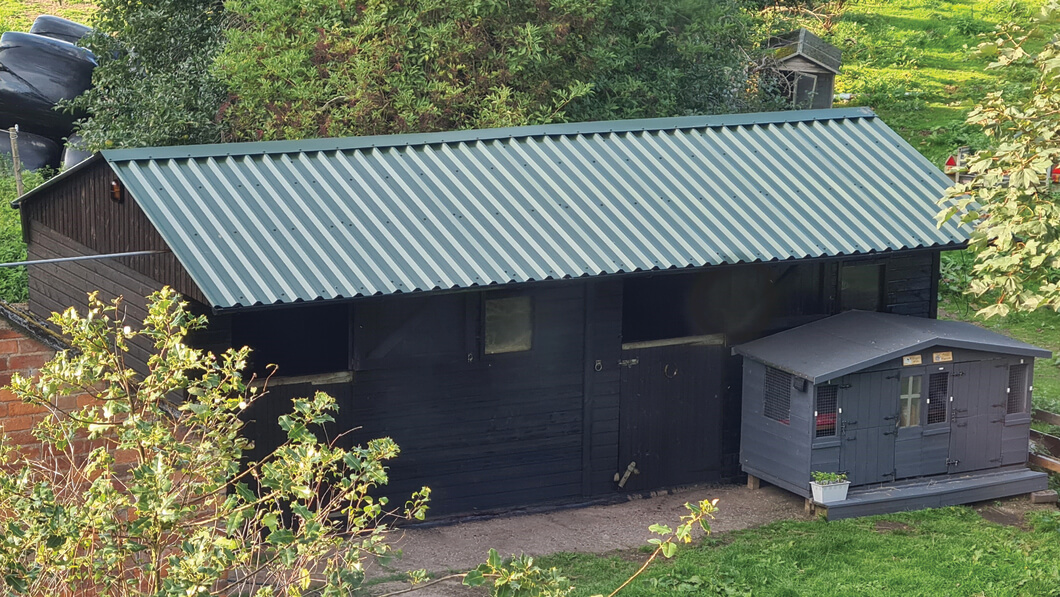 Steel metal roofs come in a variety of profiles and coatings to suit the application and building, as well as budget. This type of material can be used as wall cladding, providing the ability to cover an entire building in metal. Wall cladding panels are generally thinner than roof sheeting and cost slightly less due to reduced materials per sheet in the manufacturing process.

Eliminate the Guesswork! Get the Number of Sheets and Fixings You Need with our Roofing Calculator. Start Your Project Right.
Profiled Metal roofing cost between £10-£80 per square metre.


TIN ROOFING COSTS
Tin roofs are an older form of metal roofing material that was originally created from an alloy of tin-coated iron, and later with a lead coat that provided an affordable roof system. Tin roof materials boast fire-resistant properties and are overall low-maintenance, with a long 40-year lifespan.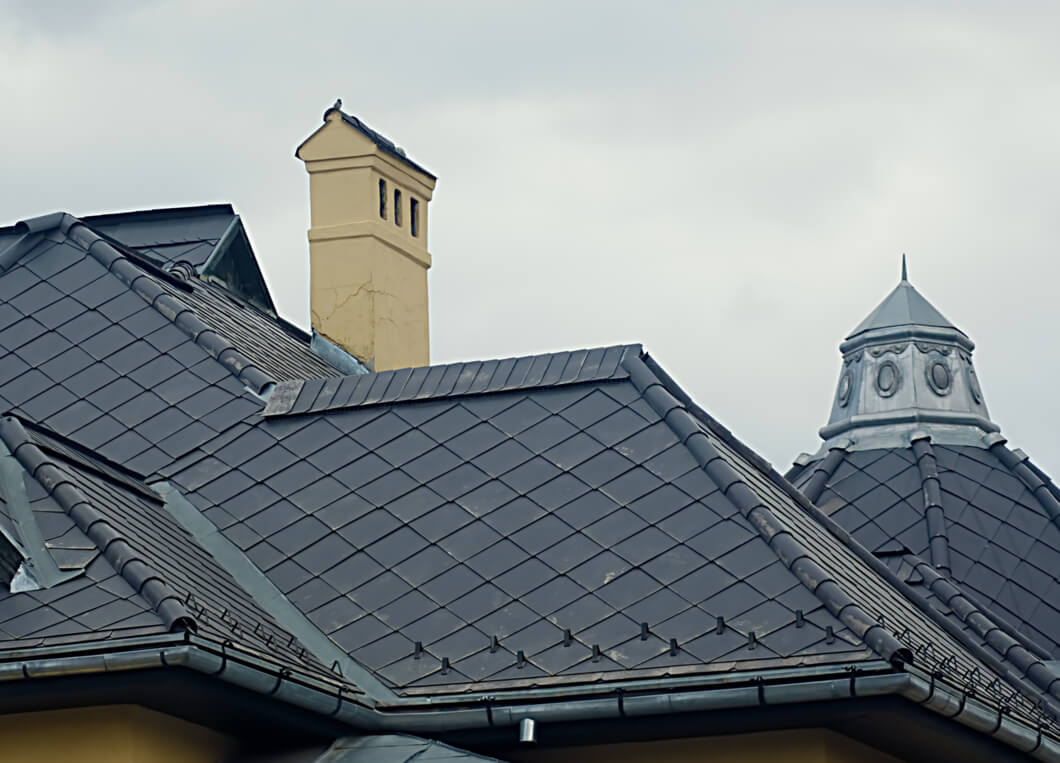 Formed into shingles or panels, tin roofing is now more often replaced with other types of metal roofing, such as aluminium and steel.
Tin roofs cost between £15-£20 per square metre.


ZINC METAL ROOFING COSTS
Zinc metal panels are one of the most long-lasting roof materials available on the market, with a lifespan of up to 100 years. With many advantages, such as being fire resistant, mould and insect resistant, zinc is a superior roofing material, however comes at a price.
More commonly seen in European cities than in the US, zinc roof panels are low maintenance and even renew themselves if the surface becomes damaged. It does this by the patina process, which is a colour changing process that zinc goes through overtime.
The patina process can take years, and this is why some roofing contractors or designers will avoid using zinc due to its colour changing appearance.
It also takes a skilled professional to install zinc panels, and this is where things can become expensive. If any of the exposed edges are left in contact with water for too long, then corrosion can occur.
Zinc roof materials are quite malleable, too, so they can be manipulated to adapt around intricate designs and patterns without losing their form.
Zinc roofs cost between £20-£70 per square metre.
Asphalt Shingles vs. Metal
There are some key differences between metal and asphalt shingles that need to be taken into consideration before purchasing and installing. To start with, the lifespan of asphalt shingles is much shorter than that of metal shingles.
This is due to the fact that metal shingles are hard-wearing and offer increased durability in harsh weather conditions, such as withstanding hail storms or heavy debris.
Metal shingles can last for up to 75 years, compared to asphalt shingles with a lifespan of 15-30 years on average.
Asphalt shingles are cheaper to install than metal roof shingles, which means you'll save money on this initial outlay, but with a shorter lifespan, they'll require replacing sooner. It's worth considering how long you plan on staying in your property and if the longevity of metal shingles is preferred over the more affordable asphalt shingles.
The other advantages of metal over asphalt shingles include being more resistant to fire and providing a lower insurance rate, as well as increasing the property's resale value, meaning you can benefit financially from installing higher quality materials.
Metal Roof Underlayment Costs
Be sure that the additional costs of roofing underlayment are included in your estimate. This will include any base materials underneath your roof that go under the purlins and battens.
The job of roof underlayment includes improving protection against the elements for the insulation material and reducing heat loss from the home.
There are different types of roofing underlayment, from plastic foil to other semi-rigid sheet materials and solid materials such as fibre cement or wooden boards.
Expect to pay on average between £3-£4.50 per square foot for underlayment.
Metal Roofing Maintenance
CLEANING
Cleaning metal roofing is generally easy to do, however this will depend on the size and height of your metal roofing. If you require specialist equipment, we recommend contacting a local industrial cleaning company or contractor for a quote before proceeding.
If you're looking to tackle the cleaning process yourself, wait for dry, overcast weather to reduce the reflections off the surface of the sheets. To remove any debris build-up, a soft brush and pressured water can be applied, however for tougher marks and grime, it's recommended to use a cleaning product to tackle marks.
Usually a second person is recommended for cleaning to observe and provide support in setting up safe access to the roof and to help improve the safety aspects of the cleaning process.
Standard low-cost, non-corrosive cleaning products can be used, which will help to keep costs down if you're taking the DIY route.


COATING
The metal sheets provided by Cladco are supplied with a range of coatings, from PVC Plastisol to the less durable Polyester Paint. The Prelaq Mica coat found on the Cladco Tile Form Sheeting is an extremely tough and resistant coat, providing a pantile effect roof without the need to install each tile one by one.
Coatings will vary depending on whether you opt for a shingle roof with a range of styles to a copper roof, which has a set look but will potentially last three times longer.
Metal Roofing: Energy-Efficiency
One of the benefits of metal roofing is that it provides varying levels of energy efficiency depending on how it's been installed and sealed. When installing a metal roof, consider Insulated Panels instead of single-sheet metal roofing panels, as Insulated Panels will provide increased heat retention in colder months through the year.
Including underlayment will increase the heat retention of a roof and reduce the average cost of a metal roof.
Things to Consider with Metal Roofs
INSTALLATION
Installing metal panels, although designed to be easy, will require research and advice. We recommend referring to our YouTube videos and Installation Guides for more information.
Roofing Z Purlins will need to be in place to support the roof and these can cost £4.66 per foot. Made from structural grade Z39 galvanised steel, and measuring 1.8mm thick and 175mm in depth, Z Purlins are a strong and lightweight alternative to timber purlin supports.


COST ESTIMATION
Cost estimation is a complete look at the costs involved in installing a roof and the materials involved. This is a way of forecasting the final price, and how long the installation might take to complete.
As an estimation, this is only a prediction so be prepared for this to change depending on the variables, such as the weather forecast and delays in materials which will extend any scaffolding or labour costs.


COLOURS
Another factor to take into consideration is the thickness of the metal and finish. The thicker and harder-wearing roof panels are generally the more costly.
One of the benefits of steel roofing is the range of colours available. These vary depending on the type of coating you choose, for example, Cladco Polyester Paint coated panels are available in five colours, whereas PVC Plastisol coated panels are available in 11 colours, both with Galvanised options, to suit the surroundings or existing buildings, with additional benefits of being resistant to corrosion.
For other types of metal roofs, the choice of colour can be limited due to the nature of the metal, such as zinc or copper, so it's worth taking this into consideration before buying.
Zinc roofs will inherently change colour as well through their lifespan due to a chemical process called patination.
It's important to take into consideration the type of material when looking at the cost of a metal roof. For your metal roof, how much money it will cost in the long run will depend on the maintenance and repairs required to keep it in good shape. Usually, metal roofs are hard-wearing, however, the thickness and coating of the metal roof will determine how long it lasts and the cost per square foot will vary with this in mind.