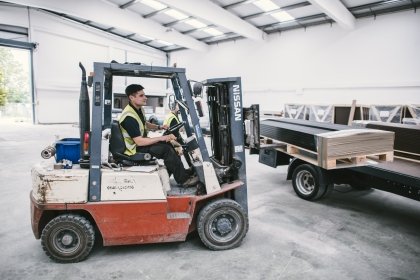 Care should be taken when handling sheets to prevent damage and injury during installation. If possible, mechanical handling equipment should be used. Dragging one sheet's edge across another when unloading may cause scratching of the sheet below, so make sure the sheet is lifted clear and not dragged. Any packaging should be removed before lifting sheets onto a roof.
Cladco Profiles Ltd accept no liability for any loss or injury caused by following the information in this guide. If you are unsure about how best to install your roof, we would recommend contacting an experienced professional.
When handling sheets remember to keep your hands safe. Sheets have sharp edges and cutting sheets can be hazardous. We have cut level 5 protective safety gloves available on our website. 
Sheet Handling Equipment & More
Once you have placed the sheets on the roof and prior to fixing them, roofing sheets should be kept secured to the roof and close to the rafter line. It's best to spread these out as much as possible so that their weight is evenly distributed across the purlins. Any debris that arises should be removed and any off-cuts of insulation, surplus fasteners and similar parts should not be left on the sheeting.
If you cannot use any sheet handling equipment for lifting metal roof panels, then you will need to take precautions to ensure no damage is caused to yourself or the sheets. Make sure you have protective gloves to protect your hands from any sharp edges when handling the sheets and do not lift any sheets on your own. This way you'll minimise bending the sheets accidentally which will be very difficult to resolve if it happens.
Further information on this and working at heights, other applicable legislative requirements can be found by visiting the Health and Safety Executive's website- www.hse.gov.uk
Lifting Metal Roof Panels
For lifting any roof sheets ensure you have sufficient numbers of people physically able to lift the roofing sheets, but this depends on the length of the sheets you have ordered. Please note weather conditions must be considered before handling. The longer they are, the more risk there is of bending in the middle, so be aware of this when attempting to lift. As we have already stressed, it's best to look into using mechanical handling equipment for the best results and to help remove any strain on yourself and whoever is helping you.
Here at Cladco, we always want to ensure you have the best possible experience when working with our products, so be sure to browse our full Help & Advice section for guidance on our products. If you have any queries, then please contact us directly via phone or email and we'll help as quickly as we can to respond. Please check out our FAQs page for common questions answered. For all health and safety considerations, please visit the official HSE website here. www.hse.gov.uk