Beautifully Finished
Roofing Sheets
Get A FREE Sample Pack Delivered To Your Door
Roofing Sheets Sample Pack
As the UK's Leading Roofing Sheet Supplier, we manufacture steel Roofing Sheets in a variety of profiles and finishes from our warehouse in Okehampton, Devon. From Box Profile to Corrugated Sheeting and Tile Form, all our Roofing Sheets are cut to specific lengths for your project. Choose from our range of coatings and colours below to see for yourself.
Pick three of your favourite colours from the charts below to get your Roofing Sheet Samples for FREE.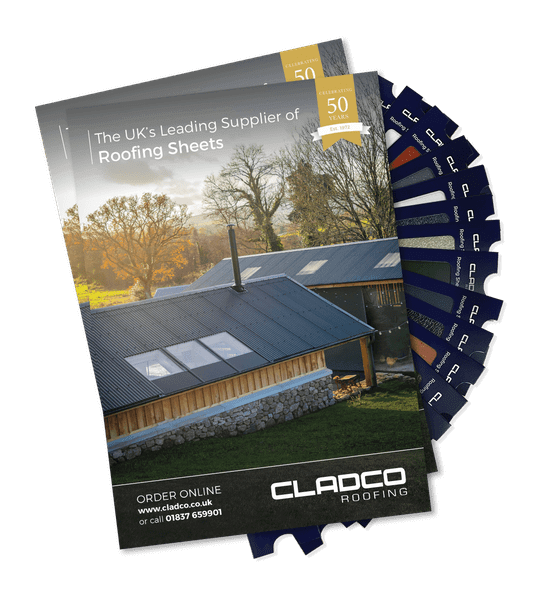 Choose Your Three Colours
32/1000 Box Profile Sheeting
The low-profile design of our 32/1000 Box Profile Sheeting is preferred by many, providing a robust, single-skin roofing or cladding material available in a wide range of colours.
34/1000 Box Profile Sheeting
Achieve a contemporary look using our 34/1000 Box Profile Sheeting, available in a choice of three coatings and up to 12 different colours across the range.
13/3 Corrugated Sheeting
Lightweight Corrugated Sheeting offers a modern aesthetic for your project, with excellent water run-off due to its 'wavey' design. Sheets can be cut up to six metres in length with 990mm width coverage once lapped.
41/1000 Tile Form
Create an authentic pantile roof effect with our 41/1000 Tile Form Sheeting, available in three colours. The hard-wearing Prelaq Mica coating provides longevity and durability against harsh weather conditions.
Transform Your Home With Cladco Roofing Sheets
We're rated as excellent on Trustpilot