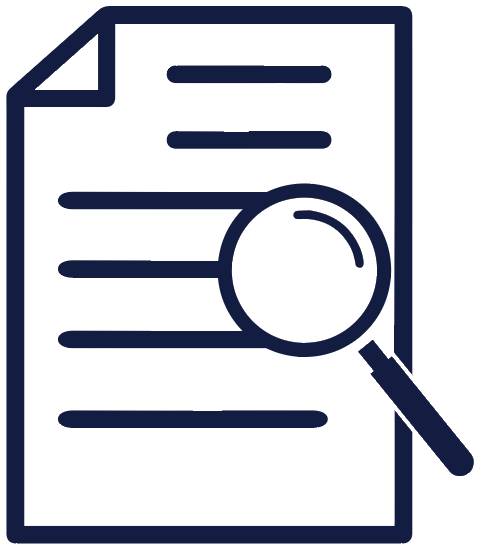 All building projects are unique - and with this in mind, a unique roof is required to suit its needs. Not all roofing materials are the same - with some better suited to specific projects than others.
In this Roofing supplies feature, we take a look further into the different types of Roofing Sheet Materials, the pros and cons of each, and guide you along the way when it comes to choosing the right type for you and your unique build.
Why should you pick roof sheets?
When compared with other forms of roofing materials such as individual roof tiles/slates, roofing sheets ultimately offer the best coverage and protection for your build - whether that build is a garage or stable, big or small, the range and versatility of roofing sheets make them a favoured option for the customer.
METAL ROOFING SHEETS
Metal roofing sheets are incredibly hard-wearing, strong, and weather-resistant - withstanding high temperatures and harsh winds with ease. They're manufactured from galvanised steel coils to different thicknesses (0.5mm and 0.7mm) and come in a range of profiles such as Box Profile, Corrugated and Tile Effect - a style that replicates the look of traditional roofing tiles. They're available with a choice of coatings for additional rust and corrosion protection.
Metal roofing sheets are cost-effective, durable and suitable for almost any property project, be it for an agricultural (corrugated), commercial (box profile) or domestic (tile effect) customer thanks to their traditional look.
Pros:
Can be cut to a wide range of specific lengths to suit your project
Low-maintenance, to save time
high-quality
Lightweight and easy to fit
Long-life when manufactured with a protective coating
Can be used as side cladding for your home or site buildings
PVC, Polyester and Prelaq Mica coatings are available
Cons:
Can be dented depending on the metal roofing material
Can be noisy without soundproofing
Older PVC roofing can be difficult to repair
Not recommended for roofing a flat roof
LONGEVITY
When pre-coated with PVC for example, the lifespan of a metal roofing sheet can be dramatically extended by several years (up to 40 years), and keep the sign of ageing at bay.
INSTALLATION REQUIREMENTS
When used in a roof application, metal roof sheets can take a while to fit, due to the thickness and size of the sheets as well as the multiple fixings required. When installing, safety gloves must be worn due to the razor-sharp edges of the metal sheets.
AVERAGE COST 
The average cost of metal roofing sheets can vary. Starting at roughly (based on a 0.5mm thickness) £14 per 1m for polyester and galvanised steel roof sheets, £15 per 1m for PVC roofing and £18 per 1m of prelaq mica coated Tile Form roof sheets. Please note these prices include VAT and the price can increase according to the thickness of the sheet you are looking for.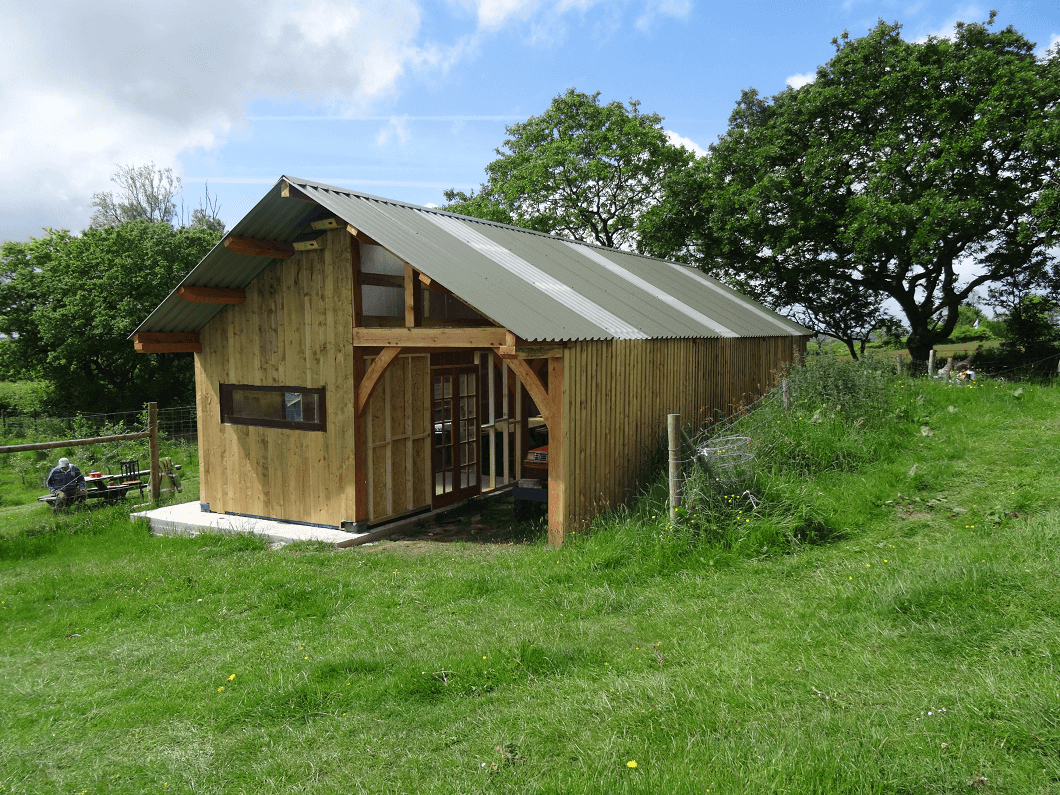 Olive Green PVC 34/1000 Metal Roofing Sheets by Cladco have been used on this large barn. The PVC coating offers additional protection.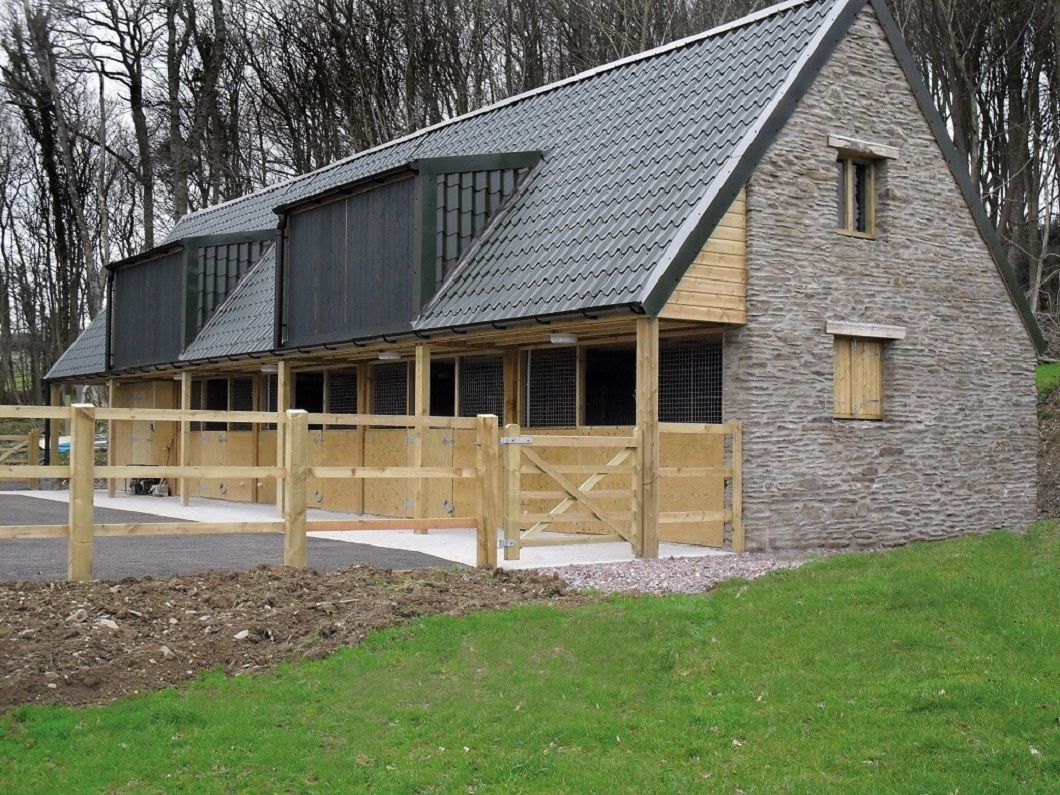 Cladco Tile Form roof sheets have been used on this large barn to replicate the look of traditional roof tiles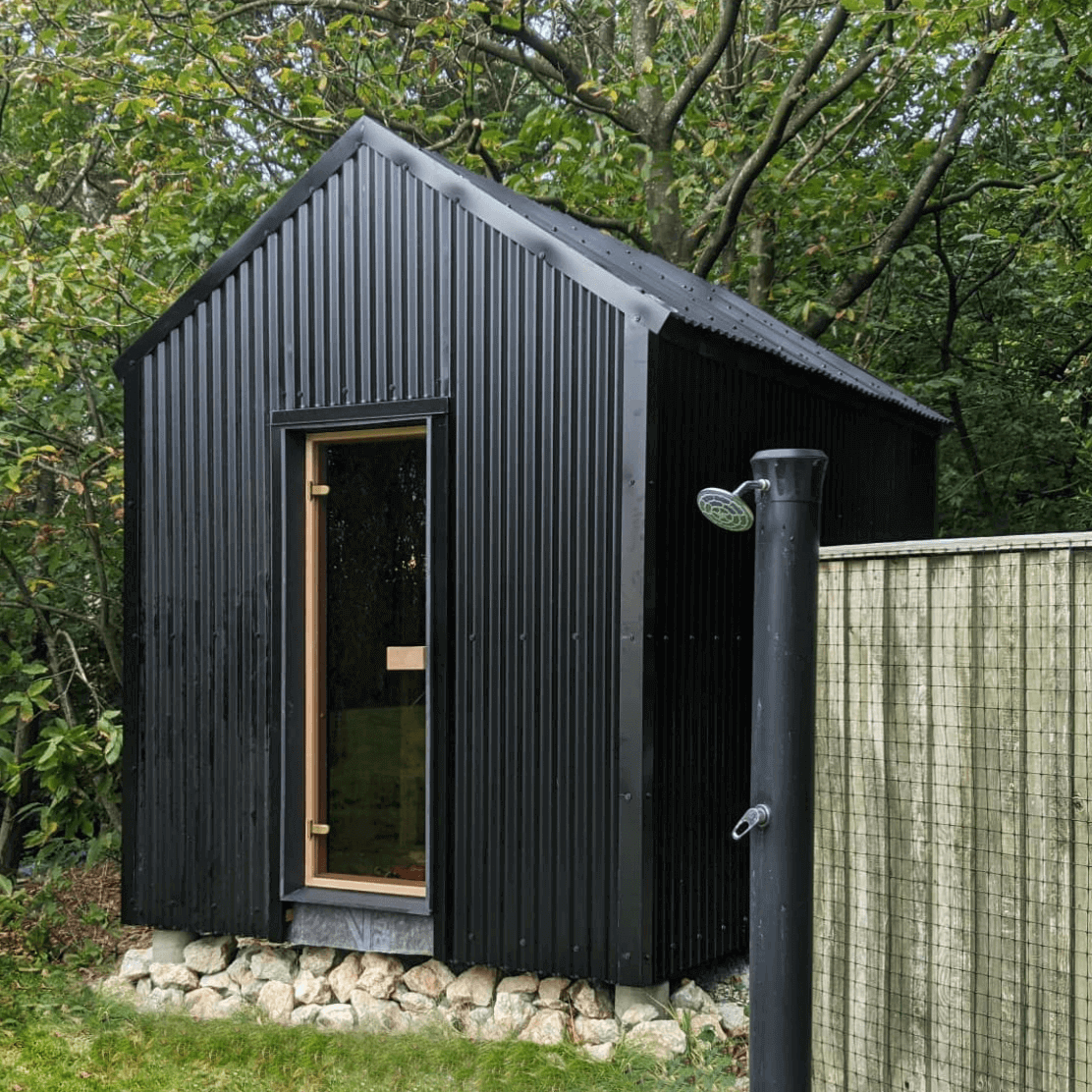 Cladco Corrugated Roof Sheets in Black have been used to clad this outside sauna
PLASTIC ROOFING SHEETS
If you're looking to roof a small build such as a lean-to or a small garden shed, plastic roofing sheets would be the ideal choice if any of these styles are on your project radar, with the most common style of plastic sheeting being classic corrugated. It is, however, important to take into account when implementing your structure if any weight will be exerting the roof, as plastic roof sheets can vary in strength depending on the materials they're composed of.
If no weight is likely to be exerted on your roof, then a lightweight corrugated plastic roof is the best option for you and your small-scale build due to its low cost.
Pros:
Can be transparent, or opaque
Easily cleaned
Lightweight
Cost-effective
Easy to manoeuvre and install on-site
Cons:
Less visually attractive than other options
Not suitable for domestic use
Can be noisy
LONGEVITY
When thinking about your roof sheets and how future-proof they are, it is good to know that the average lifespan of a plastic roof sheet is roughly 40 years. This, however, is only when the roof is properly maintained with regular cleaning etc.
INSTALLATION REQUIREMENTS
Plastic roof sheets can be easily installed with minimal tools. You will need protective gloves, a saw and a screwdriver. The sheets can be installed at a minimum pitch of 10 degrees and should be lapped by a minimum of two corrugations
AVERAGE COST
The average value of a corrugated plastic roof sheet is roughly £12 per meter, making them the most cost-effective choice when you compare it with metal sheets and require minimum roofing supplies to fit.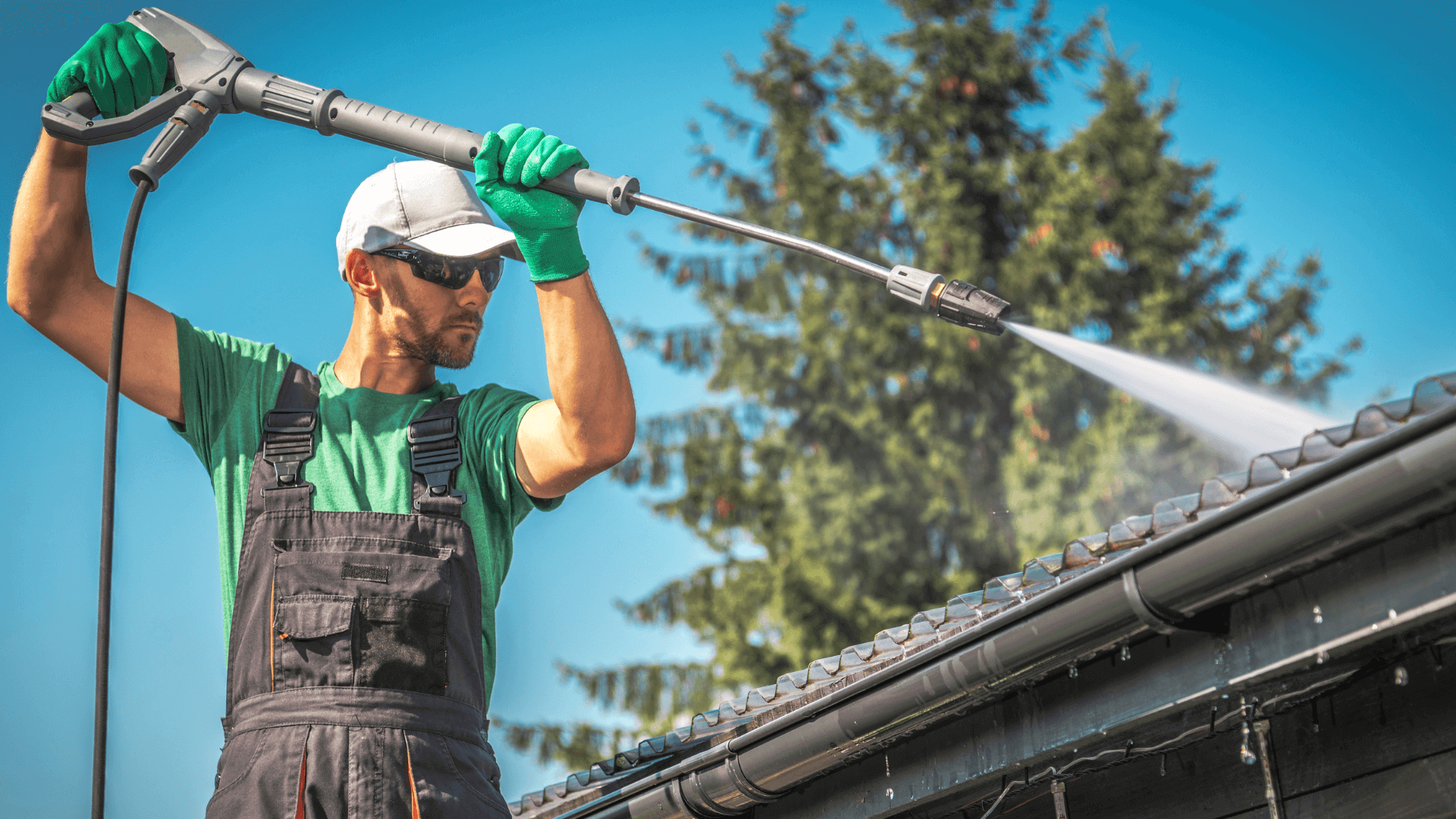 Lightweight corrugated plastic roof sheets are easy to clean and make a great team for small lean-tos or walkways
POLYCARBONATE ROOFING SHEETS
Highly long-lasting, lightweight and budget-friendly, a Polycarbonate Roofing Sheet is an ideal alternative to glass. Perfect for buildings such as carports, whereby the roof sheets require some more substantial strength - or for use where extra warmth needs to be taken into account, ie on a wood store or, conservatory or animal shelter. These roofing sheets are made from high-impact polypropylene resin and are designed to be light and easy to cut.
Pros:
Offer UV defence
Suited to all weather conditions
Thermal insulation
PH neutral - good resistance to oils, water and other chemicals
Wide range of colours available to team with your project
light and easy to manoeuvre
High durability
lightweight
Cons:
LONGEVITY
Polycarbonate roof sheets have good durability and are expected to last for around 20 years. If installed on a conservatory or similar light glass-based structures for example, and you notice the core temperature dropping after several years, this could be an indication that the sheets are going to need replacing sooner than their average lifetime of 20 years.
INSTALLATION REQUIREMENTS
Polycarbonate roof sheets are easy to cut thanks to their light structure, they are easy to move around on building sites or on the road, making fitting a quick and pain-free process. They should be installed at a minimum pitch of 5 degrees to allow for rainwater to run off and not pool.
AVERAGE COST
Polycarbonate sheets are a cheaper option for roofing a project. As the polycarbonate materials are light and easy to work with and do not require highly skilled fitters, labour is less expensive. The polycarbonate sheets themselves are also less expensive when compared with roof tiles, for example, averaging between £205 to £300 with a full fit taken into account.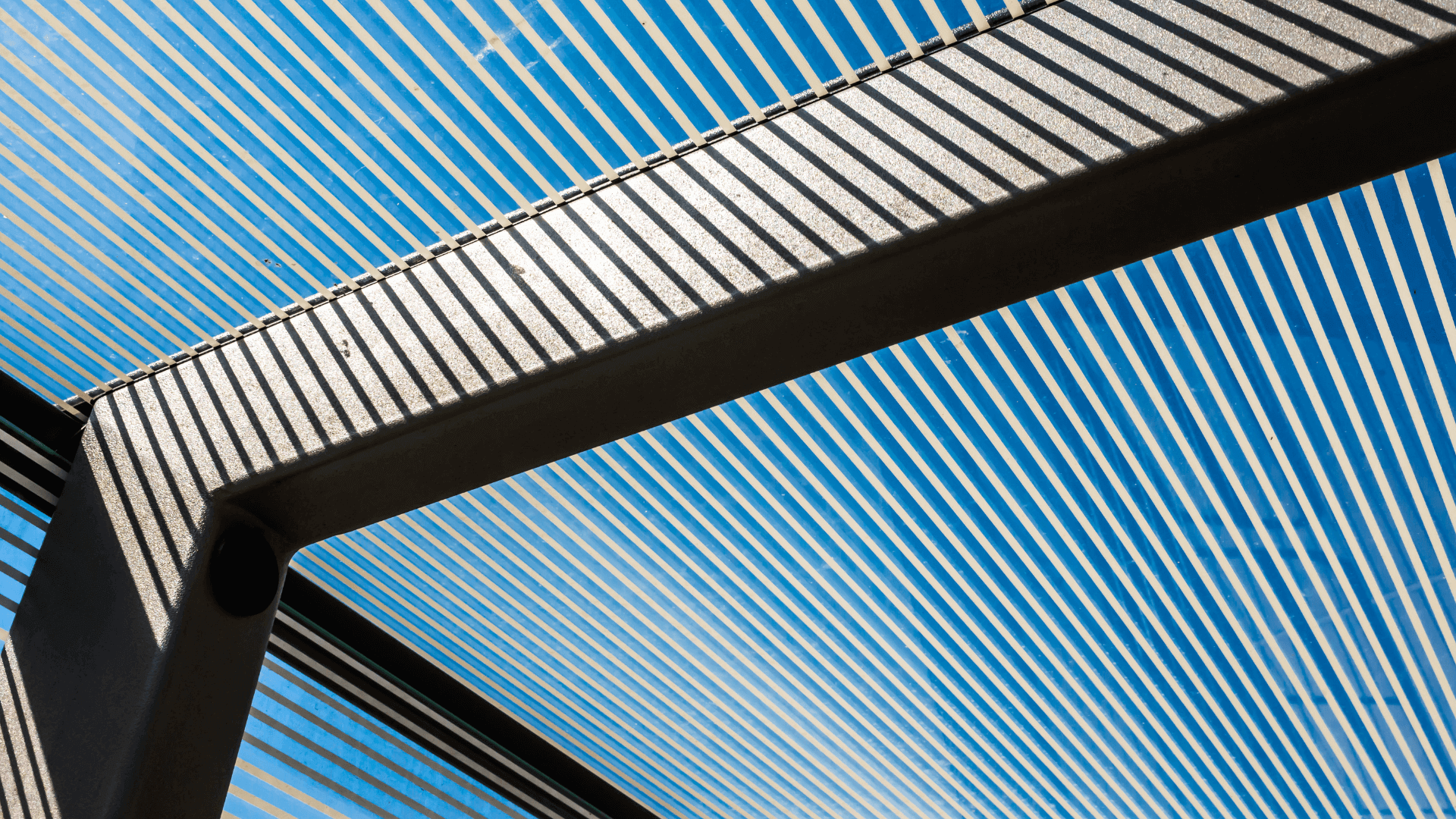 Polycarbonate Roofing Sheets are a strong and durable alternative to glass
BITUMEN ROOFING SHEETS
Bitumen roofing sheets are an affordable type of roofing material. Best suited for garages, log stores, or sheds. They have excellent water-tight attributes and similar to plastic sheets, are easy to install, especially when compared with heavier metal roof sheets. They can also be installed as a flat roof in the form of bitumen felting.
Pros:
Very low-maintenance
High tensile strength
Heat absorbing
Long-lasting
Can be fitted as a flat roof
Variety of colours to choose from
Cons:
Susceptible to small tears and cracks
Lower resistance to impact
LONGEVITY
A bitumen roof, if installed correctly and looked after to a high standard, can last for decades - on average 20 years or more. If small tears appear, this is a sign that you need to replace your roofs.
INSTALLATION REQUIREMENTS
Bitumen roof sheets must be applied to your roofing design by a professional, due to the way in which they are sealed together during installation. A flame is used to melt and weld the sheets together - which can be a highly dangerous service if performed away from a building site by a non-professional.
AVERAGE COST
These sheets are up there with the lowest price roofing options available. They are the cheapest solution for a small out-building, with a low price per sheet / per meter.
Bitumen roofs require professional installation if using the melt and weld technique as seen on this flat roof
FIBRE CEMENT ROOFING SHEETS
Great for rural areas and domestic builds, fibre cement roofs have one of the most prolonged lifetimes of all the other roofing materials mentioned previously. They are highly durable, available in a vast range of colours to team with the rest of your building style, as well as being sustainable if you compare them with other roof sheets.
Pros:
Very strong
Great Breathability
Sustainable
Moisture-resistant
Great for rural areas
Can be manufactured into shingles to replicate the look of tiles slates - as well as sheeting forms
Cons:
Heaviest of roofing sheets/tiles
Lower resistance to impact
More expensive than other materials
Longer to install
LONGEVITY
A fibre cement roof will very much stand the test of time - there are very few roofing options available that will outlive them, one of which is slate. Fibre cement sheets will last a vast amount of time and so If you're looking for a roofing sheet with long life, fibre cement is the option for you.
INSTALLATION REQUIREMENTS
Fibre cement roof sheets will generally take more time than alternative sheet options to be fitted. This is due to the heavy nature of the materials used to manufacture them. These fibre cement sheets are however quicker to install when compared with more traditional roof materials, such as clay or slate tiles.
AVERAGE COST
Thanks to the exceptional standard of materials used to manufacture Fibre Cement sheets, they can be quite costly. As well as this, fitting requires more than one person to fit correctly, so the price of installation can also be higher than other options.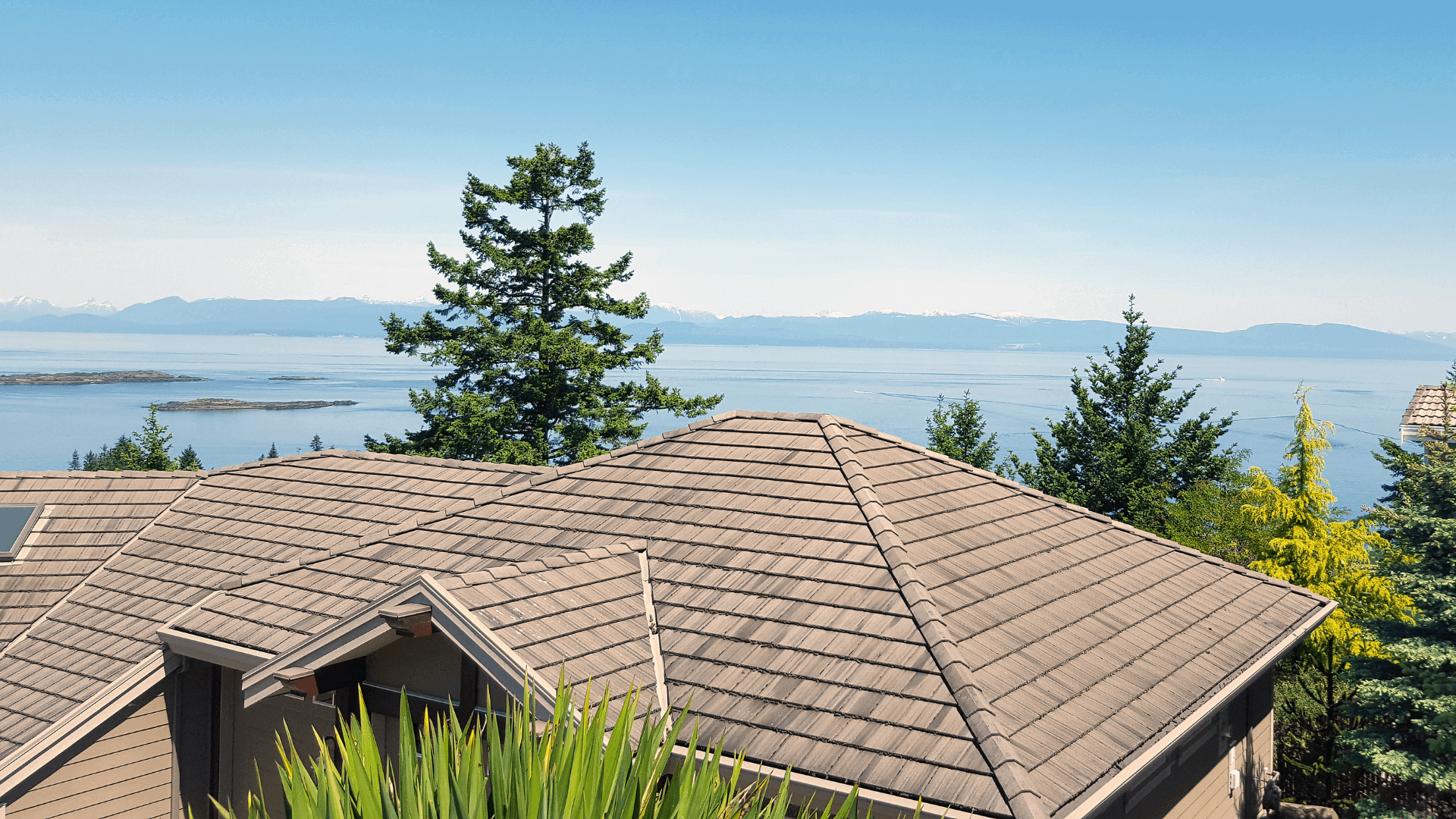 Fibre cement roof sheets can be made into shingles to replicate the look of tiles
Which Roofing Sheet is Best for your home?
Agricultural/Industrial
If you are a customer looking to re-roof a large barn, or industrial building metal roofing sheets (especially those with a PVC coating) would be the best material for you, due to their range of profiles, durability and low-maintenance properties.
Garden Structures
If you are on the search for a new roof for your garden shed or garage, plastic or bitumen roofing sheets would be the first options to look at to narrow down your search. They are robust yet low-price, and great for smaller builds.
Domestic
A homeowner looking to revamp your house? Fibre cement or metal tile form sheets would be best suited to you thanks to the traditional-looking finish and selection of colours available.
Alternatively, if you're looking to re-roof your conservatory, Polycarbonate roofing sheets would be best. They allow plenty of light as well as being economical with good thermal properties.
Use the Cladco Online Calculator to work out the exact number of roof panels and fixings you'll need for your next project.