Traditionally roof tiles are manufactured from clay and slate - however, there are many alternative roofing materials that can replicate the look of conventional tiles and cost less.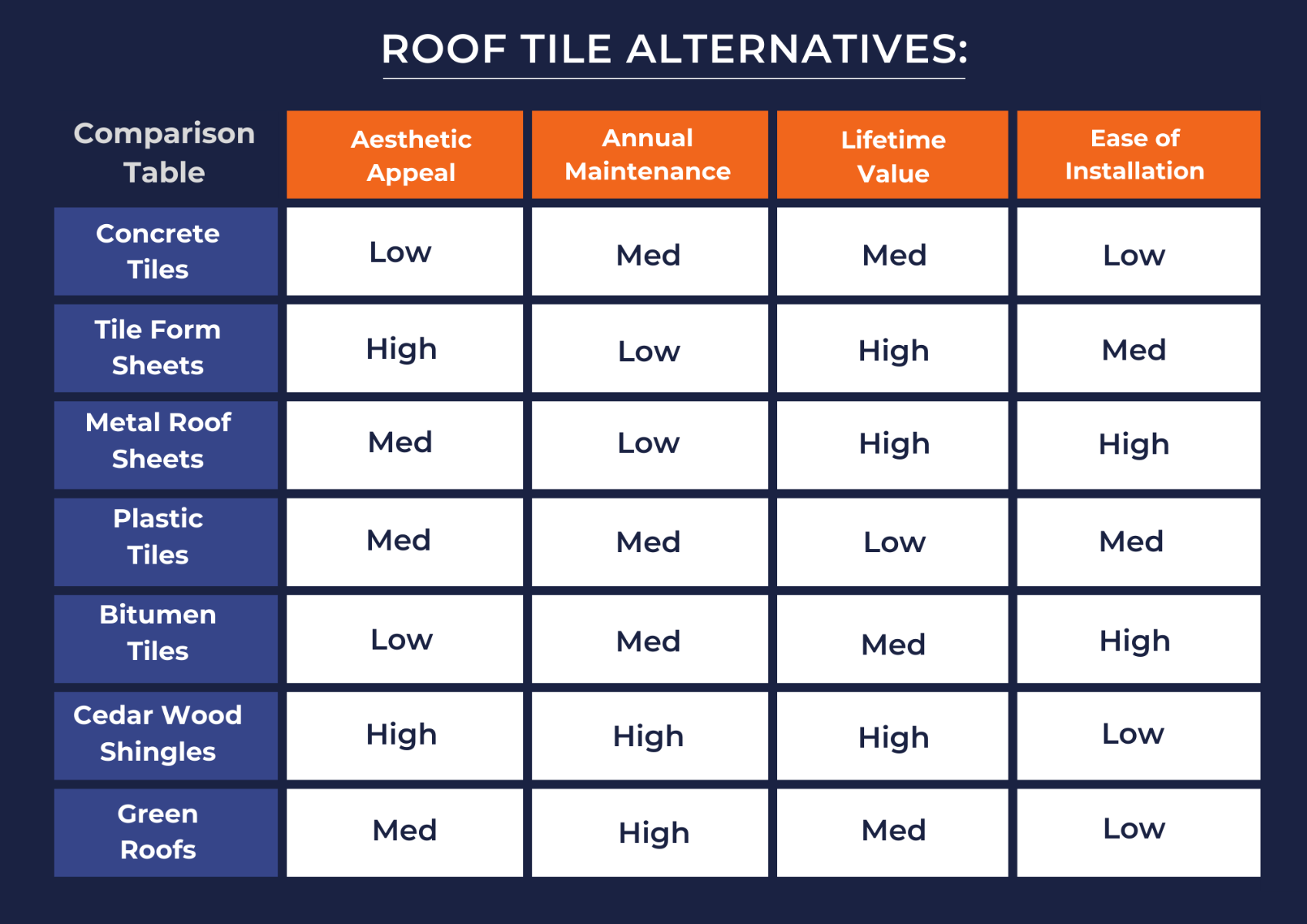 When looking at alternative roofing materials to clay or slate tiles, the comparison table above is a good reference. In summary:
If aesthetic appeal is the main priority for you when selecting your new roofing material, then your best options would be Tile Form Sheets or Cedar Wood Shingles.
If you are in need of a roof that requires minimum maintenance year after year, then Metal Roof Sheets or Tile Form Sheets are your best bet.
For lifetime value - taking into consideration longevity as well as initial costs, then Cedar Wood Shingles are a long-lasting natural option, as well as Metal Roofs.
If you're looking to install your new roof covering yourself, as opposed to hiring a professional, you will find that Bitumen Tiles and Metal Sheets are the best alternatives for easy fitting.
Clay Tiles
Clay is up there as being one of the most traditional materials used to manufacture roof tiles, and has been a popular choice for many years - still adorning some of the most eye-catching historic buildings today.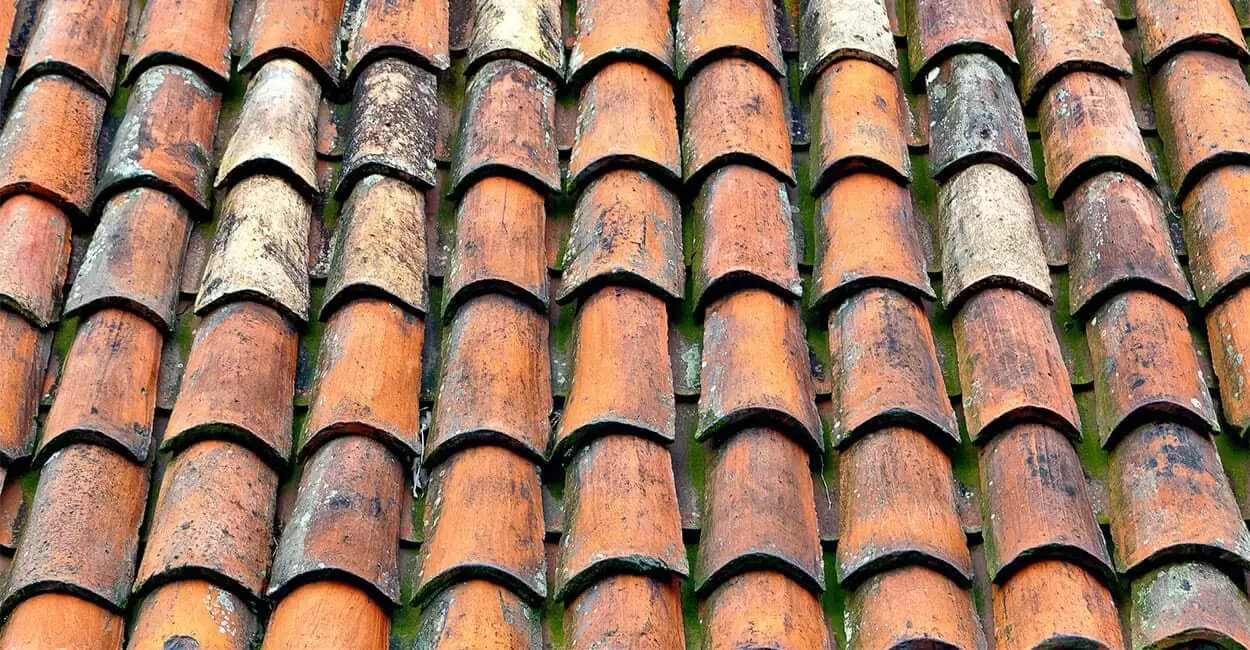 Clay is among the most traditional of roofing tiles in the UK
What makes clay tiles a popular roofing material?
Their long life, low cost and aesthetic appeal make clay tiles incredibly popular.
Slate Tiles
Closely followed as a top traditional roofing tiling material is slate, also referred to as roof slates. They are made from natural raw slate and have been a popular choice since the Victorian era.
Slate is a popular traditional roof covering on both old and new properties
What makes slate tiles a popular roofing material?
Slate: Favoured for their durability and kerb-side appearance, these continue to be a highly sought-after roofing choice for both old and new buildings.
Why Consider Alternatives?
There are far more alternative options to choose from when it comes to retaining the look of conventional roofing, without actually using them. They can be cheaper and lighter - making them a far more appealing choice when it comes to new builds or roof replacements.
Concrete tiles have been used as an alternative to traditional roofing materials for a number of years.
Pros:
Easy to maintain
No need for protective treatments
Environmentally friendly materials
Cons:
Heavy - difficult to install
Easily breakable
Poor weather resistance and do not age nicely
The cost of concrete roofing materials comes in at around 20% cheaper than its clay counterpart, making them an economic choice in comparison.
Best suited to homes that want to replicate the look of a traditional tiled roof without the cost. Concrete tiles are hard-wearing with a lifespan of around 35-50 years.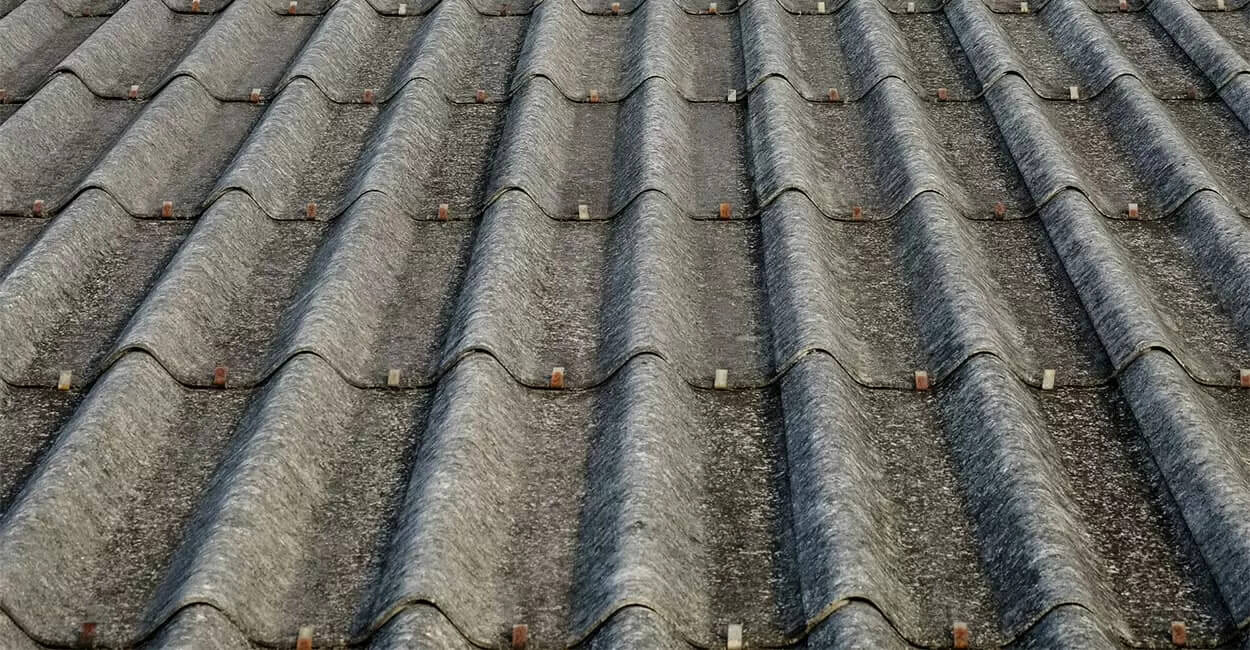 Tile Form Sheets - Tile Effect
Often referred to as tile effect roofing sheets, Tile Form Sheets are a specialised roofing material that is manufactured to recreate the elegant appearance of clay tiles and are installed as cohesive laps. Made from coated galvanised steel, it brings a classic look to your property, with all the benefits of metal roofs.
Pros:
Lightweight roof material
Available in a variety of colours
Each sheet offers a 1m roof covering when installed
Cons:
Potential to dent
More expensive than options such as concrete
Whilst tile form roof sheets are more expensive as a material than concrete or plastic, they can work out to be more cost-effective. They are a lightweight metal, easy to install, cheaper to transport and longer-lasting than their counterparts and so in the long run make them a more economic choice.
Suitable for industrial, agricultural, and commercial applications. They can be installed as a single-skin sheeting or clad over an existing roof system.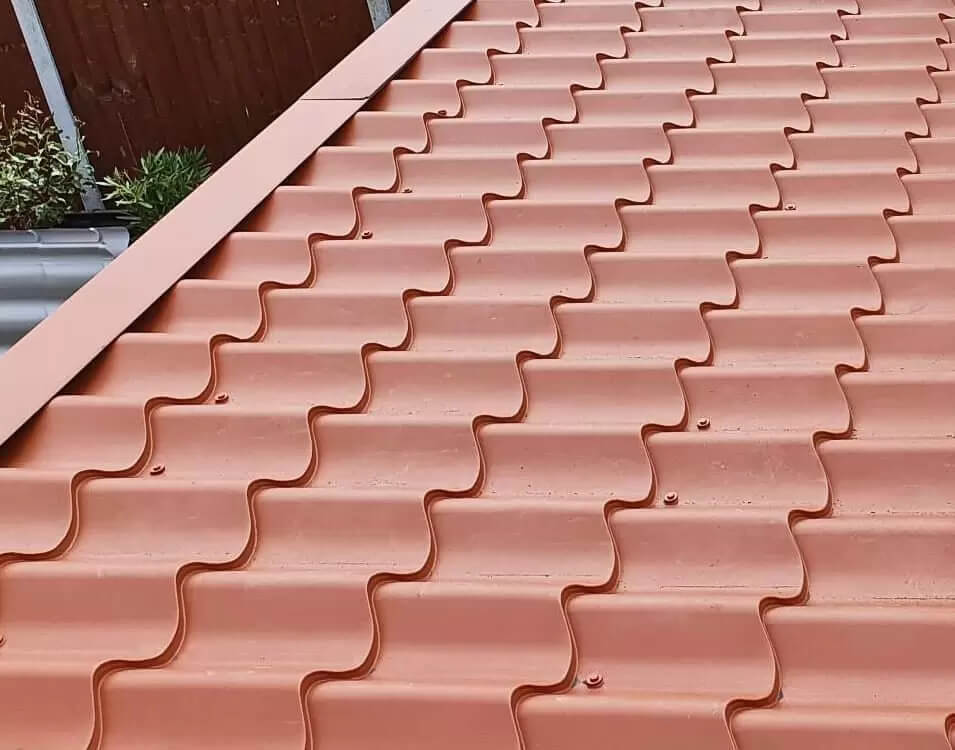 Metal Roofing Sheets
Most metal roofing is manufactured in sheet form, with the two most common metals being steel and zinc. They can be made into a variety of profiles including box profiles and corrugated and have a good width covering when lapped (1000mm) - making them especially useful for large roofs.
Pros:
Available in a variety of profiles and coatings
Can be installed at a low pitch
Can be cut to custom lengths
Cons:
Can be noisy in the rain
More expensive than other roofing options such as concrete
Susceptible to dents
Similarly to tile form, Metal Roofing Sheets can be more expensive as a material when compared like-for-like to others. However, they have a longer life (up to 50 years when coated).
Best suited to agricultural and large-scale industrial buildings, metal roof sheets can also be used as side cladding for an alternative high-quality build.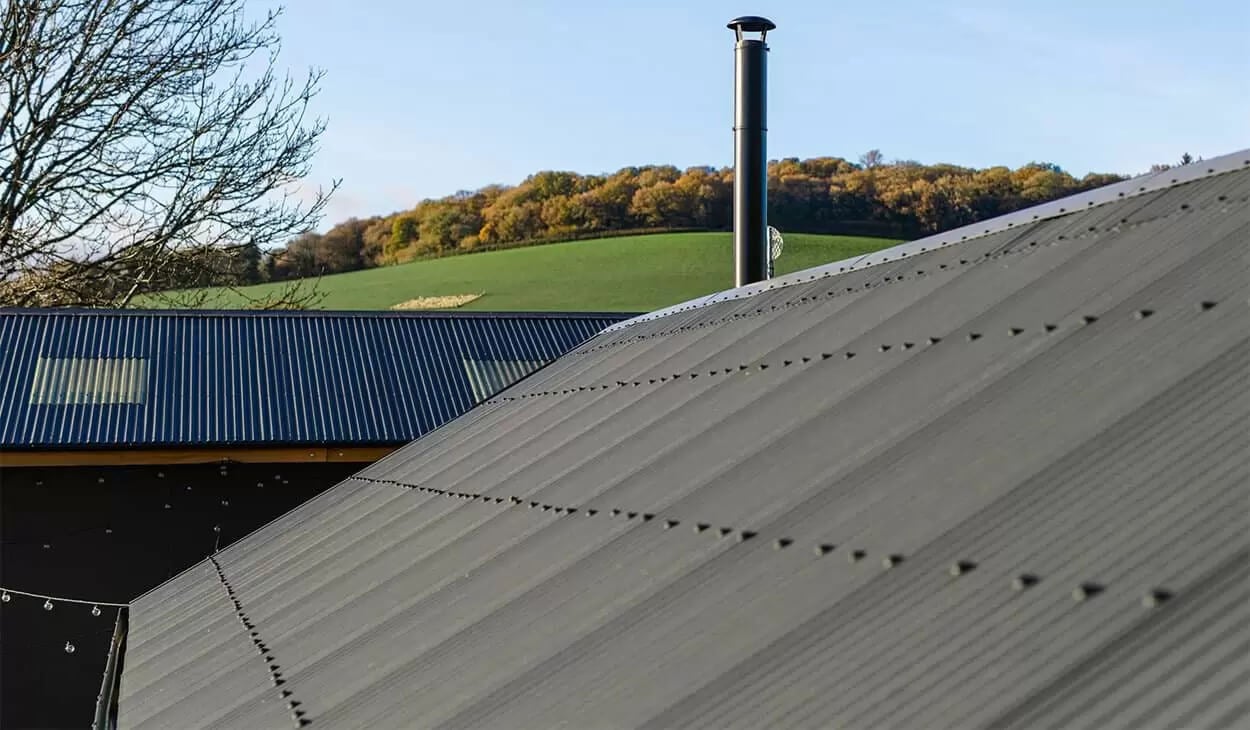 Plastic Tiles
Plastic tiles are a great cost-effective way of creating a roof that has a classic look without the cost. Plastic options include recycled plastic and virgin rubber.
Pros:
Available in a variety of colours
Low-cost
Lightweight and easy-to-install
Cons:
Low-insulation properties
Unknown longevity as they are a relatively new roofing material that isn't as strong
Not an environmentally friendly material
Plastic roofing materials are one of the cheapest alternatives on the market, and due to their plastic polymer composition, they will have a long life span - however, it is unknown at the moment just how long they will last, as they are a reasonably modern building material.
Best suited to mid-sized domestic builds and houses thanks to their clay-like aesthetic and lightweight properties.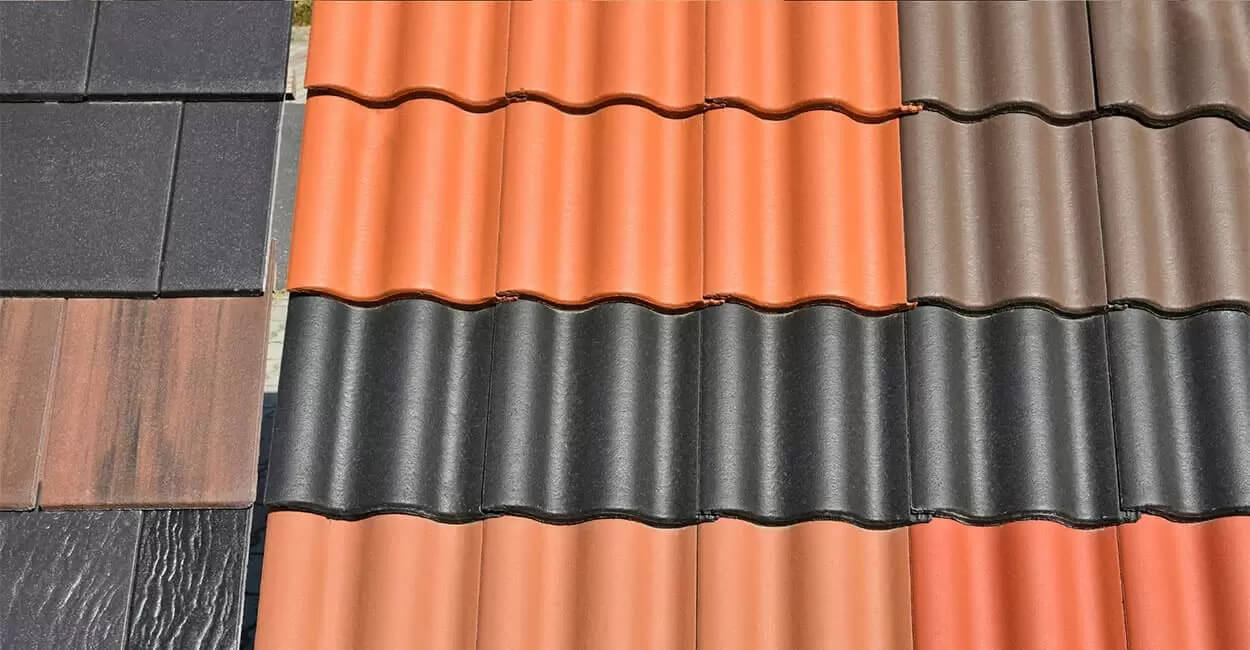 Plastic roofing is available in a range of colours
Bitumen Roofing Sheets
Best suited to low-sloped or flat roofs, Bitumen sheets are the least tile-like alternative form of roofing, instead of tiles, they come in the form of shingle strips, and are the most aesthetically similar looking to slate.
Pros:
Available with a self-adhesive application option
Anti-freeze properties in cold climates
Extremely Lightweight and easy-to-install
Cons:
Potential fire hazard
Fragile, can tear easily
Susceptible to puddling in the rain if not installed correctly
Bitumen roofing has a less-than-average life expectancy in the grand scheme of roofing materials, lasting only roughly 10-15 years. This is reflected in its cheaper price tag, starting at just £2 per square meter.
A bitumen roof is best suited to garden sheds and outbuildings, due to its low-pitch installation properties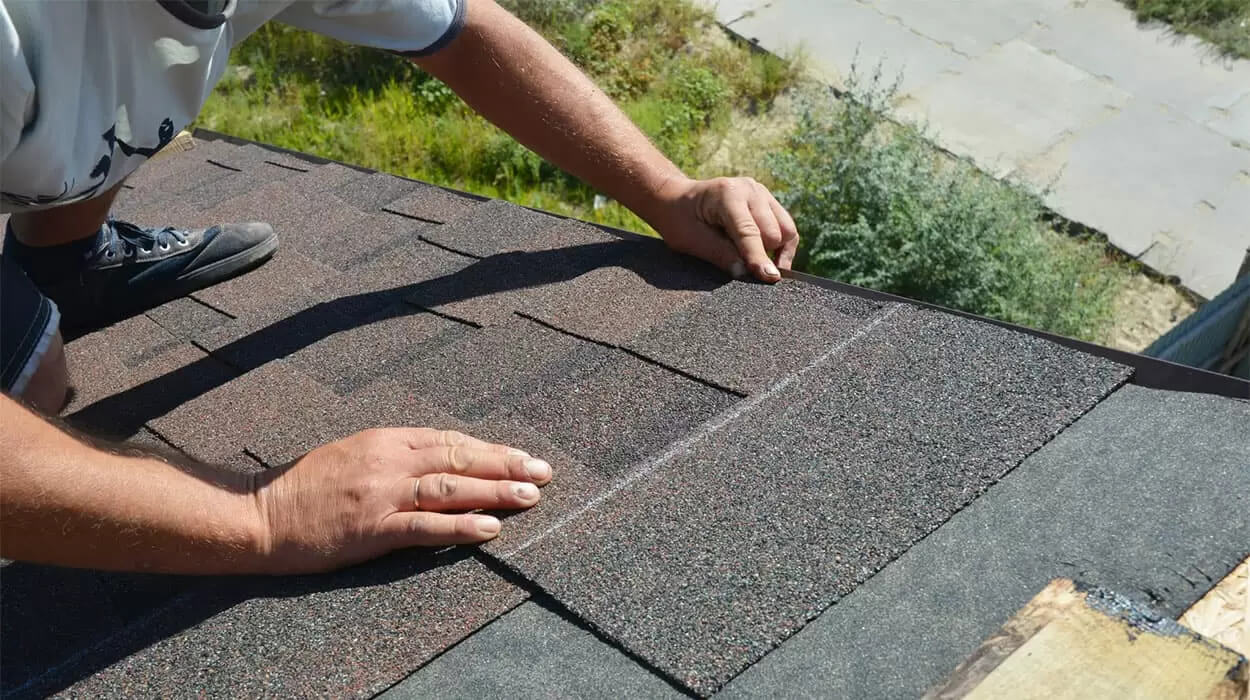 Bitumen roofing strips can be cut into smaller shingles to recreate the look of tiles or low sloped roofs
Red Cedar Shingles
Albeit an unusual choice, red cedar tiles/shingles are the most natural and environmentally friendly tile roofing option in this article. They are surprisingly lightweight and give a unique finish to every roof, and are available in the form of wood shakes and shingles
Pros:
Aesthetically very attractive
High insulation properties
Lower household energy costs
Cons:
Initial vivid natural colour will fade in time
Can be difficult to install around windows and doors
high-maintenance
Red cedar wood shakes and shingles are known for their high resistance to storm and snow damage and with this, can last well up to 50 years provided they are well maintained.
They are best suited to domestic properties based in colder climates, due to their good insulation and weather resistance.
Red cedar shakes and/or shingles provide great weather resistance with an individual style
Green Roofs:
Green roof coverings have seen an enormous increase in popularity in recent years. Turfed, flowered or even used as a roof deck, their original popularity in countries such as Scandinavia has since become grown globally.
Pros:
Energy-efficient
Eco-Friendly
Lower household energy costs
Aesthetically beautiful
Can be used as an outside space for those without a garden
Cons:
High-maintenance
Heavy and require strong structural support
Green canopies are on the expensive side to install and maintain, however they are proven to double or even triple a rooftops life expectancy thanks to their protective properties from UV and harsh weather conditions.
Best suited to urban homeowners looking to improve their BREEAM rating (Building Research Establishment Environmental Assessment Method).
Green roofs are eco friendly and growing in popularity
Conclusion
To summarise, if your budget is low and you are looking to recreate a traditional aesthetic with other roofing alternatives for your home, Plastic would be the cheapest option to replicate Clay or Slate tiles, whilst maintaining the closest look to the originals.
If budget isn't an issue and your priority is a long-lasting, high-quality roof material that mirrors the look of conventional tiles, Metal Tile Form Roof Sheets would be the best option as their practical properties make them more cost-effective in the long run.